Sprint Cup drivers discuss first day of testing at Kentucky Speedway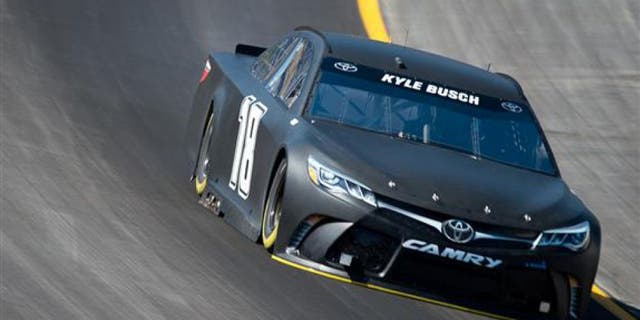 NEWYou can now listen to Fox News articles!
Fourteen NASCAR Sprint Cup Series teams are participating in a two-day test at the repaved and reconfigured Kentucky Speedway.
Along with the fresh asphalt, Turns 1 and 2 have been changed from 14 to 17 degrees of banking, the width of the pit road exit extended from 14 feet to 30 feet. Turns 3 and 4 have remained the same.
So what are some of the biggest positives drivers took away from the first day? Stewart-Haas Racing driver Kevin Harvick mentioned a big one that many drivers have talked about after previous races on the old surface.
"You won't leave with a headache," said Harvick referring to how bumpy the track used to be. "Putting in the effort to spend the money and do something like this is really exciting and shows the commitment that Kentucky Speedway and SMI have."
"Today (Monday), you're just trying to make laps and work out the big things – getting the travels right and hopefully get the balance close and see how the speed progresses as we go into tomorrow (Tuesday)."
Rookie Wood Brothers Racing driver Ryan Blaney also noted just how difficult it was for drivers to get rubber laid down on the new racing surface.
"It took a long time to come in (rubber on the race track)," said Blaney. "You kind of see that with every repave."
"It takes a long time for rubber to get laid down. That's hard to do because you can't really do it with any other cars because you have to have our tire to lay the correct rubber down. We spent the first couple hours on the race track trying not to wreck."
Joe Gibbs Racing driver Kyle Busch also said the racing is going to be interesting because of how narrow the track has become as a result of the reconfiguration.
"The groove goes from being so wide coming out of Turn 4 down the front straightaway, it kind of narrows up going into Turn 1," said Busch. "Getting down into Turn 3, the track kind of widens out going down the back straightaway. You've got plenty of room down there, but again it's real narrow and the groove is very sparse.
"The tires are reacting well in Turns 1 and 2 getting some rubber laid down over there, but three and four has been a trying process thus far."
Only thirteen teams will participate in Tuesday's final day of testing at Kentucky, as Furniture Row Racing and driver Martin Truex Jr. was the only team to depart after Monday's session.