Sprint Cup Drivers Council donates Tony Stewart's fine to Autism Delaware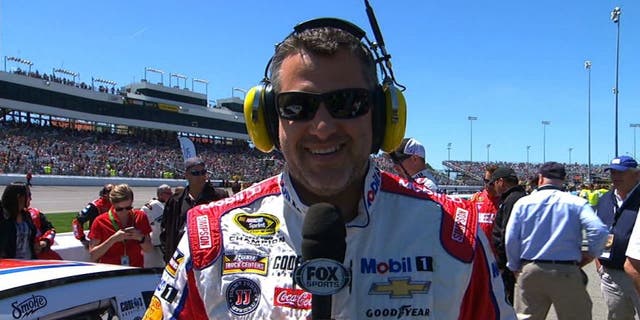 Who says nothing good ever comes from controversy?
Last Thursday afternoon, NASCAR announced it was fining three-time Sprint Cup Series champion Tony Stewart, presumably for comments he made about lug nuts and safety.
That night, the nine-member Sprint Cup Drivers Council announced its members would all pitch in equally to pay Stewart's fine.
And then today, a brilliant and positive move: The Drivers Council announced it will instead donate the $35,000 to Autism Delaware, which was founded by NASCAR on FOX coordinating director Artie Kempner, and his wife, Marcy, in 1998. The organization has raised more than $5 million and served more than 1,000 children and adults living with autism.
"I appreciated the Drivers Council support, but I didn't want them to pay the fine. We decided as a group to donate the money to charity," Stewart said in a statement released Wednesday afternoon. "Artie is such a good friend to all of us and his foundation does a lot of great work."
The Drivers Council was formed in 2015 and meets periodically with NASCAR to discuss various issues from competition to safety. Members include Kyle Busch, Dale Earnhardt Jr., Denny Hamlin, Kevin Harvick, Jimmie Johnson, Brad Keselowski, Kyle Larson, Joey Logano and Stewart.
Hamlin will present the check to Kempner at his Drive for Autism golf tournament May 12 in Wilmington, Delaware.