Spring Training: Baseball's Best Storylines Part One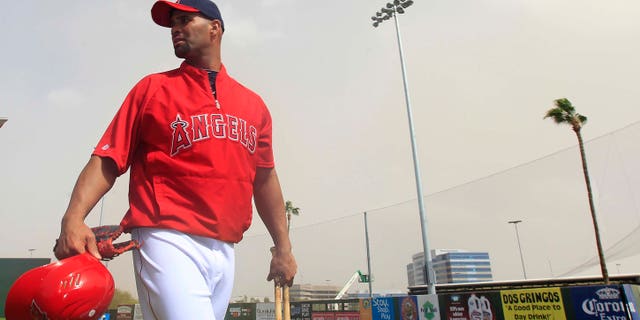 With Wednesday being the first day of Spring Training, let's take a look at the biggest and best storylines that'll keep the fans' attention throughout the season.
The Battle for Los Angeles
Is it still Dodgertown U.S.A? Not if the Los Angeles Angels of Anaheim have anything to say about it. This off-season was probably the biggest one yet for the franchise formerly known as the Anaheim Angels.
All you have to say is Albert Pujols and BOOM, you're a contender.
The Angels have a strong rotation, hitting power and have made themselves the team to beat this season thanks to the pocket book of owner Arturo Moreno.
As for the Los Angeles Dodgers, manager Don Mattingly is expecting traditional fandom to hold their fan base. But with another season of futility under their belt and an ugly ownership battle triggered by a nasty divorce, the Dodgers better hope something good happens this season or else the Angels may just capture more hearts and minds.
Bienvenidos a Miami
Take away the "Florida," downplay the teal, add a billion dollar stadium and set it all in the heart of Miami.
The flash of South Beach has come to Major League Baseball.
Add one of the most vocal and charismatic managers in Ozzie Guillen, a big time free agent in Jose Reyes, flashy new uniforms and Miami is the spectacle you can't keep your eyes off of.
Ranger Danger
Outfielder Josh Hamilton's relapse has really added question marks to the Texas Rangers organization.
Will it affect his play? Will he sign a new contract? Will he give the home team a discount?
As much as anyone hates to admit it, the Rangers are the real drama this season, and sadly it goes beyond baseball.
Add in a highly touted Japanese pitcher and Texas is the place that every fan will really be watching this season.
The Red Sox & Chicago Cubs Crossover
The man who made the Red Sox champions and perennial contenders is now out in Boston and hoping to do the same thing for those loveable losing Cubs.
The Cubs still have some time before they're expected to break through, but with the Red Sox it could come crashing down.
Gone is manager Terry Francona and in is Bobby Valentine, who's already banned alcoholic beverages from the clubhouse.
Captain Jason Varitek and Tim Wakefield have retired and now "Big Papi" David Ortiz is the senior statesman.
Either folks like Adrian Gonzalez pick up the leadership slack or the Red Sox may be down and out once again.
Follow us on twitter.com/foxnewslatino
Like us at facebook.com/foxnewslatino