Split Decision: Fighter Manny Pacquiao looks to slip Uncle Sam's tax punch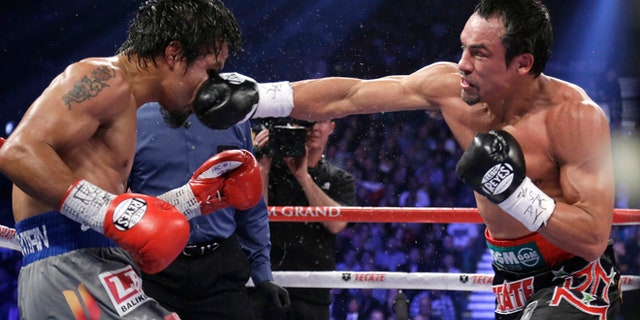 What happens in Vegas, stays in Vegas — unless you're Manny Pacquiao.
The legendary Filipino boxer reportedly wants his next bout — a fifth fight against Juan Manuel Marquez — to be held far away from Sin City and the United States' 39.6 top federal tax rate, with the offshore Chinese gambling resort of Macau emerging as the "favorite," Yahoo! Sports reports.
Michael Koncz, Pacquiao's chief adviser, said Monday that the nearly 40 percent tax rate he would face on most of the purse if he were to fight again in the United States makes a bout this fall a "no go."
Promoter Bob Arum indicated last month that Pacquaio's next bout would not be held in America. Arum's preference is for the fight to be at the MGM Grand in Las Vegas, which is his company's home base, but Pacquiao is balking at the additional money he'd lose to the government if the fight were held there.
Pacquiao would not have to pay taxes if the fight takes place in casinos in either Singapore or Macau, Arum said.
[pullquote]
"Manny can go back to Las Vegas and make $25 million, but how much of it will he end up with – $15 million?" Arum said. "If he goes to Macau, perhaps his purse will only be $20 million, but he will get to keep it all, so he will be better off."
Any savings Pacquiao enjoys would likely be hurt in terms of pay-per-view sales, as Arum said a detailed review indicates that a bout emanating outside of North America would do about 50 percent fewer sales.
Pacquiao-Marquez 4, in which Marquez knocked Pacquiao out in the sixth round on Dec. 8 in Las Vegas, sold 1.15 million on pay-per-view. At 1.15 million sales, the gross revenue from pay-per-view would be $69 million. The cable and satellite companies, which distribute the bout, get half of that off the top, leaving $34.5 million to the promotional side. A 50 percent cut would mean a decrease in revenue to the promotion of $17.25 million, Yahoo! Sports reports.
While Pacquiao seemingly prefers to fight in Asia, Arum said it hasn't been an issue for Marquez.
"Juan hasn't expressed the same concern about U.S. taxes that Manny has," Arum said.
Pacquiao is not the only high-profile athlete thinking about the huge tax hit facing some Americans. Golf star Phil Mickelson indicated last month he may leave California due to high taxes, but he quickly backtracked, saying he should not have spoken out on such a personal topic.
In a statement to Fox News, Mickelson apologized to anyone he may have "upset or insulted" with the comments that his high tax bracket was causing him to consider "drastic changes" in his life, including possibly moving his family out of state and even retiring from the game of golf.
"Finances and taxes are a personal matter and I should not have made my opinions on them public," Mickelson said.
Mickelson also said he is currently working on learning about the new tax laws that have raised his rate, and is relying on the advice of experts to make decisions for the future.
"I certainly don't have a definitive plan at this time, but like everyone else I want to make decisions that are best for my future and my family," he said.
Mickelson had indicated the he may make comments about his plans for the future during his pre-tournament press conference scheduled for Wednesday, which drew speculation he may discuss leaving California over taxes.
"It's been an interesting off-season," Mickelson said after the final round of the Humana Challenge. "And I'm going to have to make some drastic changes. I'm not going to jump the gun and do it right away, but I will be making some drastic changes."
If Mickelson bolts California, the San Diego native could be the Golden State's answer to actor Gerard Depardieu, who renounced his French citizenship and moved to Russia after the French government tried to jack up taxes on the rich.
California voters in November approved Proposition 30, which, in addition to raising the state sales tax, carries a menu of new tax brackets that hit millionaires like Mickelson hard. For income exceeding $1 million, the state rate jumped to 13.3 percent from 10.3 percent. For Mickelson, who earned roughly $60 million in 2012, that would be a tax increase of more than $1.8 million.
"If you add up all the federal and you look at the disability and the unemployment and the Social Security and the state, my tax rate's 62, 63 percent," Mickelson said. "So I've got to make some decisions on what I'm going to do."
Mickelson, who flirted with becoming part owner of the San Diego Padres last year, said there was "absolutely" a correlation between the tax increases and the eventual failure to grab a piece of the Padres franchise, which ultimately sold for $800 million in August.
Mickelson, whose net worth is conservatively reported at more than $150 million, finished with a 66 on Sunday to tie for 37th at 17 under in his season debut. The Hall of Famer — nicknamed "Lefty" for his big left-handed swing — has 40 PGA Tour victories, including four majors, and his career earnings exceed $67 million, according to PGA statistics.
Mickelson, according to Sports Illustrated, was the second-highest earning athlete of 2012, second only to boxing's Floyd Mayweather, Jr. Mickelson, who was also second on the list in 2011, earned $3.7 million in winnings and $57 million in endorsements last year — for a staggering total of $60,763,488.
The Associated Press contributed to this report.