Spieth, Walker and Reed: 3 US rookies look to make their mark in 1st Ryder Cup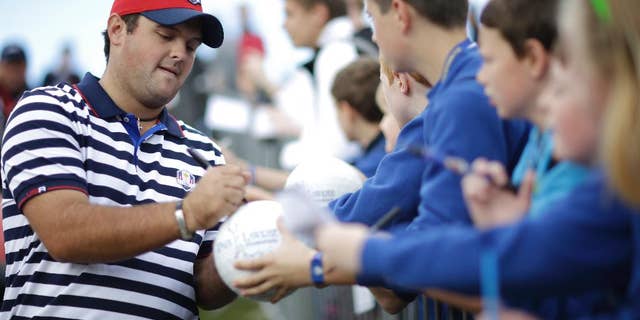 GLENEAGLES, Scotland – Jimmy Walker is not your typical rookie.
He's 35 and has played on the tour for nearly a decade. Winner of three events early this season and a top-10 finisher in three majors in 2014, Walker is one of three first-time players on the U.S. Ryder Cup team at Gleneagles.
Walker is by far the oldest of the American newcomers — Jordan Spieth is 21 and Patrick Reed 24.
"I've been playing golf a long time," Reed said Thursday, a day before the U.S. and Europe renew their rivalry in golf's showcase team event. "I've been playing professional golf for a long time. I feel like I've done a lot. I've been on a couple of Tours, made some big putts at key times, keeping my card, that type of stuff. I feel like I've been around a long time.
"I know this is a new event for me, but I've done a lot, so I don't feel like a rookie."
Europe also has three rookies: Victor Dubuisson of France, Jamie Donaldson of Wales and Stephen Gallacher of Scotland.
Chances are that at least one of the newcomers will play a pivotal role in the final outcome on Sunday.
"The young players, they always bring energy," U.S. captain Tom Watson said. "They bring the energy of the youth. They are getting their feet wet. The youth, as I've said, they can often determine who wins and loses the matches."
Walker said he's handled pressure throughout his career but has no idea what to expect in the intense atmosphere this weekend.
"I'm sure something along the lines this week is going to rival those feelings and what you feel and what I felt then," he said. "I'm sure you'll have those types of emotions, and it might be different. I believe in my preparation and what I've done to get here, and that's all that matters."
Walker has a reputation as a calm, unflappable player but knows the Ryder Cup could bring out some extra passion.
"I don't know what emotions are going to come out," he said. "I do get more fired up in team events, playing at home with guys. So we'll see. I may look calm, but I'm pretty fired up inside. I try to stay pretty even keeled, but there's some fire, don't worry."
Walker looks forward to a potential pairing with colorful Rickie Fowler, who arrived at Gleneagles with "USA" cut into the side of his hair.
"I was like, 'That's my boy right there,'" Walker said. "He's getting after it."
Reed, who declared himself one of the top five players in the world after winning at Doral this year, is impatient for the competition to finally begin.
"This week seems like it's lasted forever," he said. "It just seems like Monday through today has been such a long process, just waiting and waiting and waiting just to get there and play and represent your country."
Reed compared the feeling of teeing off for the first time this week to the first time he practiced at St. Andrews, the Scottish club considered the home of golf.
"It's almost like all the oxygen got sucked out," he said.
Reed's wife, Justine, will not work as his caddie this week, with the duties going to Kessler Karain. Reed said Justine decided to "be the wife" and join in with the other wives and girlfriends for the week's activities.
"She'll be cheering pretty loud on the sideline," he said.
Spieth, who has five top-five finishes this year on the PGA Tour, will become the youngest player in 15 years to play in the Ryder Cup. He's back in familiar surroundings: He played in the 2010 Junior Ryder Cup at Gleneagles, winning all three of his matches.
Spieth also played in the Presidents Cup last year, something he feels gave him vital experience for this week. He'll find out quickly enough.
"I still don't know what to expect on that first tee," Spieth said. "That's a pretty incredible setting that they have here, but it's a shot I'm looking forward to hitting. I hope that I'm one of those guys that elevates his game for this event."
___
Follow Stephen Wilson on Twitter: http://twitter.com/stevewilsonap