SPENCER: You're Outta Here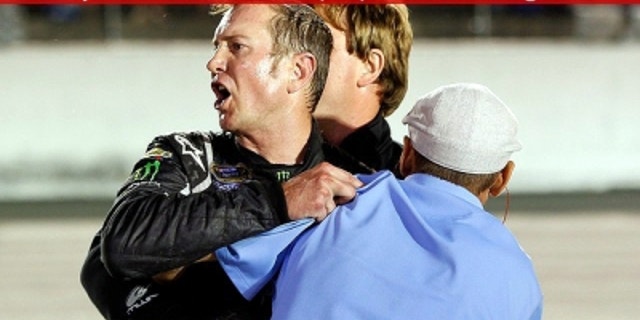 NEWYou can now listen to Fox News articles!
I think we can take Kurt Busch's name out of the rumor mill this week … the "good" rumor mill, that is.
Rumors started swirling the past couple of weeks that he was being seriously considered to take either Joey Logano or Jeff Burton's seats at Joe Gibbs Racing or Richard Childress Racing, respectively. Both are top rides with corporate sponsors that require their drivers to behave better than a three-year-old.
Oops, I guess Kurt Busch is out of the running for those.
He took the No. 51 ride at James Finch's Phoenix Racing as a one-year deal in hopes of rehabilitating his image in 2012 and possibly getting back with a top team for 2013. I think that opportunity is gone after what happened at Darlington.
Not only did he infuriate the No. 39 team by driving through their pit box in a fit of anger after being on pit road for damage repair, he could have injured one of their crew members. Additionally, he launched a horribly expletive-laden tirade over the radio yet again. The Kurt of years past was alive and well on the No. 51's radio Saturday.
Instead of fining him Tuesday afternoon, NASCAR should have suspended him for a week or two. If Bill France was still living, Kurt would be sitting out. It seemed to do his little brother, Kyle, a world of good to be parked at Texas last year for something that, in my opinion, was much more a part of racing than the antics Kurt has been pulling.
Kurt does stuff much more dangerous to other drivers and crew members than any driver I can think of in the history of the sport. When Kurt gets mad, as he did Saturday, he loses control to the point he short-circuits. Therefore, he has to deal with the issues that plague him mentally, and needs to get a grip on whatever it is that makes him so angry and volatile. We're not just dealing with hurt feelings on his team after being verbally abused on the radio; we're talking about the great possibility that Kurt could hurt someone with his car in this frame of mind.
But the guy doesn't learn. He got fired from Roush Fenway Racing AFTER winning a championship and also got fired from Penske Racing because of his behavior and attitude. Roger Penske is one of the most honorable and respected men both in motorsports and in the business world, yet even he couldn't get control of Kurt. But it's not Penske or Finch's jobs to get control of the driver – it's the driver's job to control himself. How many times have we told our small children to "get control of yourself?" It's a concept he should have learned long ago.
Another concept that has been lost on Kurt is respect, both for the sport and for others. Kurt has neither and never has. He shows zero respect for the sport and, to me, that's probably the worst part of it all.
Look at guys like Matt Kenseth, Bill Elliott, David Pearson and others who tend to be level-headed. You don't and didn't hear them screaming at their crew members and car owners like Kurt. I've never seen another driver repeatedly act in the manner Kurt has. Granted, every driver has been through a problem. Hell, I got suspended for punching Kurt, but I learned my lesson.
But look at guys like Rusty Wallace, Geoffrey Bodine, Ernie Irvan and Dale Earnhardt – every driver has had an issue at one time or another – but they've all been reprimanded and straightened out. Everyone but Kurt. I've never seen a driver continue to have the same behavior problem year after year after year with no improvement.
And in my book, if you refuse to change your behavior, then you no longer should be allowed to play. NASCAR needs to suspend him and show him the sport will go on without him. It went on in last year's Cup race at Texas without Kyle, and I'll be willing to bet sitting on that pit box watching his No. 18 Toyota race without him was one of the hardest things Kyle has ever done.
Kurt also should be sat down and forced to evaluate whether he really wants to continue in NASCAR, and if he does, the responsibility is on him to take control of himself and act respectably.
It's time for this to stop. The guy is extremely talented, but his behavior is a big black eye on this sport.
Jimmy Spencer calls it like he sees it on NASCAR Race Hub on SPEED. He retired from driving with two NASCAR Sprint Cup, 12 NASCAR Nationwide and one NASCAR Camping World Truck Series victory, putting him in an elite group of drivers who have logged wins in all three of NASCAR's premier divisions. In 478 NASCAR Sprint Cup Series starts, Spencer amassed 28 top-five and 80 top-10 finishes. He won back-to-back NASCAR Whelen Modified Tour championships in 1986 and 1987 on the heels of 15 victories, becoming the first driver ever to earn consecutive titles in the series. He earned the nickname "Mr. Excitement" for his flamboyant and aggressive driving style early in his racing career.