SPENCER: Something Old, Something New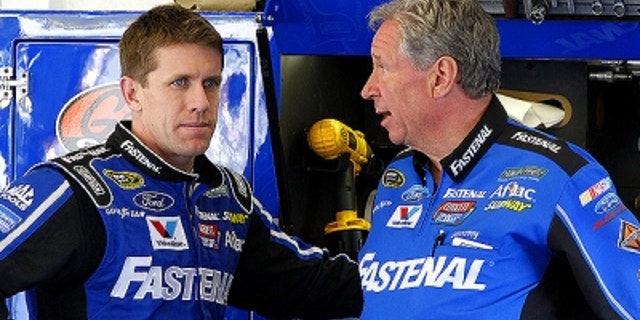 Something both old and new was at the forefront of the NASCAR world last week.
The "old" would be Carl Edwards' crew chief, Jimmy Fennig, and the "new" would be the Gen-6 race car. Both made headlines coming out of Phoenix and will continue to do so in the 2013 NASCAR Sprint Cup Series season.
Fennig, who guided Edwards to breaking his 70-race winless streak at Phoenix, might be Edwards' new crew chief, but he is anything but new to the sport. He's been around forever and is one of the best. Fennig led Kurt Busch to his 2004 Cup championship, and also won the Daytona 500 with Matt Kenseth and Bobby Allison 20 years before him. With the influx of college-educated engineers taking crew chief jobs in NASCAR, Fennig stands as a rare but shining example of hard-nosed, old-school leadership. I'll put his knowledge of race cars up there against a young, hotshot engineer's any day.
It only took Fennig two races to get Edwards back to Victory Lane after "Cousin Carl's" long winless drought and demoralizing 2012 season. That shouldn't be a surprise, though, because Fennig is one of the more successful crew chiefs in NASCAR. He has won races with Busch, Kenseth, Mark Martin, Allison and now Edwards – 37 to be exact – and led Kenseth to berths in the Chase the past three seasons. I'd be shocked if he doesn't do the same thing with Edwards this year and put him right back in the thick of the title hunt.
When the two were first paired up, Fennig made it clear things would change a bit for his driver. Edwards, who resides in Missouri, was expected to make it into the Roush Fenway Racing shop at least once a week and be more engaged than he had been. And Fennig was the only crew chief at the Daytona test whose team had a backup car ready to go when they wrecked. Preparation and management are key in this business, and Fennig is superb at both.
For the "new," I turn to the Gen-6 race car that made its downforce-track debut last weekend at Phoenix. Denny Hamlin was fined Thursday by NASCAR for remarks he made about it after the Phoenix race, saying it doesn't race as well as its predecessor, the COT. However, he's somewhat right in that the first two races this year have been a bit rough, but I think everyone is jumping to conclusions way too early in the game. No, the car isn't perfect yet, but it shows lots of promise.
Patience, people, patience. It took a long time for NASCAR to get these cars finalized and for the manufacturers to get them approved for competition. Hell, we still had teams waiting on parts in the last week or two before the Daytona 500. Success doesn't happen overnight, and the "perfect" race car doesn't hatch overnight either. The perfect race with the new car isn't born overnight.
Do we throw a rookie driver out of the seat after the first race if he doesn't perform as well as expected? Do we split up a driver and crew chief after their first race together because they didn't win?
I say we should wait until about the sixth race before we start screaming that this car hasn't improved the racing. That gives Goodyear time to change the tire to suit the new car and create a tire with more "give up" in it. After the Brickyard 400 tire debacle years back, Goodyear was forced to create an extremely durable tire but at the expense of it giving up speed throughout the course of a run. When a tire slows down a second-and-a-half during a run, handling becomes more of an issue for the drivers and we have a better race. I have no doubt Goodyear will get to that point.
I really have no doubt, either, that this new car will evolve to a much better state of racing. Teams and NASCAR continue to evaluate it, and once they get it figured out, we'll see a lot of side-by-side racing and passing. Hopefully, that won't take more than six weeks or so.
As my mom always said, patience is a virtue. Practice it.