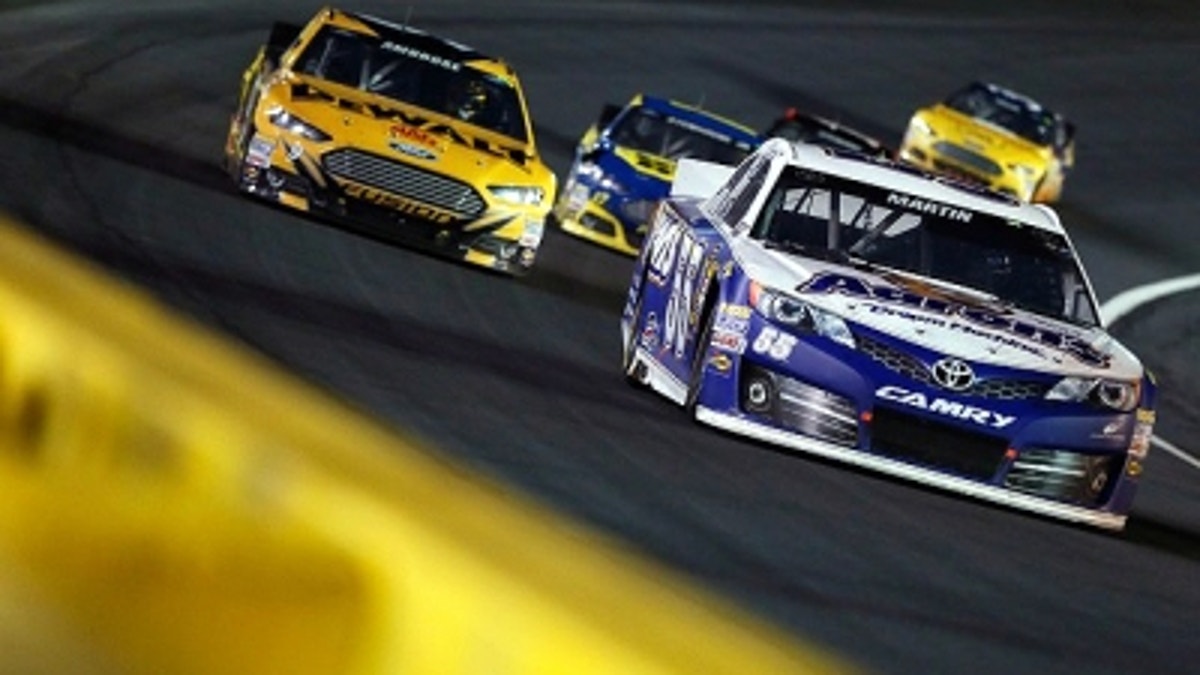 After two weeks of NASCAR Sprint Cup Series racing at Charlotte Motor Speedway, I've come up with a few ideas that, although major overhauls, potentially could reap huge benefits for NASCAR. If you're looking for a way to shake up the competition and increase the drama and interest in the sport, I've got it.
The camera cable incident Sunday night in the Coca-Cola 600 certainly got everyone's attention, and with good reason. First and foremost, I'm so glad the fans who were injured are okay and weren't seriously hurt.
However, once we learned everyone was going to be alright, I started looking at something that came out of the night -- the red-flag period for teams to make repairs to their cars damaged by the cable. Big kudos to NASCAR for breaking with tradition and allowing teams to fix their cars.
That should become a precedent in any incident that has nothing to do directly with the on-track competition but affects the outcome of the race. I'm sure Jeff Gordon would support the notion and would have appreciated the opportunity. Remember part of the concrete racing surface coming up at Martinsville a few years back and damaging his car? He had a shot at winning until that happened. It was no fault of his or his team's, but NASCAR didn't allow them extra time to make repairs. Then, in 2004 in the NASCAR Camping World Truck Series race at Charlotte, Carl Edwards lost the race when the caution lights inadvertently blinked on four laps before the finish. Edwards slowed down when he saw the caution lights, and Dennis Setzer passed him to win the race. NASCAR later apologized but said the results stood.
NASCAR had to do something Sunday in the 600. The leader of the race, Kyle Busch, suffered significant damage, for heaven's sake. There was no other choice for the sanctioning body. However, they should take that a step further and throw a random red flag in every race. Bring the cars down pit road at an unannounced time and allow them 10 or 15 minutes to make whatever adjustments they'd like to their cars. They can changes shocks, springs, whatever. Think about how that could shake up the race and give so many teams a better shot at winning. Can you imagine what that would do for the competition once the race resumed? Talk about giving fans something to tune in for.
While I'm advocating for overhauling our races, how about we include qualifying in that plan? In making my case, I refer to qualifying for the NASCAR Sprint All-Star Race, which was simply awesome. With no pit road speed in effect, watching those cars enter pit road was electrifying. The crews and drivers loved it, and so did the fans. NASCAR needs to do that at every single track, and include the pit crews with a mandatory pit stop. Make it two laps of qualifying with a pit stop in between with no pit road speed. Of course, that adds an element of danger to the mix. I'm all for safety but also am for excitement and unpredictability in the sport. Throwing a monkey wrench like that into qualifying would not only provide both, but it would make the usually boring qualifying sessions into must-watch events once again.
I'm going to close by beating the same drum I've been beating for two years, and I'll continue to do so until someone in NASCAR listens. The cars are going way too fast. Slow them down and you will have better racing! At these ridiculously high speeds, drivers can't run side-by-side even if they wanted. They're basically running qualifying laps every lap of the race, and most drivers will tell you they'd like some speed pulled out of the cars. I don't understand why NASCAR won't do it. There is nothing wrong with going fast, but when the speeds hurt the show, the product suffers.
The cars are running single file most of the race for this very reason. After things settle down after a restart, races look like practice sessions. It's a single-file parade because drivers cannot adequately race at these speeds. NASCAR needs to sit down with the drivers and crew chiefs, listen to their concerns and ideas, and fix the problem.
Fans in the stand will never notice the lessened speeds, but they will immediately recognize better on-track competition. I hope they get the chance.