SPENCER: Off Weekend Good For Logano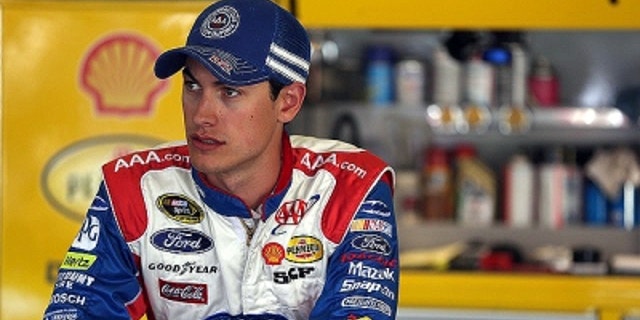 Joey Logano should be grateful for the off weekend for Easter. Maybe it will give his fellow NASCAR Sprint Cup Series drivers time to forget what he did last weekend at Auto Club Speedway.
But actions like his are hard to forget … and in Logano's case, lessons such as respect for your fellow competitors apparently are hard to learn.
Drivers won't soon forget Logano's comments after the race that Denny Hamlin got what he deserved by getting wrecked. I don't care if Logano knew Hamlin was hurt or not – what Logano did to him was wrong. What's sad is Logano actually drove a really good race, and I was pulling for him to win. But he wrecked the No. 11 car, despite the fact Hamlin lifted twice during their scuffle. Hamlin went into the third turn going high and gave Logano plenty of room, but the kid still wrecked him. Then he got out of the car and said his nemesis deserved it.
There's that old chip on Logano's shoulder rearing its ugly head again. It has been there since he emerged on the NASCAR scene. Attitudes like that make him fair game to the rest of the drivers now because he never gives respect. I wouldn't be surprised to see some of them race him as dirty as he raced Hamlin just because they can and because they disagree with what he did.
There is no sense of humility in Logano, and there seems to be a lack of appreciation for the breaks he has gotten that have helped him land a ride at the highest level of NASCAR. Since Logano's father funded his racing career all those years, there is a perception among many drivers that he hasn't earned his spot in the sport and doesn't deserve it, yet Logano doesn't do anything to counter that perception. Of course, it doesn't help that his father followed him around like a bodyguard all those years.
How many veteran drivers has he pissed off in his short time? How about Ryan Newman, Greg Biffle, Kevin Harvick, Denny Hamlin and Tony Stewart, just to name a few? He has riled up drivers by disrespecting them and wrecking them – not racing them – all the way back to his ARCA, X-1R Pro Cup, K&N Pro Series East and Toyota All-Star Showdown days.
For those who will argue that Logano didn't know Hamlin was hurt when he made his post-race comments on FOX, you are correct. He probably didn't know Hamlin was injured. Logano's spotter should have come on the radio and told him how hard Hamlin hit the wall, and that he fell to the ground when he climbed out of his car. However, just as much responsibility lies with Logano to key the mic and ask his team if Hamlin is okay. What kind of driver wrecks another at 200 miles per hour on the last lap and doesn't want to know if the guy made it out in one piece? Logano failed miserably in the human decency category.
It's time to grow up and get the message. Respect your fellow drivers if you want to succeed and continue in this sport. He'll never be a great driver if he keeps pulling that stuff, but he will find himself on the outside looking in. Brian Vickers certainly did. Talk about a driver having a chip on his shoulder. Remember Vickers messing with Tony Stewart at Sonoma? How about his numerous run-ins with Matt Kenseth at Martinsville in the fall of 2011 when Kenseth was battling for a championship? Those are two championship drivers who have earned their stripes. Vickers was in the market for a fulltime ride then, but didn't behave like a driver trying to prove his skills on the track. He has recovered, to a degree, from those actions, but he still doesn't have a fulltime Cup ride. I think that is due in great part to his behavior that year.
If Logano isn't careful in this crucial season, he'll find himself in the same spot as Vickers – trying to claw his way back in.
Jimmy Spencer calls it like he sees it on NASCAR Race Hub on SPEED. He retired from driving with two NASCAR Sprint Cup, 12 NASCAR Nationwide and one NASCAR Camping World Truck Series victory, putting him in an elite group of drivers who have logged wins in all three of NASCAR's premier divisions. In 478 NASCAR Sprint Cup Series starts, Spencer amassed 28 top-five and 80 top-10 finishes. He won back-to-back NASCAR Whelen Modified Tour championships in 1986 and 1987 on the heels of 15 victories, becoming the first driver ever to earn consecutive titles in the series. He earned the nickname "Mr. Excitement" for his flamboyant and aggressive driving style early in his racing career.