SPENCER: May Quite Different For Danica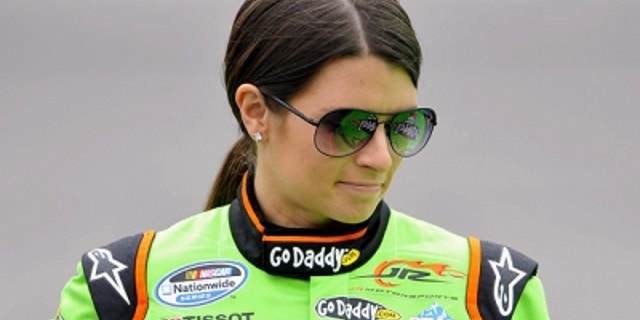 For the first time in seven seasons, May takes on a different meaning for Danica Patrick.
From the time she was 23, Patrick spent this fifth month of the year preparing for the Greatest Spectacle in Racing – the Indianapolis 500.
However, Patrick's travel plans changed this season as her focus and commitment switched to NASCAR.
Last weekend at Iowa Speedway, Patrick was engaged in her current full-time gig as a racer in the Nationwide Series for JR Motorsports. She knew the conflict with the Iowa race and Bump Day for Indy 500 being scheduled for the same date would preclude her for pulling off the May double between Charlotte and Indianapolis.
But between practices and qualifying, she still kept a close eye on the action at the Indianapolis Motor Speedway some 300-plus miles southeast of Clinton, Iowa. Patrick watched as her former car, now driven by James Hinchcliffe, shot to the top of the speed chart and inevitably qualified second.
"This is the first day I've thought much about it, to be honest," Patrick said during her time with the media at Iowa on Saturday. "Because this is the first day that something's counted, obviously. So I'm curious, of course I am. I spent my whole childhood watching open-wheel racing. Going to England and racing open wheel. Coming back, racing open wheel. It's been my world for 20 years – and beyond that since it's my 21st year now.
"So for my whole life I've been watching it. I watch it and I think, 'I know how to do it. I feel like I know Indy. I know what it takes to be fast. And every year I learn valuable lessons as to how to be better the next time. I felt like I learned a real big one last year. Hopefully, that means sometime in the future I'll get to use that."
But on Sunday, NASCAR's GoDaddy girl experienced her own version of "Bump Day" when she slammed into the Turn 4 wall after 113 laps in the Pioneer Hi-Bred 250. Patrick finished 30th, 137 laps off the pace, but she remains 10th in the Nationwide Series point standings.
"It's been an up-and-down season," Patrick said. "There's been times when we have caught some bad luck. There have been times when we've just had some disappointing races. There've been times when we've been good but things just didn't happen right. So, there's a lot of things – a lot of great stuff that have happened.
"Unfortunately, I feel like all the great stuff that's happened hasn't necessarily materialized to a great result in the race. Sometimes it's the qualifying effort. Sometimes it's just being really great in practice, doing things I wasn't doing before."
For the last three seasons, Patrick has attempted to navigate the stock car waters. With her visibility, it would appear that Patrick has more experience than she does in NASCAR. But since her Nationwide Series debut at Daytona in 2010 to Iowa last Sunday, where she finally raced at every track on the circuit, Patrick has competed in just 35 NNS events – a full season. She has one pole, one top-five and four top 10 finishes over the last three seasons. Her average qualifying effort of 20.9 is slightly better than her average finish of 22.3. She's led 21 laps and has been running at the finish in 28 of the 35 races.
Perhaps her greatest challenge to date was her Darlington Raceway debut two weeks ago. Often considered the toughest track on the NASCAR circuit, Patrick opted not only to run in the Nationwide Series race but added the Sprint Cup Southern 500 as well. Not surprisingly, Patrick earned her first of many Darlington stripes early in practice. But by the time the NNS race rolled around, and with an assist on the radio from her Cup owner and current champion Tony Stewart, Patrick finished a respectable 12th and on the lead lap.
Patrick's second Cup outing, the next night at Darlington, offered valuable lessons as she kept her car in one piece and persevered to a 31st-place finish, six laps off the pace. Still, Patrick referred to the experience as a "confidence booster" considering that she simply survived the Track too Tough to Tame.
Unlike most NASCAR newcomers, Patrick has the advantage of top of the line equipment and championship caliber personnel surrounding her. Certainly, that has helped her transition from 1,525-pound Indy cars to 3,400-pound stock cars. After her first two seasons of running both IndyCar and NASCAR, Patrick knew a full-time commitment to stock cars would be the only logical pursuit if she was going to achieve success in the Nationwide Series.
While Sunday's results weren't what Patrick was hoping for, overall the weekend was somewhat of a triumph for the 30-year-old Roscoe, Ill.-native who now calls Scottsdale home. She was fast from the time the team unloaded the car, quickly acclimated to the track and posted a ninth-place qualifying effort out of 43 cars.
"Coming into (Iowa), my third-straight track I haven't been to yet, could have been a learning curve but we got off to a good start," Patrick said. "(Crew chief) Tony Eury Jr. put a good car on the track last year when Josh (Wise) was driving it and again, it was good here so I got out there and felt pretty comfortable right away driving it. That's a good sign.
"It's always nice when my first run at a track I've never been to before is actually my fastest run. That means I'm becoming more comfortable with the car and feeling the limits more and able to get up to speed much quicker. So, overall I think things have been on a good swing lately."
Entering Charlotte Motor Speedway this weekend, Patrick will make her third start in the Sprint Cup Series in addition to her regular driving duties in NNS. She becomes just the second woman since Janet Guthrie in 1976, to compete in a Cup race at Charlotte. Patrick finished 21st in her only start at CMS two years ago, but adding the Coca-Cola 600 to her schedule – the longest race on the NASCAR circuit – should test her limits once again.
But Patrick enjoys the challenge. Over the last two years, perhaps her greatest lesson has been to maintain realistic expectations. Along the way, posting the best finish for a female in one of NASCAR's top tours when she was fourth last year at Las Vegas or becoming the first woman to win a pole at Daytona International Speedway in February, will just be the beginning of a long list of accomplishments in motorsports. At 30, she has plenty of time to make her mark.
And regardless of what happens in NASCAR, the Indianapolis 500 will always beckon.