SPENCER: Could Larson Bump McMurray?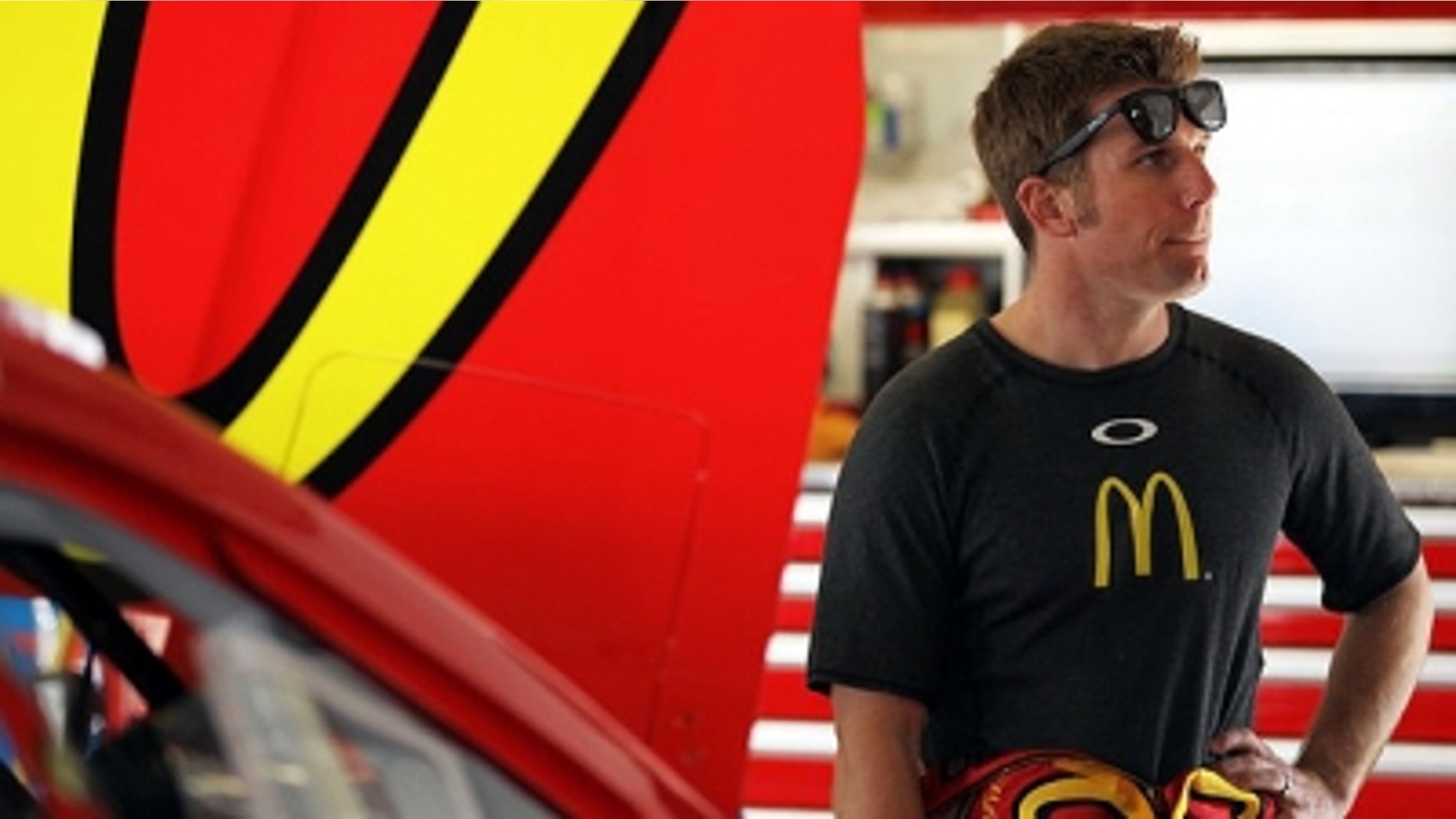 Could it be out with the old and in with the new at Earnhardt Ganassi Racing next year?
I wouldn't be the least bit surprised to see Chip Ganassi replace Jamie McMurray with his up-and-coming development driver, Kyle Larson, in the No. 1 Chevrolet in the 2014 NASCAR Sprint Cup Series season.
If you think that's crazy, then consider the facts. McMurray's performance over the past couple of seasons has been lackluster at best. In fact, he posted only two top-five and seven top-10 finishes in 2011 and 2012 combined, and finished those two seasons 27th and 21st in points, respectively.
On the other hand, Larson, the 20-year-old reigning NASCAR K&N Pro Series East champion, won the inaugural NASCAR Whelen All-American Series race at Daytona last month in his first time in a late model stock car, finished runner-up in the Daytona ARCA event and finished runner-up to Kyle Busch in last week's NASCAR Nationwide Series race at Bristol. In 2012, he ran his first four NASCAR Camping World Truck Series races and scored top-10 finishes in three of them, including a second-place effort. The kid had never competed in a Nationwide car until Daytona a few weeks ago.
McMurray, now in his 11th full Cup Series season, only has six wins, three of which came in 2010, when he famously won the Daytona 500, Brickyard 400 and the fall race at Charlotte. The Missouri native has never finished higher than 11th in points. Surely, Ganassi must think Larson could do better given enough time to acclimate himself to stock cars. Keep in mind Larson comes from midgets and sprint cars – not stock cars.
If I were Ganassi, I'd pull the plug on McMurray next year and replace him with Larson. Sure, he'll tear up some equipment, but his natural talent is undeniable. Larson reminds me of a young Jeff Gordon, not only with regard to his pure talent but also his marketability. He certainly would be easier to sell to a sponsor than McMurray is at this point.
It's time to make a change, and this time in the driver department. Ganassi has swapped everything else out. He this year changed over to Hendrick motors from Earnhardt Childress Racing Engines, and he has cleaned house in the management and crew chief departments a couple of times. It's time to make a swap in the driver department.
While neither McMurray nor Ganassi have said a whole lot about when McMurray's contract expires, it's widely believed that when he re-signed last year, it was for 2013 only. The time is right for Ganassi to bite the bullet, make the change and throw Larson in the car. Given time to mature and adjust to Cup cars, the kid could be the next Kyle Busch or Gordon. Busch lit the world on fire when he made his NASCAR entrance, and everyone is expecting similar things out of Larson.
Will he struggle? Sure. Will he make mistakes? Of course. He already made a big one in the Whelen All-American race at Daytona when he dumped the leader, C.E. Falk, to win the race, but I think Larson learned from that. He took a lot of heat for it and seems to have taken it to heart. Then he raced Jimmie Johnson hard at Phoenix in the Nationwide Series race, but raced him clean. Larson gained tons of experience battling the five-time Cup champion, which carried over to Bristol and his battle with Busch. There is a big difference between wrecking someone like he did at Daytona and racing someone like he has done the past couple of weeks.
The kid improves each week, so much so that I have to remind myself he doesn't have any stock-car experience beyond what we've seen in 2013. Ganassi would be crazy not to take a major gamble on this kid and give him a Cup ride sooner rather than later.
Seeing him roll out in Daytona next year behind the wheel of the No. 1 Chevrolet wouldn't shock me at all. Chip Ganassi isn't dumb. He recognizes this kid's talent and capabilities, and unfortunately for McMurray, Larson holds much more promise than he ever will.
Jimmy Spencer calls it like he sees it on NASCAR Race Hub on SPEED. He retired from driving with two NASCAR Sprint Cup, 12 NASCAR Nationwide and one NASCAR Camping World Truck Series victory, putting him in an elite group of drivers who have logged wins in all three of NASCAR's premier divisions. In 478 NASCAR Sprint Cup Series starts, Spencer amassed 28 top-five and 80 top-10 finishes. He won back-to-back NASCAR Whelen Modified Tour championships in 1986 and 1987 on the heels of 15 victories, becoming the first driver ever to earn consecutive titles in the series. He earned the nickname "Mr. Excitement" for his flamboyant and aggressive driving style early in his racing career.