SPEED On-Air Personalities Explore 2012 NCWTS Season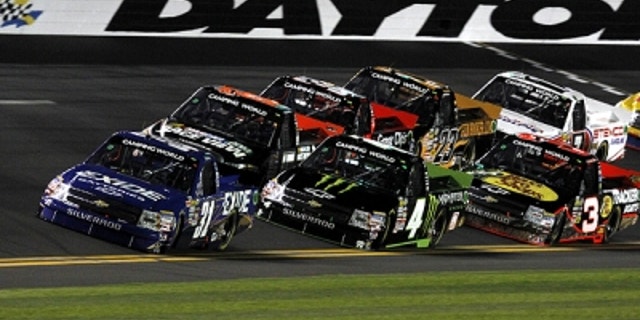 SPEED ON-AIR PERSONALITIES EXPLORE UNPREDICTABILITY, QUIRKS AND RISING STARS OF 2012 NASCAR CAMPING WORLD TRUCK SERIES SEASON
SERIES ROLLS INTO 10TH YEAR ON SPEED FRESH OFF MOST-WATCHED SEASON EVER
The NASCAR Camping World Truck Series roars back to life Friday in its season-opening race at Daytona International Speedway (live at 7:30 p.m. ET on SPEED; NCWTS Setup with Krista Voda at 7 p.m. ET). While the location of the season opener remains the same, the landscape of the Truck Series has changed quite a bit since the final race of the 2011 season, the most-watched season ever on SPEED.
With new faces in new places and new promise for the 2012 season, SPEED's 10th year as the home of the Truck Series, SPEED on-air personalities take a minute to share their thoughts on Daytona and beyond in the Q&A below:
Q: The NASCAR Camping World Truck Series takes a month off following Daytona this season. What opportunities can that month provide drivers and teams, especially those struggling to put together sponsorship, and does this year's schedule put more importance on a strong performance at Daytona?
"A win at Daytona can fill a season -- literally. For a driver, winning at Daytona fulfills a dream, but for a team and team sponsorship, winning at Daytona can mean the difference between racing or not. If a driver like Todd Bodine can win at Daytona, which he has done before, he can sell himself to sponsors with that Daytona winner title. With the schedule slated for a month off after Daytona, those weeks off following a potential could be a goldmine for inking potential sponsors. Daytona always is big but even more so this year." --Krista Voda, host of NCWTS Setup
"The Daytona race is so significant for so many reasons. The fact that it is the first race of the season is huge because teams have been working with potential sponsors during the off-season, and Daytona will be their first race to 'show their stuff' and hopefully secure those sponsorships for multiple races. With the series' second race falling a month later, drivers want to have positive momentum going into that down time." --Rick Allen, SPEED play-by-play announcer
"Daytona becomes much more significant this year because not only do they have to get there to have a chance to utilize the schedule break to sell more sponsorships, but teams need a great showing in the race if they don't have their season completely sold. Coming out of there with a top-five finish not only gives them a lot of momentum heading into that long break, but it also gives teams the opportunity to show they can be a championship contender." --Ray Dunlap, SPEED reporter
Q: What rookie drivers will you be watching in the Truck Series this year?
"Without a doubt, Ty Dillon is the driver to beat in the quest for Rookie of the Year, but he doesn't have that title locked up. I think Dakoda Armstrong will give Dillon a run for his money. Both drivers have experience in the Camping World Truck Series and both have veteran organizations backing them up. 'Dillon vs Dakoda.' I say start printing the marketing banners for this rookie title fight now." --Krista Voda, host of NCWTS Setup
"The spotlight will be extremely bright on Ty Dillon this season for rookie of the year. He proved he can win a championship by putting together a phenomenal season in ARCA last year, and I think he can win races in the Truck Series this year." --Rick Allen, SPEED play-by-play announcer
Q: Who is your preseason favorite for the championship and why?
"Picking a preseason favorite for the championship this year is incredibly difficult. Had it not been for ThorSport changing manufacturers in the off-season, I would have said Johnny Sauter, hands down. But that transition may take a while for them to get really comfortable. Ron Hornaday is with a new team and it isn't easy to find that chemistry, especially when the first three races are spread over three months. So, I will go out on a limb and say James Buescher will get his first, and possibly more, Truck Series wins on his way to the 2012 championship." --Rick Allen, SPEED play-by-play announcer
"I've picked James Buescher to win the championship. With what they've done at Turner Motorsports to shore up the program, bringing in fully-funded Miguel Paludo and Nelson Piquet, Jr., and a number of personnel acquisitions they made during the off-season, they've set a target that says, 'There is no reason we can't go out and each team win one or two races and contend for the title.' Buescher showed incredible consistency last year to run in the top five or top seven, but if they had made the Phoenix race last year, he would have been an even more serious contender for the title. The work they've done in the off-season, though, puts them in the position to be a favorite." --Ray Dunlap, SPEED reporter
"Johnny Sauter is the guy to beat. He has been solid the last few years, but the way he ended 2011 -- leading the most laps and winning the race in Homestead --.makes him the driver with the bull's eye on his back heading into 2012. Sauter has the fire in his belly when it comes to winning a NASCAR championship. But to do so, he'll have to get past his teammate, Matt Crafton. Crafton's style is more reserved than Sauter's, but they are equally competitive and equally deserving of a championship." --Krista Voda, host of NCWTS Setup
Q: Eddie Sharp Racing made a significant investment for the 2012 season by purchasing assets from Kevin Harvick Inc.'s Truck Series team. How will this investment benefit the team?
"Eddie Sharp made a huge upgrade to his teams by buying KHI's quality equipment and basically picking up that team and moving it to his shop in Denver, N.C. He really brought along a lot of the attributes of KHI, which in turn, created a new opportunity for a partnership with RCR for equipment and engines. These changes put Eddie Sharp Racing in the very best equipment and also allowed him to lure in great personnel. It's a big gamble for Eddie, but also a great opportunity. The question mark in my mind is whether their third team with Mike Skinner helps or hinders the whole organization if they spend a lot of time searching for fulltime sponsorship." --Ray Dunlap, SPEED reporter
"Eddie Sharp Racing has inherited more than Kevin Harvick Incorporated's equipment. The team will inevitably inherit success and media attention, as well. With increased investment in the series, this will be one of the organizations that makes some noise in 2012." --Krista Voda, host of NCWTS Setup
Q: After years of trying and being close, what does ThorSport have to do to win a championship?
"ThorSport just needs to keep doing exactly what they have been doing. The organization has quality drivers in Johnny Sauter and Matt Crafton and they've paired them with crew chiefs who 'get them' -- crew chiefs who have had time to build chemistry and trust with their drivers. In addition, ThorSport has invested in a new state-of-the-art facility. The concrete and steel is an asset, as well, but the relationships are what, ultimately, will deliver the hardware." --Krista Voda, host of NCWTS Setup
"For Thorsport to be successful this year, they need to come out of the gate fast. In previous years, Sauter and Crafton have been fast to start the season. With the change of manufacturers, if they aren't as fast there will be a question in everyone's mind as to whether the change was a good one. They need confidence the change was for the better and that all starts with the first practice on the high banks of Daytona." --Rick Allen, SPEED play-by-play announcer
Q: Does the 2012 season have more of an air of unpredictability and uncertainty than usual?
"Starting SPEED's 10th season telecasting the Truck Series, I never have seen a more wide-open championship picture than this year's. We've got championship drivers with new teams, manufacturer changes on successful teams and young drivers with consistency within their teams but no wins on their resumes. It's impossible to predict what we are going to see this season, but it's going to be fun to watch." --Rick Allen, SPEED play-by-play announcer
"I always make a list of 10 questions each season that I think need to be answered, and so far this year, I've come up with 25. We have a number of guys whose future or the number of races they'll run, and therefore their championship chances, is unknown, like Mike Skinner and Todd Bodine. Because of those unknowns and because of the incredible number of rookies we'll have, this season is so much harder to call than any I can recall in recent years." --Ray Dunlap, SPEED reporter
"This is shaping up to be a season of unknowns. The Truck Series is known for putting young drivers in the spotlight, and we can expect a new name to garner headlines in 2012. But one of the biggest changeups this season is the fact that big-name drivers like Ron Hornaday are driving for new teams. We'll all be watching how quickly Hornaday and Joe Denette Motorsports get out of the gate. While the combination of driver and team may be new, he has a veteran crew chief calling the shots in Jeff Hensley. I think 'Horn and Hens' will be a solid duo." --Krista Voda, host of NCWTS Setup
About SPEED™
SPEED, anchored by its popular and wide-ranging coverage of NASCAR, is the nation's first and only cable television network dedicated to automotive and motorcycle racing, performance and lifestyle. Now available in nearly 84 million homes in North America, SPEED, a member of the FOX Sports Media Group, is among the industry leaders in interactive TV, video on demand, mobile initiatives and broadband services, including SPEED2, a groundbreaking new broadband network featuring live, streaming and on-demand events complementing offerings of the linear network. For more information, please visit SPEED.com, the online motor sports authority.
About FOX Sports Media Group
FOX Sports Media Group (FSMG) is the umbrella entity representing News Corporation's wide array of multi-platform US-based sports assets under Chairman & CEO David Hill. Built with brands that are capable of reaching more than 100 million viewers in a single weekend, FSMG includes ownership and interests in linear television networks, digital and mobile programming, broadband platforms, multiple web sites, joint-venture businesses and several licensing partnerships. FSMG now includes FOX Sports, the sports television arm of the FOX Broadcasting Company; Fox's 19 regional sports networks, their affiliated regional web sites and FSN national programming; SPEED and SPEED2; Fox Soccer Channel and Fox Soccer Plus; FUEL TV; and Fox College Sports. In addition, FSMG also includes FOX Sports Interactive Media, which comprises FOXSports.com on MSN, whatifsports.com and scout.com, reaching nearly 30 million unique visitors monthly. Also included are Fox's interests in joint-venture businesses FOX Deportes, Big Ten Network and STATS, LLC, as well as licensing agreements that establish the FOX Sports Radio Network, FOX Sports Skybox restaurants and FOX Sports Grills.