SPEED Notes: New Sheriff In Town As Younger Dillon Marshals Impressive NCWTS Rookie Run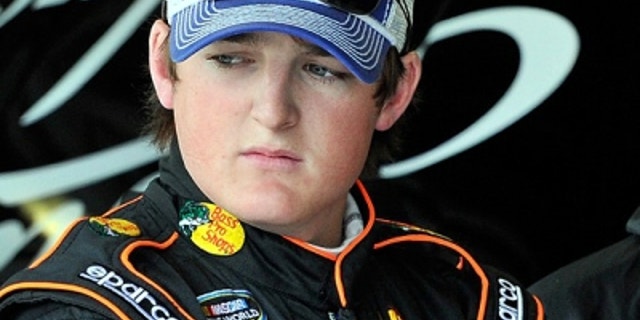 NEW SHERIFF IN TOWN AS YOUNGER DILLON MARSHALS IMPRESSIVE NASCAR CAMPING WORLD TRUCK SERIES ROOKIE RUN
TY DILLON TOPS MARK SET BY RICKY HENDRICK; CONTINUES TO TAKE AIM AT BIG BROTHER AUSTIN'S CHAMPIONSHIP SEASON
TEXAS RACE LIVE ON SPEED™ AT 9 P.M. ET
It turns out NASCAR Camping World Truck Series rookie Ty Dillon wasn't just blowing smoke in the preseason when he denied feeling pressure to fill the shoes of older brother and 2010 series rookie-of-the-year, Austin Dillon.
In fact, Ty has blown past the 2011 series champion's rookie numbers and right into the Truck Series record books.
At Dover last Friday, Ty became the first Truck Series rookie in history to finish inside the top 10 in each of the first six races of the year, breaking the mark set by the late Ricky Hendrick in 2001. In his NASCAR Nationwide Series debut the very next day, Ty out-qualified series regular Austin, lining up third to Austin's 11th starting spot. Ty went on to finish eighth, and Austin, campaigning for NNS rookie honors, was sixth.
With his sights set on Friday's Truck Series race from Texas (live at 9 p.m. ET on SPEED; NCWTS Setup with Krista Voda at 8:30 p.m. ET), the driver of the No. 3 Bass Pro Shops Chevrolet looks to continue his top-10 streak at the track that kicked Austin's rookie year into high gear. In this race in 2010, Austin commenced a streak of eight consecutive top-10 finishes, including five top-five results, a win and three consecutive pole positions after posting only two top-10 finishes in the six opening races.
The younger of the two Richard Childress Racing brothers sees no reason he can't also use the Lone Star State as a springboard.
"The RCR trucks just seem to run well at this next group of tracks coming up," Ty, who became the first rookie and youngest driver to win the ARCA Racing Series championship in 2011, pointed out. "We've got strong ECR power, our bodies are great and we have good speed at Texas. Hopefully, we can hit our own hot streak at Texas like Austin did. I feel like we have some momentum going after Dover."
Growing up as Childress' grandson, Ty appreciates the significance of making his own mark in the sport.
"It means a lot to me and it's a cool record to have," Ty said. "Next is to try to get the most consecutive top 10s ever in a season in the series. Hopefully we'll get top fives and wins as we go on. This really goes back to my team and the season we've had. For a rookie team to be able to run in the top 10 every week is really cool. It's got their confidence up, too, and we're going to make a run at this championship."
He may have momentum on his side, but Ty also has the impetus of indirectly one-upping Austin.
"Ever since we were really young, we've wanted to outdo each other in anything and everything," Ty stated. "We're so competitive. It doesn't matter if it's a foot race to the car or who can score better grades in school. We always want to get more wins than the other, but in the end, that often produces more wins and opportunities for championships for both of us."
However, Austin doesn't hold any ill will over playing second fiddle in qualifying at Dover or in Ty overshadowing his early-season rookie numbers. In his own right, Austin capped his Truck rookie season with two wins, seven top-five and 16 top-10 finishes, leaving plenty of ground for Ty to cover as the year progresses … but also some wiggle room.
"He's just as happy about my start as I am," Ty said. "We always were super competitive against each other but we also want to see each other succeed. There's a little bit of bragging rights, but it's also nice to see your brother do well."
The boys' father, Mike Dillon, former driver and current Vice President of Competition at RCR, says their cut-throat playfulness dates back to their early years.
"We figured out how competitive they were way back when they were little kids, always competing and wrestling around, and when they started playing soccer and basketball," Mike recalled. "They'd get out there in the yard and it was just brutal. They both had to win. Austin is 23 months older than Ty, so as they got older and Ty caught up, we had to separate them some. They had to gain respect for each other, just like in any relationship."
Their team owner and grandfather thinks the competitive bond the duo shares only reinforces their driving skills and passion behind the wheel.
"They both want to win and when one wins, it kind of rubs the other one the wrong way, and makes him want to win more," Childress explained. "They have a tremendous amount of respect for each other, plus they push each other harder than anybody else."
Although they enjoy jockeying for position and achievements, Ty says that's where many of their similarities end.
"We have been raised in racing the same way, had the same mentors and were both brought up through the dirt track ranks in the exact same manner," he said. "So, in a way, our driving styles are very similar. But we react to situations entirely differently because our personalities are so different. I'm more of a laid-back, quiet person, while Austin is more of a go-getting, big talker who is always on the chip. I like to ease myself into things and show up when people aren't really expecting it. I guess you could say I'm the sleeper in the family."
But with the stats he has been posting, Ty won't be a sleeper much longer.