Special F-35 fighter flyover at Phoenix will honor Jeff Gordon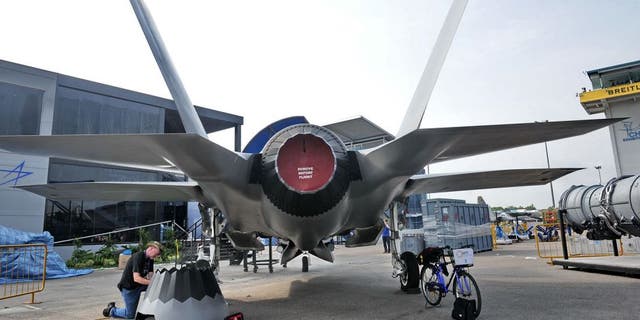 Fans in the sold-out grandstands at Phoenix International Raceway will be treated to the thrill of the first-ever flyover by a pair of F-35 fighter jets prior to the start of the Quicken Loans Race for Heroes 500 NASCAR Sprint Cup Series race.
The F-35 fighter jets based out of Luke Air Force Base in Glendale, Ariz., will have some very special cargo onboard: To celebrate Jeff Gordon's final race at PIR, one of the fighters will be carrying a commemorative Jeff Gordon Raceway flag.
The first-ever flyover of the F-35 fighter jets is scheduled to begin at the conclusion of the National Anthem and will pass directly over the Estrella Mountains to the Southeast behind Turn 3 and then exit beyond the Bobby Allison Grandstands above Turn 1.
NEWPORT, WALES - SEPTEMBER 05: An F-35 Lightning II fighter jet sits on the Roman Road golf course the NATO Summit at the Celtic Manor resort on September 5, 2014 in Newport, Wales. Leaders and senior ministers from around 60 countries are meeting on the final day of the two day summit, with Afghanistan and Ukraine at the top of the agenda. (Photo by Peter Macdiarmid/Getty Images) Peter Macdiarmid Getty Images Europe