Spartans stay strong vs. Terps after Connor Cook leaves with injury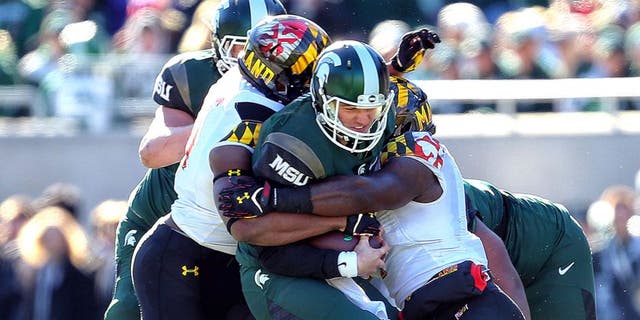 NEWYou can now listen to Fox News articles!
Of all the injuries Michigan State has endured in 2015, this could be the most significant.
Connor Cook left the game at halftime with an apparent shoulder problem, putting a bit of a damper on No. 14 Michigan State's 24-7 victory over Maryland on Saturday.
The Spartans (9-1, 5-1 Big Ten) have been dealing with injuries all season, particularly on the offensive line and in the secondary, but if Cook is limited, Michigan State could be a significant underdog in next weekend's showdown at Ohio State.
Even with Michigan State's star quarterback out, Maryland (2-8, 0-6) didn't pose much of an upset threat. The Terrapins turned the ball over five times.
Cook hurt himself during the first quarter, and although he came back in the game for a bit, backup Tyler O'Connor played the second half.
Cook was only 6 of 20 for 77 yards with an interception in the first half. O'Connor finished the game 6 of 11 for 44 yards with a touchdown and an interception.
Maryland's passing game wasn't any better. The Terrapins came into the week having thrown the most interceptions (25) in Division I, and they added three to that total against Michigan State, 13th in the CFP ranking. Perry Hills was 14 of 30 for 140 yards with an interception, and Caleb Rowe had two of his five attempts picked off.
O'Connor actually played a bit before Cook's injury, throwing a 10-yard touchdown pass to Macgarrett Kings to open the scoring. It wasn't clear if something was bothering Cook then or if Michigan State coach Mark Dantonio was just trying to get his backup some work with the regular season winding down.
Maryland tied it at 7 on a 1-yard scoring run by Brandon Ross, then Cook left the game during Michigan State's next series with his right arm dangling by his side -- he'd been knocked down while throwing a pass.
Cook began throwing a bit on the sideline and was back in the game on the Spartans' next possession, but the senior wasn't particularly effective for the rest of the half.
Almost the entire second quarter was played in Maryland territory, but Michigan State didn't take the lead back until Riley Bullough scored on a 44-yard interception return with 2:07 left in the half. After another interception, the Spartans kicked a field goal to go into the locker room up 17-7.
Gerald Holmes scored on a 3-yard run in the third quarter for Michigan State, which rebounded from its last-second loss at Nebraska the previous weekend but now faces a number of new questions before taking on Ohio State. Cook has thrown for 21 touchdowns and only four interceptions this season, and the Spartans probably need a big game from him next weekend if they're going to pull off an upset.