Sparks flying between Tiger, Vonn?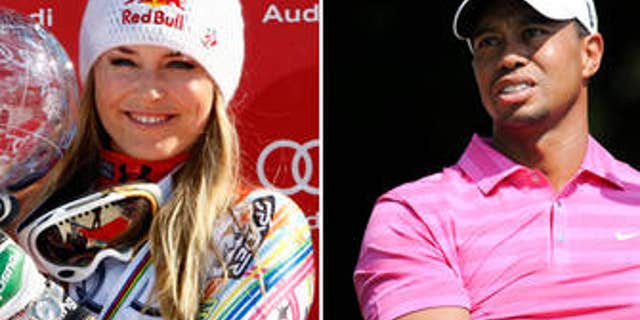 A week after a report surfaced that Tiger Woods was interested in remarrying ex-wife Elin Nordegren, numerous reports Wednesday said that the golfer is actually involved in a romantic relationship with Olympic and world champion skier Lindsey Vonn.
The Daily Mail reported that the two began dating in November of last year, and that the 37-year-old Woods recently took a romantic getaway with the 28-year-old Vonn in Antigua and subsequently visited her in Austria, where she was competing, earlier this month. Sports Illustrated also confirmed Woods' trip to Austria to see Vonn. In December, the Denver Post quoted Vonn as denying any romantic relationship with Woods.
However, Hollywood Life on Wednesday reported that the ski slopes are where the two met, and quoted a source close to Vonn as saying, "Lindsey has been teaching Tiger's kids Sam and Charlie how to ski."
Woods' reign as the world's top golfer -- and one of the most sought-after pitchmen in sports -- came to a screeching halt after his private life unraveled after he crashed his SUV following an argument with Nordegren on Thanksgiving night 2009. As the details of his various extramarital affairs reached the mainstream, he and Nordegren divorced in August 2010.
Vonn is a four-time World Cup champion and three-time Olympian. Considered by many to be the greatest American female skier of all time, she won gold in downhill and bronze in super G at the 2010 Olympics in Vancouver, Canada. She was married once before, to 2002 US Olympic teammate Thomas Vonn. The two married in September 2007, and their divorce was finalized earlier this year.