Spanish press call for De Gea to replace Casillas as number one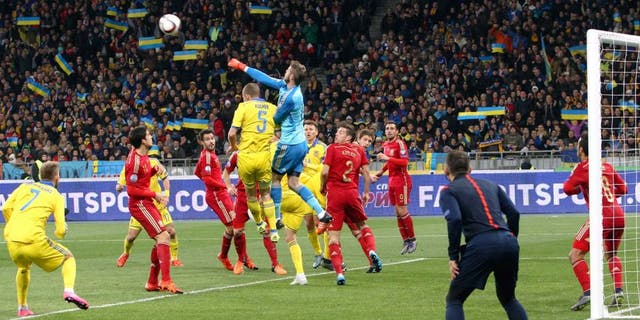 BARCELONA, Spain --
Ever since that unexpected loss at the start of last year's World Cup, there has been a growing feeling in Spain that it's time for David de Gea to take over as national team goalkeeper.
The 24-year-old De Gea's series of superb saves in Monday's 1-0 win over Ukraine has added some extra zeal to the argument, with many hoping he will replace long-time captain Iker Casillas immediately.
''Should Manchester United's goalkeeper be a backup to Porto's?'' the ABC newspaper asked Tuesday.
Casillas, now 34 and with 164 appearances for the national team, has been captain since 2006 and led Spain to three major titles in a row at the 2008 European Championship, the 2010 World Cup and Euro 2012.
With the former Real Madrid goalkeeper between the posts, Spain has a record of 119 wins to go with only 26 draws and only 19 losses.
But De Gea's succession has been a possibility since that stunning 5-1 loss to the Netherlands at the World Cup in Brazil.
''De Gea is now unquestionable,'' newspaper El Mundo wrote in a headline Tuesday.
After Spain was eliminated in the group stage at the World Cup, coach Vicente del Bosque promised to carry out a ''sweet revolution'' of his team by mixing in younger players with the remaining veterans from his championship sides. But so far he has stuck with the old guard in important matches.
Casillas, for instance, was in goal Friday when Spain beat Luxembourg 4-0 to clinch its spot at Euro 2016. Monday's match was only the seventh for De Gea, who nearly left Manchester United for Madrid at the start of the season.
''As I have said before, I want to play my best and I want to make it tough for the coach,'' De Gea said when asked if he would be upset if not picked as a starter in France for Euro 2016.
De Gea's long list of saves, including some reflex stabs with his feet, helped a Spain side that arrived in Kiev already qualified from Group C and with a team packed with reserve players filling in for injured regulars like Andres Iniesta, David Silva and Sergio Ramos.
''De Gea's performance was very good,'' Del Bosque said. ''The experience has been a good one with all the changes we made. We will have to look at all the possibilities to select a squad for Euro 2016.''
Del Bosque's choice of goalkeeper to start Spain's next match, a friendly against England on Nov. 13, could be a clue as to what plans he is hatching for France.