Spanish Olympic sailors robbed at gunpoint in Rio as security concerns mount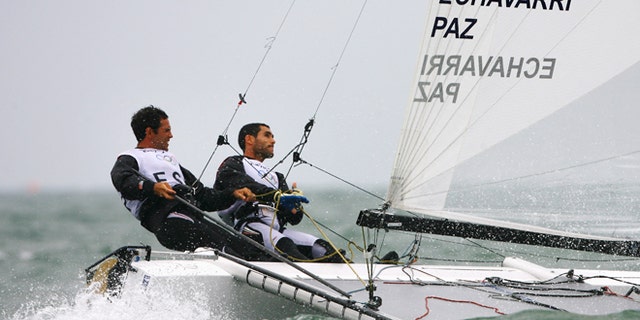 Three members of Spain's Olympic sailing team – including Beijing 2008 Olympic gold medalist Fernando Echavarri – were robbed at gunpoint late last week as the athletes walked to breakfast in Rio de Janeiro.
Speaking to reporters on Monday, three days after the incident, Echavarri said he's "lucky to have survived" – adding that "we were too confident, and being confident in Rio is not a good thing."
The other two involved in the robbery were athlete Tara Pacheco and coach Santi López-Vazquez.
Echavarri said that a group of "gun-wielding children" approached the sailors as they walked to breakfast in Rio's Santa Teresa neighborhood and took their backpack with money, documents and a camera. The athletes, however, were unharmed during the robbery.
"We made a big mistake," he said. "We should have caught a taxi, taken a car and avoided a thing like this. We have to be careful, but the city needs more policing."
Echavarri and members of the Spanish team have been training in Rio for almost two weeks, preparing for South America's first Olympics, which open in 2 1/2 months.
Following the incident, the Royal Spanish Sailing Federation posted a statement on its website expressing concern over the security in Rio de Janeiro as it readies to host the summer Olympic Games in August.
"The lack of security is Rio is one of the points of greatest concern to the teams," the statement said. "Fernando, Tara and Santi want to forget as quickly as possible what happened and focus solely on training they are doing, with great sights on Olympics,"
The robbers were "not more than 16 years old," Echavarri said.
"I think they were nervous and on drugs. They were really small guys," he told The (UK) Sun. "They were kids."
This is not the first time that Echavarri has been robbed in Rio.
In 2009, the Spanish sailor was robbed at knife-point on the Copacabana Beach neighborhood while competing in the Volvo Ocean race.
Street violence is endemic in Rio. About 85,000 soldiers and police will guard the city during the Olympics, and last week the head of security for the state of Rio de Janeiro called for soldiers to immediately start patrolling the city.
It's not the first time athletes have been targeted in Rio.
In December, British Olympic sailors Hannah Mills and Saskia Clark were mugged at knifepoint as they walked to their hotel following a training session.
"Our delightful walk back from the sailing club to the hotel turned fairly nasty when two guys wielding seven-inch knives ran at us, pushed us around and grabbed everything we had," the two sailors wrote in a statement, according to Yachting and Boat World. "Along with the things that were actually worth something, the most annoying thing right now is our Lycra we were sailing in got taken, unbelievable!"
It added: "Anyway, we made it back to the hotel slightly shaken but all ok, looking forward to what tomorrow brings."
The Associated Press contributed to this report.
Like us on Facebook
Follow us on Twitter & Instagram