Sox face Designated Hurdle in St. Loo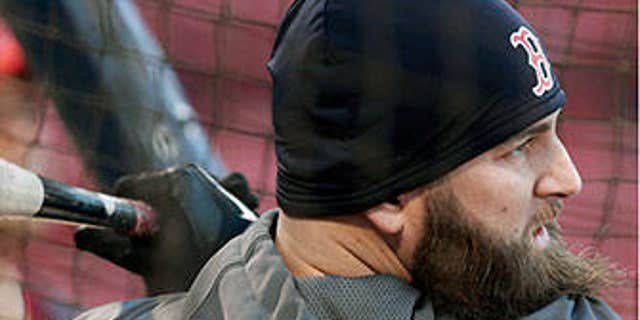 ST. LOUIS – The uncertain status of Cardinals outfielder Carlos Beltran, who left the World Series opener with bruised ribs, was a major storyline entering Game 2. In the end, Beltran and the Cardinals were fine: He went 2-for-4 with an RBI and played all nine innings as the Cardinals evened the series.
Now the Red Sox are facing the absence of significant contributor from their lineup -- only, in this instance, they know Mike Napoli won't start Game 3.
With the Series shifting to St. Louis, the designated hitter is out of play for the next three games. And Boston manager John Farrell has made clear that David Ortiz, the usual DH, will start at first base in Game 3 on Saturday night. Napoli, the Red Sox's regular first baseman, will be on the bench as a potential pinch-hitter or defensive replacement.
Farrell is making the right decision, even if it is one he'd rather not face. Napoli has spent most of his major-league career as a catcher and is a better hitter than Boston's usual catcher, Jarrod Saltalamacchia. But Napoli hasn't caught at all this year -- not even in spring training -- and Game 3 of the World Series isn't the time to experiment with a team's defense.
So, Napoli -- the starting No. 5 hitter in all but one game this postseason -- will be a spectator when Saturday's pivotal Game 3 gets under way.
If that sounds like the sort of thing that mould cost the Red Sox -- or any American League team -- a World Series victory, well, it is. Over the last seven Fall Classics, AL teams are only 5-14 when playing under NL rules.
Of course, the absence of a DH isn't the only reason for that dismal road record. NL teams are aided by home-field advantage and the last at-bat. But the AL's .263 winning percentage is striking -- even in a small sample size -- and suggests that Major League Baseball would be wise to adopt the DH rule for all World Series games, as it has in the All-Star Game and World Baseball Classic.
Recent evidence suggests that losing the DH affects AL teams more than gaining the DH does for the NL representatives. I have no problem with the NL maintaining its identity throughout the regular season and league playoffs, but an all-DH World Series would be the fairest way to determine the MLB champion. (MLB may one day adopt the DH in both leagues -- particularly if it realigns geographically without regard for league heritage -- but that is a matter for another day.)
* Among the many reasons Game 3 is crucial: Neither team can be too confident in what its starting pitcher will do in Game 4.
The Red Sox have been coy about the status of Clay Buchholz for several days. He failed to complete the sixth inning in either of his starts during the ALCS. Fox Sports' Ken Rosenthal reported recently that, while Buchholz is not injured, he is not 100 percent, either. Buchholz threw on the field at Busch Stadium on Friday but did not speak with reporters in the clubhouse afterward.
Meanwhile, Cardinals manager Mike Matheny said Lance Lynn will "most likely" start Game 4, but seemed to leave open the slight possibility of ace Adam Wainwright pitching on short rest. Lynn has a 5.40 ERA over three games (two starts) this postseason.
* Farrell said Daniel Nava will start in left field Saturday night, replacing Jonny Gomes. The Red Sox are 7-1 when Gomes starts this postseason, but he's hitting only .156. Nava is a better defender than Gomes and gives the Red Sox one more left-handed hitter against right-hander Joe Kelly.
The move could set up some intriguing late-game strategy: Farrell now has two right-handed power threats off the bench -- Napoli and Gomes -- to counter the Cardinals' left-handed relievers, veteran Randy Choate and hard-throwing rookie Kevin Siegrist.
* One pregame storyline to monitor: Matheny said Allen Craig -- who missed more than one month with a foot injury -- will try to take more ground balls Saturday with an eye toward possibly playing in the field before the World Series is over. Craig served as the DH during Games 1 and 2 in Boston. Craig hasn't ruled out the possibility that he could play the outfield, but the Cardinals' immediate need for him to do so seemed to dissipate when Beltran returned to the lineup.
The original article can be found at FOXSports.com: Sox face Designated Hurdle in St. Loo.