Southern Miss searching for new coach after Monken bolts for NFL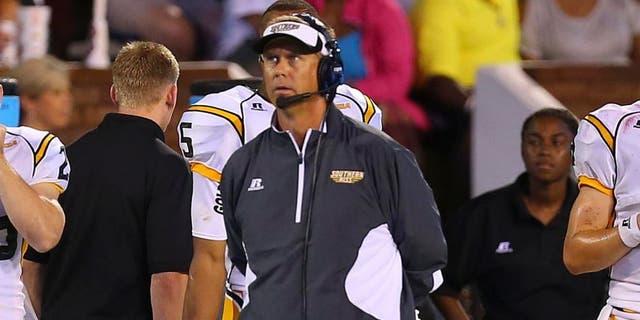 Less than two weeks before Signing Day, Southern Miss is looking for a new head coach. Todd Monken has left after leading USM to a 9-5 season to become the new offensive coordinator for the Tampa Bay Bucs. The Golden Eagles were just 1-11 in his debut season in 2013. They were 0-12 under Ellis Johnson the season before Monken took over. AD Bill McGillis said he expects to have his new coach hired by next week.
Some intriguing candidates: 40-year-old Chip Lindsey who just left USM this offseason after helping the program set several offensive records to become the OC at ASU. He turned down opportunities to become the head coach at Eastern Kentucky and Louisiana-Monroe.
Tyrone Nix, who was a former Golden Eagles linebacker and team captain is now the defensive coordinator at Middle Tennessee. The 43-year-old Nix spent a decade as a USM assistant.
Ole Miss co-OC Matt Luke, a native of nearby Gulfport, is highly regarded in coaching circles. A protege of David Cutcliffe and Hugh Freeze, Luke has proven to be one of the nation's top O-line coaches and helped the Rebels become an SEC powerhouse.
A wild card could be TCU offensive coordinator Doug Meacham, who has turned down some other opportunities but might be willing to listen to this one. The 51-year-old Texas native has helped the Horned Frogs produce consecutive top 5 offenses after they ranked 106th the year before he showed up.
Another possible candidate could be West Georgia head coach Will Hall. The 35-year-old Amory, Miss., native was a former star quarterback at North Alabama who won the Harlon Hill Trophy. He is a 24-5 in two seasons at D2 West Georgia and 49-16 in five seasons as a head coach. He led West Alabama to its first conference title ever before going to West Georgia.