South Florida Bulls at UConn Huskies game preview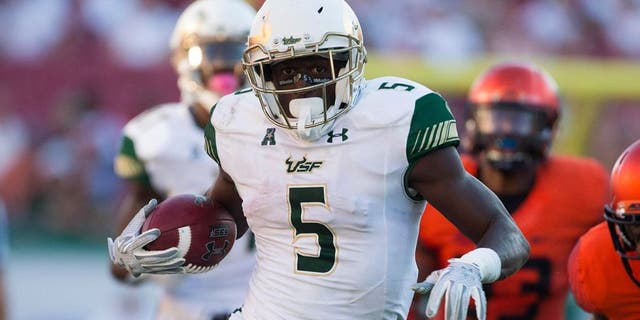 NEWYou can now listen to Fox News articles!
STORRS, Conn. (AP) -- UConn and South Florida are coming off wins and looking for more signs that their rebuilding efforts are coming together.
The Huskies (3-3, 1-1 American) already have more victories this season than they managed all of last year. UConn hasn't had a winning record this late in the season since 2010.
The Huskies are off a 40-13 conference win at UCF, which coach Bob Diaco acknowledges was a much-needed moral boost after three consecutive losses to good teams.
"It's a great feeling and a great energizer to confirm good habits, and continue to want to add even better habits so we can continue to feel this way," he said.
South Florida (2-3, 0-1) also snapped a three-game losing streak last week with 45-24 win at home over Syracuse, its biggest win over an FBS team since 2011. The Bulls and Huskies meet Saturday in East Hartford, Connecticut.
Both teams have had four consecutive losing seasons but are "on the up and up, and fighting for the same thing in the same division," USF coach Willie Taggart said.
Here are some things to watch for as USF visits UConn:
MACK TRUCK: USF running back Marlon Mack, who ran for a season-high 184 yards against Syracuse, is rushing for more than 115 yards per game and 6.2 yards per carry. He'll be going against a defense that has given up an average of 153 yards a game on the ground. UConn is rushing for 111 yards per game using the tailback tandem of Arkeel Newsome and Ron Johnson.
ALL PURPOSE: Newsome, who had 257 total yards against UCF, comes in ranked eighth in the nation in all-purpose yards. In addition to his 305 yards rushing, he has 181 receiving yards and 184 yards on kick returns, including a 71-yarder a week ago.
DUAL THREATS: Both teams feature dual-threat quarterbacks. UConn's Bryant Shirreffs is the team's second-leading rusher with 152 yards this season. He's also thrown for 1,271 yards and completed more than 63 percent of his passes. USF's Quinton Flowers had a career-high 259 yards passing against Syracuse. He's run for 264 yards and thrown for 784.
ARRESTS: USF will be playing without reserve offensive lineman Benjamin Knox and backup cornerback Lamar Robbins. Both are charged with firing a gun on school property. Nobody was injured in the gunfire, which hit the exterior of the dormitory where Knox, a redshirt freshman, lives. Knox was arrested Sunday after the incident. Robbins, a junior, was arrested Thursday. He also faces a charge of providing police with false information. No one was injured in the shooting.
HOME FIELD: The home team has won 10 of the 12 games played between the Huskies and Bulls. USF has a 7-5 advantage in the series.