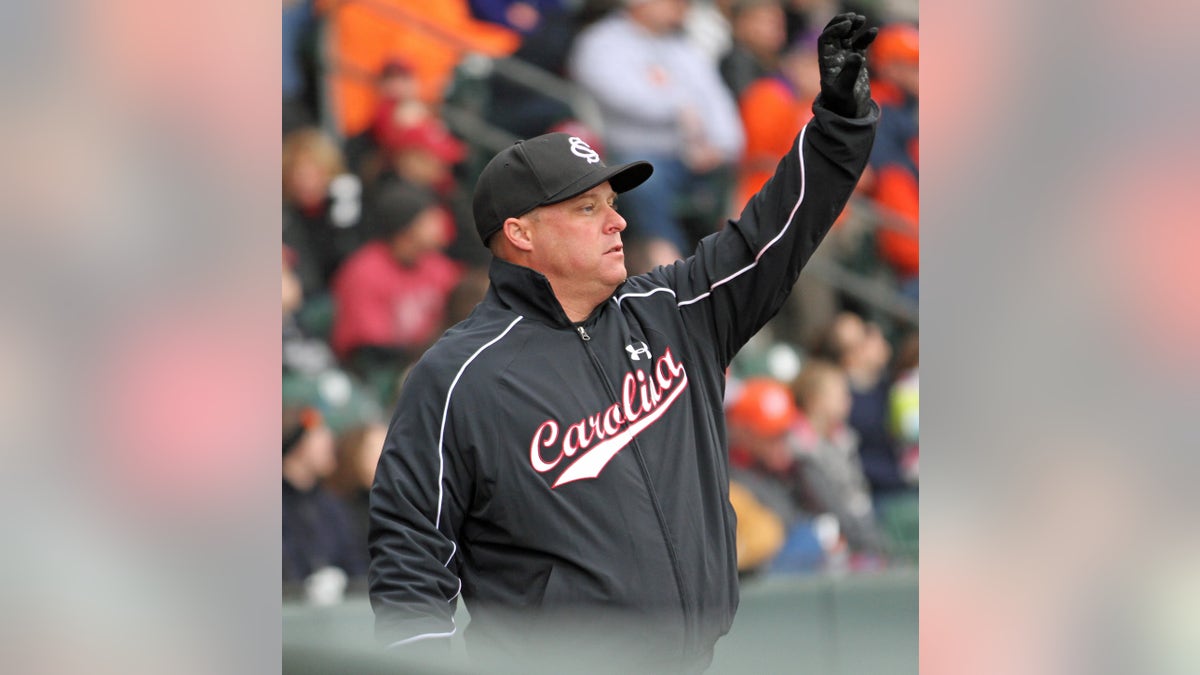 COLUMBIA, S.C. – A decade ago, South Carolina coach Chad Holbrook might not have put much effort into chasing a high school star like Wil Crowe with a right arm capable of throwing in the 90 mph range and off-speed pitches tailor-made for the major leagues.
Now, however, more and more prospects like Crowe are turning down big league money to get themselves ready for the pros with the Gamecocks and other college baseball powers.
South Carolina has seen a steady stream of quality players like first basemen Justin Smoak and Christian Walker, shortstop Joey Pankake, catcher Grayson Greiner and second baseman Max Schrock — all considered top draft prospects — decide that college is the way to go over minor league ball.
The influx has helped the Gamecocks become one of college baseball's top programs, winning the College World Series in 2010 and 2011, and finishing as the runner-up in Omaha in 2012.
"You come to a game here, it's hard to turn that down considering if you took the minor-league option, you'd be on a hot bus five or six hours playing in front of 200 people," said Greiner, catcher for the USA National Collegiate team last summer.
College baseball's profile has improved, Holbrook said, and that's led young players to covet college instead of automatically opting for the pros.
They also see one-time teammates making quick trips to the majors. South Carolina's College World Series heroes Jackie Bradley Jr. and Michael Roth reached the majors less than two years after leaving school. Bradley played in the Boston Red Sox outfield last year while Roth made 15 mound appearances for the Los Angeles Angels in 2013 after playing for the Gamecocks a season earlier.
"Those kids and those college guys that have been in the leagues like the SEC that have that experience, those (MLB) organizations are moving them quickly," Holbrook said. "Therefore, those recruits are seeing that and saying, 'Hey, maybe it's best that I get my education and on top of that I get moved through the minor league that my timeframe of getting to the majors may be quicker if I go to college. That is what's occurred."
Once players enroll in college from high school, they must wait three seasons until they're next eligible for the draft.
Dave Keilitz, executive director of the American Baseball Coaches Association, said major league clubs see the advantages of polished, older players over high school grads still learning about the game and life.
"They think, 'If we're going to invest $2 million in someone, isn't it better if they're more mature?'" Keilitz said.
Holbrook sees major league teams signing on, eager to have players who've made it through three seasons in top leagues like the SEC.
"That's encouraged some of our kids to turn down quite a bit of money to attend college," Holbrook said.
Crowe passed on more than $1 million from the Houston Astros, who had hoped to draft him in the 10th round last year. He showed opening weekend that the Astros were on target with their interest, throwing 6 1-3 hitless innings in a 12-0 win over Bucknell last Sunday.
Crowe was named SEC pitcher of the week.
Crowe and fellow freshman pitcher Matt Vogel are the latest in a run of top talent who picked the Gamecocks over the pros.
Holbrook landed the talented Schrock, an infielder from Chapel Hill, N.C., in 2013. In 2012, Pankake and Greiner were the headliners and have enhanced their status as major-league prospects, both among the 100 selections in several mock drafts.
Holbrook and his former boss, South Carolina athletic director Ray Tanner, acknowledge courting top prospects is risky business.
Spend too much time with a top-round player and it might cost you others who are getting more attention from rival colleges. "If you spend time wooing A over B, in the end, you could lose them both," said Tanner, the Gamecocks' national championship coach.
Not everyone heads to college. The Gamecocks had a commitment last year from high school catcher Nick Ciuffo, who was taken No. 21 by Tampa Bay and accepted a signing bonus of just under $2 million to start his pro career.
"It's definitely a financial decision," Tanner said. "If you're a first-rounder, you're probably going to the bigs and you should."
Still, Holbrook's happy to be in the mix for the best high schoolers these days and knows he's got a chance of securing players who will make a difference on the field.
"You do pick spots," he said. "And we've certainly picked our spots."