Sources: Giants expect Tom Coughlin to talk to Eagles about coaching job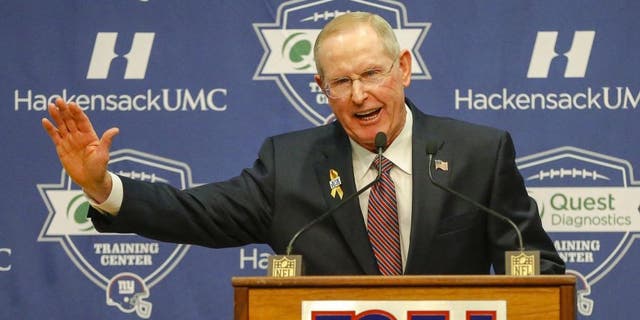 Tom Coughlin's coaching career isn't over just yet, and the Giants believe there's at least a chance it could continue in a familiar place.
Sources in the Giants organization told FOX Sports they expect Coughlin to speak to the Eagles in the coming days about their coaching vacancy. The sources said the Eagles are interested in Coughlin's services, which jibes with a report from FOX 5 in New York on Friday night that stated the Eagles requested permission from the Giants to speak with Coughlin.
A Giants spokesman would neither confirm nor deny the Eagles' request when asked about it by FOX Sports Friday night. Coughlin resigned as Giants coach with one year left on his contract, which means the Giants still hold his rights.
A source told FOX Sports shortly after Coughlin resigned on Monday the 69-year-old coach would entertain the idea of coaching again in the right situation. He has four children and 11 grandchildren who all live on the East Coast.
Whether Coughlin considers the Eagles job to be the right situation remains to be seen. He didn't seem thrilled with the organization's decision to fire Chip Kelly after only three seasons.
"Quite frankly, I'm not surprised by anything in this business," Coughlin said. "But that one was close."
A few days later, during his news conference to announce his resignation, Coughlin praised the Giants for their patience during the early part of his tenure with the team. He was surely referencing their decision to stick with him after a tumultuous 2006 season -- patience that was rewarded with a Super Bowl title one season later.
Coughlin dubbed the Giants a "great organization, people that will support you and back you, people that are real football people." Then, in what seemed like a poke at the teams that have had quick triggers in firing coaches, he added: "That could be another lecture of mine for the National Football League, which I'll refrain from right now. But [the Giants] are football people. They don't panic every time there's a missed third down -- [except] after you go 6-10 twice."
The Eagles were quick to get rid of Kelly but stuck by Andy Reid for 14 seasons, even though the fan base's patience wore thin when he couldn't quite get over the hump and win a Super Bowl.
It's clear Coughlin values loyalty in an organization and would want to hear that's the case in Philly, despite the move to get rid of Kelly in a hurry. There were other factors involved during Kelly's regime, namely his desire for control over personnel. But Coughlin would be looking for signs of stability in any potential employers.
The Eagles would surely have their own questions, such as whether Coughlin has enough in the tank at this point in his career. One viewing of his news conference on Tuesday, during which he gave an emphatic speech that brought Eli Manning to tears, should put those concerns to rest.
And perhaps the sight of Manning crying registered with Jeffrey Lurie. After all, the Eagles owner said recently he's looking for a coach who, unlike Kelly, knows how to "open his heart to the players" and "understands emotional intelligence." Perhaps he believes Coughlin could be that coach.
The Eagles are considering other candidates, and Doug Pederson, a former Eagles quarterbacks coach who has served as Reid's offensive coordinator in Kansas City, will receive strong consideration. But Coughlin brings two Super Bowl rings as a head coach, which makes him an intriguing candidate for any team.