Sources: Eagles have upped offer in strong bid to keep Bradford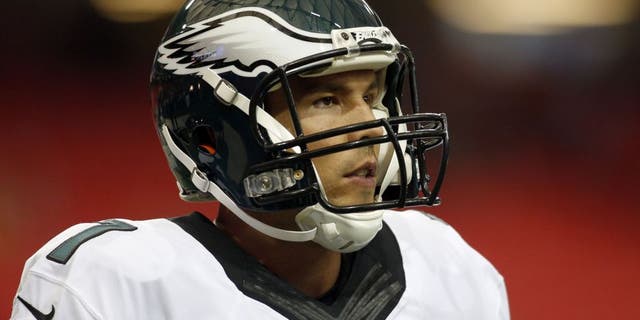 The Eagles upped their offer to Sam Bradford during meetings with Bradford's agent at the NFL Scouting Combine last week as a way of making a strong push to close out a multi-year deal for the quarterback before the start of free agency, sources told FOX Sports.
The terms of the offer aren't available, but sources indicated the Eagles believe it's a very strong offer for Bradford -- one that's at the top of his expected range on the open market and one that should help get him under contract before that market opens on March 9.
Though former Eagles coach Chip Kelly is the one who brought Bradford to Philly, sources have repeatedly said Howie Roseman likes what he saw from Bradford last year, as do Doug Pederson and his offensive coaching staff.
The Eagles have a few backup plans if they can't get Bradford under contract. One of them is Chiefs quarterback Chase Daniel, whom Pederson coached in Kansas City. During his press conference at the Combine, Pederson pumped up Daniel as both a backup and a potential starter if given the chance. Even if the Eagles re-sign Bradford, Daniel could be an option as a free agent to serve as a backup to Bradford.
Former Eagles quarterback Nick Foles, whom Roseman drafted, could soon be on the outs with the Rams. Foles is due a $6 million guaranteed roster bonus and a non-guaranteed salary of $1.75 million. Rams coach Jeff Fisher already made it clear Foles won't be the team's starting quarterback this season. It won't take much compensation from another team to pry Foles from the Rams, especially if the club picks up a portion of the guaranteed money owed to Foles.
Mark Sanchez remains on the Eagles' roster as well. He's set to earn $4.5 million this upcoming season.
Bradford is coming off a season that produced mixed results. He had career highs in completion rate (65 percent) and yards per attempt (7.0) as well as a solid stretch run in which he threw for 1,061 yards over his last three games. But Bradford had only 19 touchdowns and some uneven play as he worked his way back from two torn ACLs.
Pederson said last week he understands that, as a former player, "you have to want to be somewhere and I think Sam wants to be in Philadelphia." The Eagles have made it clear with their latest offer they want Bradford there, too.
Now, it's just a matter of seeing if the sides can close it all out.