Sources: Chip Kelly meets with 49ers to talk coaching vacancy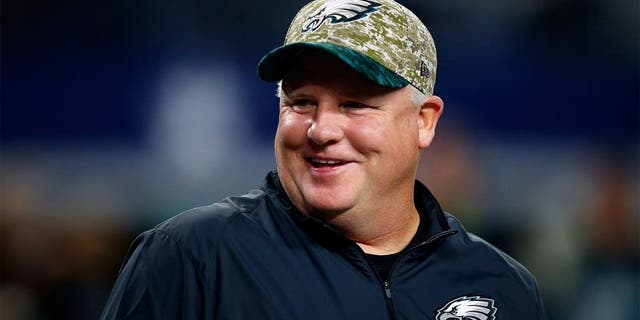 What seemed inevitable has finally happened.
Sources have confirmed to NFL on FOX Insider Mike Garafolo that Chip Kelly has interviewed with the San Francisco 49ers for the head-coaching position, though the exact timing of the interview could not be confirmed.
The pairing seems like one made in football heaven, save one variable: The future of Colin Kaepernick. The once-budding superstar struggled mightily under first-year 49ers coach Jim Tomsula in 2015, so much so that he was benched in early November in favor of Jaguars reject Blaine Gabbert.
But now Tomsula is gone and Kaepernick is on the mend. Kaepernick was placed on injured reserve and underwent surgery on his non-throwing shoulder in November, and on Wednesday he reportedly underwent surgery on the thumb on his throwing hand and on his left knee.
Along with Kaepernick's recovery and the potential hiring of Kelly, Kaepernick's future will also hinge on finances. His contract is considered very team-friendly, and if he is cut before April 1, the club would save about $10 million in cap space.
Kelly was fired by the Eagles with a week left in the regular season, the culmination of three roller-coaster seasons that saw the Philadelphia offense explode as the league's most prolific when Kelly showed up, but then worsen each subsequent season.
Kelly's fast-paced, read-option scheme appears tailor-made for Kaepernick and his running ability. Kaepernick holds the NFL record for rushing yards by a quarterback in one game, torching the Packers for 181 in a playoff game in 2013.
It was also reported Thursday that Kelly met with the Alabama coaching staff earlier in the week, just days before Nick Saban & Co. lead the Crimson Tide into the national championship game against Clemson.