Source: Yankees, Ibanez agree to deal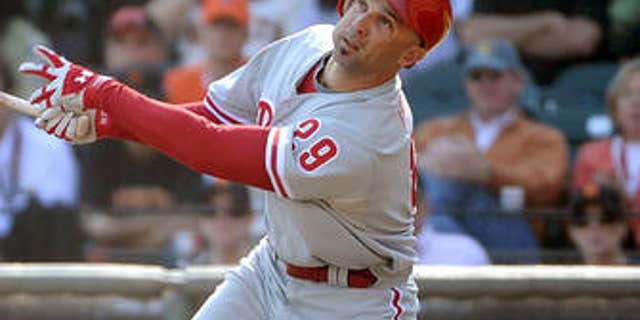 NEWYou can now listen to Fox News articles!
The New York Yankees found their left-handed designated hitter on Monday, agreeing with free-agent Raul Ibanez on a one-year, $1.1 million contract, according to a major league source.
Ibanez, who turns 40 on June 2, can earn a maximum of $4 million if he reaches all of his plate-appearance incentives, the source said.
The Yankees chose Ibanez for the role over free agent Johnny Damon and others. Ibanez will serve as the team's primary DH against right-handed pitching and also as a reserve outfielder.
Ibanez finished with a .289 on-base percentage last season, his lowest in any full season, and a .419 slugging percentage, his lowest since 2000. Two awful slumps -- an 0-for-35 and a 5-for-44 -- contributed mightily to his disappointing numbers with the Philadelphia Phillies.
Still, Ibanez finished with 31 doubles, 20 home runs and 84 RBI. It was his 10th straight season of 30 or more doubles. He has reached 20 homers in six of his last seven seasons and 80 RBI in nine of his last 10.
Ibanez said recently that a session with Chicago Cubs hitting coach Rudy Jaramillo could help him to return to form.
"I know 2012 is going to be way better than 2011," he said. "I didn't know quite how I was going to do it. But I knew I was going to do it.
"Now I expect that (2012) is going to be great. That's the different level I went to. I haven't felt this good since I left for spring training in '09 -- the last time I worked with Rudy."
Ibanez was a teammate of Alex Rodriguez's in both the minors and majors with the Seattle Mariners and became close with Yankees hitting coach Kevin Long when the two were together in the Royals' organization.