Source: Orioles, RHP Yovani Gallardo agree to 3-year, $35M contract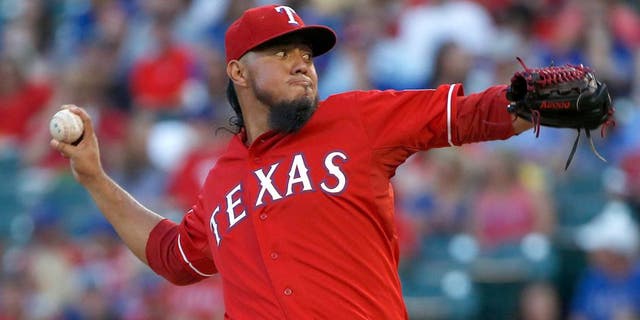 The Baltimore Orioles have agreed to a three-year, $35 million deal with free-agent right-hander Yovani Gallardo, a source confirmed to FOX Senior MLB Insider Ken Rosenthal on Saturday. Jon Heyman first reported the agreement.
Because the Texas Rangers made Gallardo a one-year, $15.8 million qualifying offer for the 2016 season -- an offer Gallardo rejected -- the Orioles will have to send their first-round pick (14th overall) to the Rangers as compensation for signing him.
Gallardo, 29, went 13-11 with a 3.42 ERA in 33 starts for Texas last season. He struck out 121 batters in 184 1/3 innings. In his nine-season major-league career, he is 102-75 with a 3.66 ERA and an 8.2 K/9 ratio.
Gallardo will fill a rotation void left by the departure of free-agent left-hander Wei-Yin Chen, who signed with the Miami Marlins. There was a definite need for rotation help after Baltimore's starters finished 25th in the majors with a 4.53 ERA last season.
In addition to Gallardo, the Orioles also retained three of their key free agents this offseason: first baseman Chris Davis, catcher Matt Wieters and reliever Darren O'Day. Wieters accepted his qualifying offer for the 2016 season, while Davis signed a seven-year, $161 million deal and O'Day landed a four-year, $31 million deal.
Meanwhile, center fielder Dexter Fowler and shortstop Ian Desmond -- both of whom also have been hurt by the compensation associated with the qualifying offers -- remain unsigned with pitchers and catchers already reporting to spring training.
And as Rosenthal first reported last week, the Orioles also might consider Fowler.
Fowler would address Baltimore's outfield need and also provide a leadoff candidate. In 156 games for the Cubs last season, he hit .250/.346/.411 with 17 homers, 46 RBI, eight triples and 20 stolen bases.