Source: Bills RB McCoy expected to make full recovery in 3-4 weeks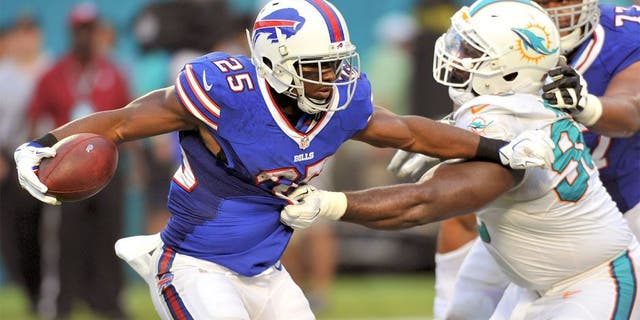 NEWYou can now listen to Fox News articles!
The Buffalo Bills may have to get used to life without LeSean McCoy for longer than expected.
McCoy sustained a setback and an MRI revealed a new tear in his hamstring. McCoy is expected to make a full recovery in three to four weeks, FOX Sports 1's NFL insider Mike Garafolo reported.
McCoy, who was ruled out for Sunday's game against the New York Giants, said earlier this week that he wouldn't play unless he's 100 percent.
The 5-foot-11, 208-pound running back will be replaced by rookie running back Karlos Williams.
During the first three weeks, McCoy had 43 carries for 146 yards and seven receptions for 83 yards and a touchdown.