Son of Minnesota Vikings legend Bud Grant dies of brain cancer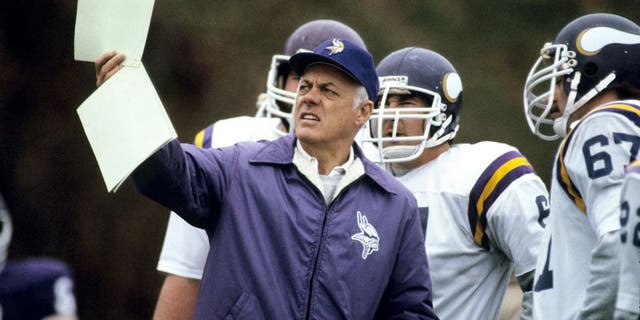 NEWYou can now listen to Fox News articles!
A son of legendary Minnesota Vikings head coach and Hall of Famer Bud Grant died Tuesday after a battle with brain cancer.
Bruce Grant, who broke more than a dozen passing records when he played quarterback at the University of Minnesota, Duluth, from 1980 to 1983, died at age 57, the Star Tribune of Minneapolis reported. He had surgery to remove the largest of several tumors at the end of May, according to a Caring Bridge website.
"They haven't told me, 'Oh, you've got five years, you've got 10 ... ' I don't know. I haven't even asked that question because I almost don't want to hear the answer. ... Every day is a blessing," The younger Grant told WCCO radio's Mike Max in October.
He was one of six children for Bud, and his wife Pat, who died of Parkinson's disease at age 81 in 2009, according to the Star Tribune.
The Vikings tweeted their condolences to the Grant family following the news.
Bud Grant, now 91, was selected in both the NFL and NBA drafts after he graduated from the University of Minnesota in 1950. He went on to win an NBA championship with the Minneapolis Lakers, before switching to the NFL.
He later became head coach of the Vikings, leading the team to three Super Bowl appearances in four years – but falling short every time, ESPN reported.