Some fans want to kiss her, but Simona Halep says she doesn't need security help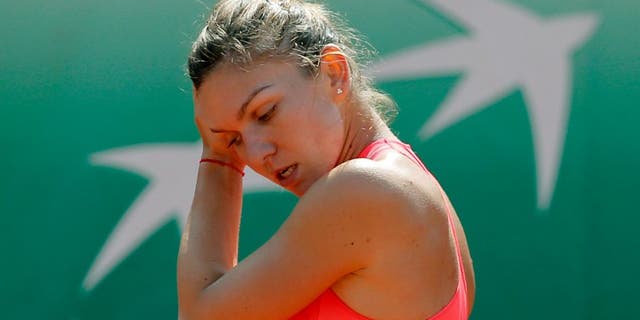 NEWYou can now listen to Fox News articles!
Simona Halep exploded in popularity and recognition after going deep into several Grand Slam events last season, which helped catapult her to the No. 2 ranking in the world. The Romanian tennis player says the turning point for her was when she reached the final of the French Open last year. After that, she began being recognized.
"Everyone was recognizing me everywhere I went," Halep said of her popularity in an interview with ESPN from the U.S. Open Friday. "Everyone was asking me for a photo. Some people were asking to kiss me."
Her comment that people were asking her for kisses led ESPN's LZ Granderson to ask whether she felt she needed security. After all, we've seen how Roger Federer reacted to crazed fans in the past.
"I don't need security, because people are nice and they are just congratulating me when they see me, so it's fine," she said.
Halep lost in the second round at the French Open this year and then the first round at Wimbledon, showing she still needed to adjust to her spot as one of the top players in the world. She conceded all the extra attention stressed her out at first, but now she is used to it.
Once known for her DD-sized breasts that she had reduced to improve her tennis game, Halep is still popular with fans, but now she's really figured out her game and is excelling on the court.
More from Larry Brown Sports
Cam Newton addresses 'gang' photo on Instagram
Scott Boras, Mets at odds over Matt Harvey's innings limit
TJ Ward on challenging his suspension: 'My last name's not Brady'