Soccer star Juan Mata keeps team bus waiting to hug young fan in wheelchair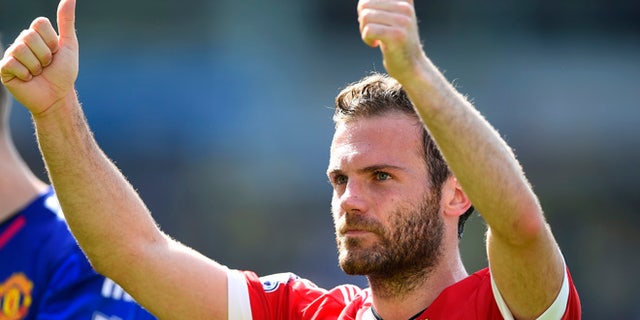 NEWYou can now listen to Fox News articles!
Spanish soccer player Juan Mata is believed to be one of the nicest guys in the sport, and he solidified that image when he made the team bus wait for him while he hugged a young fan in a wheelchair.
The Manchester United midfielder rushed out to a young boy named Alex Nield, whom he has been photographed with before, outside Old Trafford stadium, bypassing security to get to the supporter, who held out his arms in excitement.
A clip posted on Facebook shows Mata hugging Nield and posing for a photo with him despite being rushed to board the team bus on Saturday.
"It was fantastic that Juan Mata recognized Alex and came over to meet him," the post read. "Mata is a class act."
On his Facebook page, Nield has a photo of him posing with the Spanish superstar after United beat Norwich City at Carrow Road in May 2016.
On Saturday, Mata wasn't the only United player to greet Nield.
Leon Labko, who captured the moment and shared the video of Mata, also posted a video of Nield meeting Man U midfielder Mata's fellow-countryman Ander Herrera and Italian defender Matteo Darmian.