Soccer Roundup: Messi Talks Rift with Villa as Argentine Players Dominate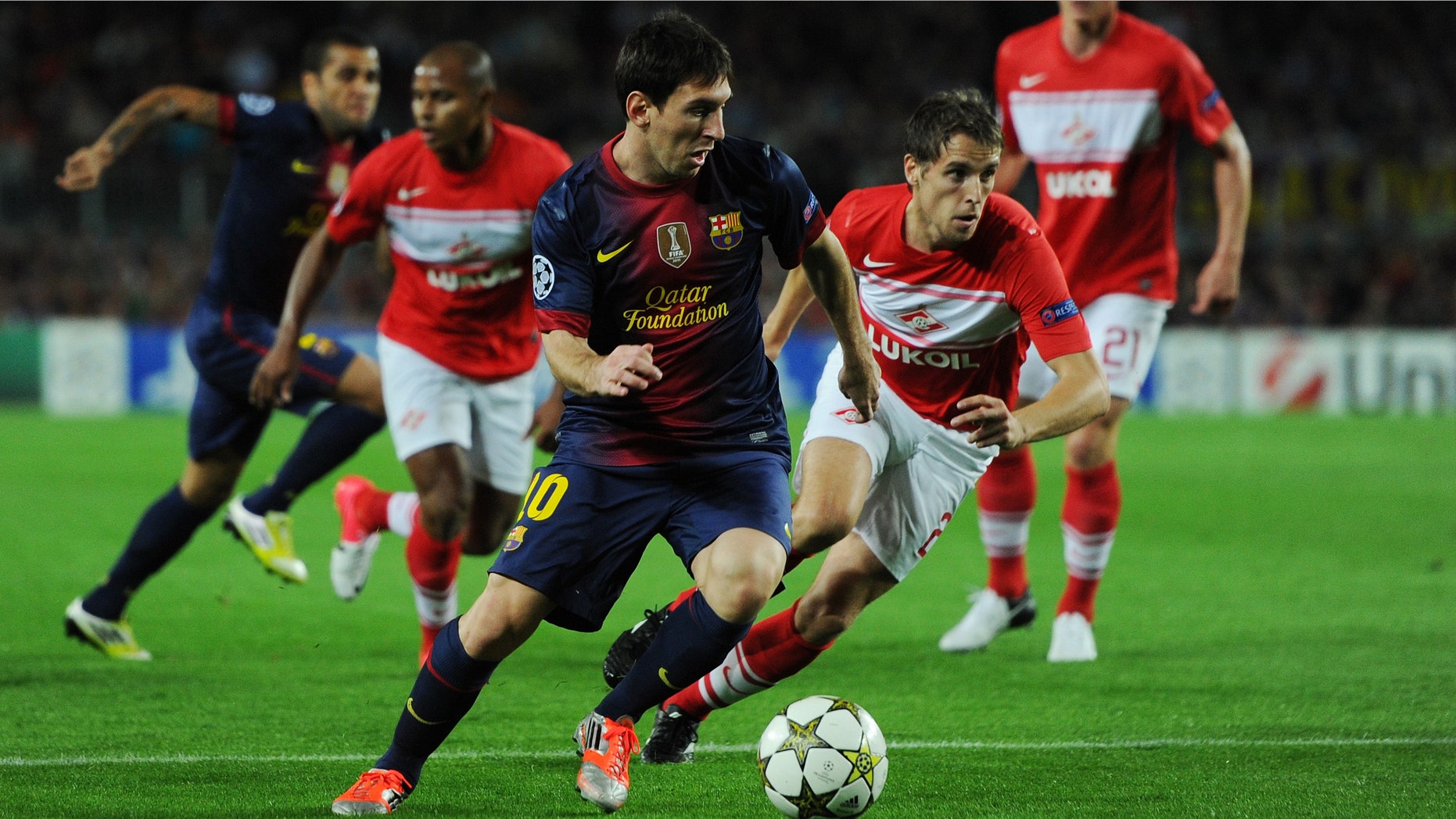 If someone were to tell you that a team from Madrid posted its fifth consecutive win in September, you would probably guess it was Real Madrid.
But the reigning La Liga champions have been struggling in the start of the Spanish soccer season.
Instead, rival Atletico Madrid is soaring high these days. On Sunday, the club's 2-1 home triumph over Real Valladolid increased their successive victory number to five.
Uruguayan Diego Godin started things out for the hosts with a 31st-minute goal while Colombian striker Radamel Falcao continued his torrid start to the season by converting a penalty kick in the 45th minute.
Alberto Bueno cut the lead in half in the 55thh minute, but Atletico managed to hold on.
Real Madrid, which secured a vital and dramatic 3-2 comeback win over Manchester City in the UEFA Champions League on Wednesday, could not even play in its regularly scheduled game on Sunday.
The team, which has sputtered to a 1-2-1 record and four points, was supposed to play at Rayo Vallecano, but the match never started at its 9:30 p.m. local kickoff time due to alleged sabotages. The stadium was in semi-darkness as Rayo president Raul Martin Presa told the media that some unidentified individuals had cut the cables to some of the lights.
The game will be played on Monday.
SPAIN
Lionel Messi
Ironically, on a day in which at least eight Argentine players scored goals internationally, Messi did not find the back of the net, at least not directly. It certainly wasn't one of Messi's most memorable matches. He was held scoreless, but he helped set up an own goal in Barcelona's 2-0 win over Granada, making it six-for-six. Xavi found the back of the net by firing home a shot off the crossbar in the 87th minute. The Argentinean sent a low cross into the penalty area that Borja Gomez turned into his own net in stoppage time.
Messi denied claims there was a rift between him and teammate and striker David Villa. There were rumors of them battling in practice, but Messi said it was in the heat of the moment and that the two stars are on good terms.
"People shouldn't look for a problem where there isn't one," Messi told Barca's TV channel. We've got a spectacular squad. These things are part of football, with the tension of wanting to score to make everything easier and win. It happens in training and in matches as well. I haven't got any problems with El Guaje [Villa], quite the opposite. These things show the character of the team, to want to win and keep on playing well. We get heated, because we want the best, and the tension makes you react like that."
Augusto Fernandez
The Argentine scored off a breakaway in the 57th minute to give Celta Vigo the lead en route to a 2-1 win over Getafe.
Emiliano Armenteros
The Argentinean scored Osuana's lone goal in the 29th minute of its 3-1 away defeat to Celta.
ENGLAND
Javier Hernandez, Antonio Valencia
Chicharito might not be in the doghouse of Manchester United manager Sir Alex Ferguson, but he certainly isn't first in his team. With striker Wayne Rooney still out with an injury, the Mexican international striker has been relegated to a substitutes' role. He came off the bench late in the game in United's 2-1 victory over Liverpool in the English Premier League. Hernandez, who came on for Shinji Kagawa, was not involved in many of the visitors' goals as Rafael (51st minute) and Robin Van Persie (penalty kick in the 81st minute) found the back of the net. Valencia, an Ecuadorian, set up the penalty after he was taken down in the box.
Hugo Rodallega
Rodallega, an Argentinean, haunted his former team as he struck for the opening goal in Fulham's 2-1 victory over host Wigan Athletic. He tallied off a heaer in the 31st minute to give the visitors a 2-0 lead.
ITALY
Facundo Roncaglia, Jaime Valdes
Roncaglia, an Argentine defender scored his first goal for Fiorentina in its 1-1 tie with host 10-man Parma. He fired a shot from outside the penalty area off the palm of goalkeeper Antonio Mirante in the 21st minute. Valdes, a Chilean, endured an agony-and ecstasy day. The Parma player failed to convert a penalty kick in the first half, but he redeemed himself deep into stoppage time after Toni was called for a handball in the area.
Juan Quintero
The Colombian tallied the equalizer in the 41st minute to help visiting Pescara to a 1-1 draw with Bologna, which had an Alberto Gilardino goal in the ninth minute.
FRANCE
Lisandro Lopez
An Argentine striker, Lopez scored off a spectacular 25-yard goal in the 80th minute past goalkeeper Remy Vercoutre to lift Lyon into a 1-1 tie with Lille, which lost the lead for the second consecutive week.
Guillermo Ochoa
Ochoa allowed two goals, but the Mexican international and his Ac Ajaccio teammates walked out of the visiting stadium with a point in French Ligue 1 after playing Bordeaux to a 2-2 draw. Substitute Chahir Belghazouani scored two minutes into stoppage time to hand Bordeaux its fourth consecutive league tie. Earlier in the week, the hosts had earned a 4-0 win over Club Brugges in the Europa League last week. Twice sixth-place Bordeaux held the lead, but Ajaccio, which moved up to 13th place, came back both times.
GERMANY
Juan Arango
The Venezuelan's through ball to Patrick Hermann in the third minute provided Borussia Moenchengladbach with its only goal in a 1-1 tie with Bayer Leverkusen.
PORTUGAL
Jackson Martinez
A Colombian striker, Martinez connected on a spectacular scissors kick in the 33rd minute to start Porto on its way to a 4-0 home triumph over Beira Mar.
SWITZERLAND
Gonzalo Zarate
Zarate, an Argentine, gave fifth-place Young Boys a 1-0 lead in the 49th minute, but he and his teammates were forced to settle for a 1-1 draw with fourth-place Basel.
RUSSIA
Luis Caballero
A Paraguayan, Caballero scored the second goal for Samara in its 2-2 draw with Zenit St. Petersburg. Zenit rallied from a two-goal deficit behind Brazilian Hulk and Roman Shirokov.
UNITED STATES
Javier Morales, Fabian Espindola
A pair of Argentine attackers powered Real Salt Lake to a 2-1 home victory over the Portland Timbers. Morales scored one goal and set up the other as RSL qualified for the Major League Soccer playoffs. Morales drew a foul outside the penalty area and back-heeled a 14th-minute free kick to Espindola, who fired through a defensive wall past goalkeeper Joe Bendik. Morales found the score sheet again in the 36th minute, bending a 19-yard free kick from the left side into the upper near corner.
Oscar Garcia Boniek
The Honduran international scored an equalizing goal to lift the Houston Dynamo into a 1-1 deadlock in the 44th minute, but the Philadelphia Union struck back when Freddy Adu scored en route to a 3-1 win.
Jairo Arrieta
The Costa Rican scored the Columbus Crew's lone goal in its 2-1 loss at the Chicago Fire, firing home a shot into the lower right corner for a 1-0 lead.
Victor Bernardez
After Simon Dawkins gave the San Jose Earthquakes a 1-0 lead, the Honduran set up an insurance goal in a 2-0 win at the Seattle Sounders in the 30th minute. The scoring sequence started with a San Jose corner kick, which was sent from the top of the six-yard box to Bernardez on the right side. Bernardez squared a pass back to Chris Wondolowski, who scored his league-high 22nd goal in 28 games.
Jerry Bengtson
The Honduran international had a goal called back due to an offside call in the New England Revolution's 1-1 home draw with the New York Red Bulls. New England coach Jay Heaps, however, felt it should have stood. "The Bengtson goal is onside," he said. "I've already seen the replay on that. I don't want to comment further besides to say that was a goal. What do you do? That's tough, because to me that changes the entire game."
Rafa Marquez
Playing his third game in eight days was too much for the Mexican international. Marquez was forced from the Red Bulls-Revolution game with a right hamstring strain in the 35th minute. He had it taped up early in the match, but it did not stop Marquez from aggravating the injury. He was replaced by Joel Lindpere, who scored the Red Bulls' goal only 13 seconds into stoppage time. "We checked with [Marquez] and we said let's do five minutes more and see how it works," Red Bulls coach Hans Backe said. "He said it's his hamstring, or a tired muscle. I think it's more [that] it's the third game in a week so probably it's more of a fatigue muscle." Marquez had missed more than a month with a right calf injury.