Soccer Roundup: Messi on a Roll, ManU Wins, Larrivey Wastes a Hat Trick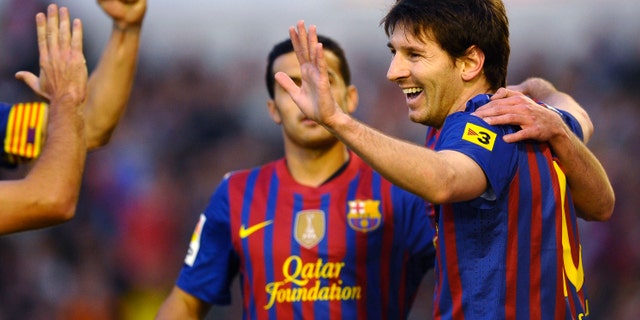 Is there no stopping this Argentine scoring machine? Only four days after striking a record five times in the UEFA Champions League, Lionel Messi scored both Barcelona goals in a 2-0 victory over Racing Santander in Spain's La Liga on Sunday.

Messi reached an amazing 50 goals for the second consecutive season as he climbed within five goals of equaling Cesar Rodriguez's career record of 235 goals. He found the back of the net five times in Barca's 7-1 rout of Bayer Leverkusen on Wednesday.

The three-time FIFA World Player of the Year is on a roll, having tallied 16 goals in his past six matches, whether it has been for Barcelona or Argentina. He also is well ahead of last season's pace with 50 goals in 43 appearances. Messi scored 53 goals in 55 appearances in 2010-2011.

"Messi stands out from every other player in the world," Barcelona midfielder Cesc Fabregas was quoted by Associated Press. "It is a pleasure to play with him and to have him on the same team because he gives you that extra dose of confidence that every champion needs."
Best Pix of the Week

The Argentina forward has scored 16 goals in his past six matches for club and country. Messi had 53 goals in 55 matches for his club last season. He already has 50 in 43 matches so far this campaign.

Despite the win and Messi's heroics, Barca's fourth in a row, the club still trails first-place Real Madrid with 12 games remaining in the Spanish season.

Messi gave Barca all the scoring it needed in the 29th minute and supplied a penalty kick as an insurance score in the 56th minute.

England

Javier Hernandez

Chicharito did not score in Manchester United 's 2-0 victory over West Bromwich Albion, but the Mexican international striker contributed to the English Premier League victory. ManU grabbed a one -point lead over rival Manchester City, which lost to Swansea City, 1-0. United took over the EPL lead for the first time since October. Chicharito was tripped by Jonas Olsson in the 66th minute and the WBA player was given his marching orders for his second yellow card of the game, forcing his team to play a man down for the final 24 minutes. Several minutes prior, Hernandez almost found the back of the net as he hammered a shot off the woodwork. Fellow striker Wayne Rooney connected for a brace in the 36th and 71st minutes. He has nine goals in his past six matches and 26 for the season.

Italy

Joaquin Larrivey, Diego Milito

Larrivey, an Argentine, recorded a hat-trick, but it was wasted as he and his Cagliari's teammates fell to Napoli, 6-3. Milito, another Argentinean, put the exclamation point on the victory with a 90th-minute goal.

Rodrigo Palacio

The Uruguayan almost scored 10 seconds into Genoa's scoreless draw with Juventus as his dipping shot was parried over the crossbar by Gianluigi Buffon.

Ezequiel Munoz

The Argentine's attempt to tie the game with five minutes left was denied by goalkeeper Bodgan Lobont's acrobatic save in Roma's 1-0 triumph over host Palermo.
Cuba's Amputee Cyclist Dreams of Gold

Alvaro Gonzalez, Gaston Ramirez

In a clash of two Uruguayans, Gonzalez, of Lazio, was given his marching orders after a violent foul on Bologna's Ramirez in the 58th minute in the latter's 3-1 win. The expulsion reduced Lazio to nine players.

Germany

Claudio Pizarro

The Peruvian striker continued his one-man show for Werder Bremen, scored once and setting up another in a 3-1 victory over Hannover. Pizarro tallied his 16th goal of the season in the 31st minute, slotting home Mehmet Ekici's right-wing cross past goalkeeper Ron-Robert Zieler. "I was afraid that one chance would be enough for Pizarro, and so it was," Hannover coach Mirko Slomka was quoted by the media.

Pizarro sent up Bremen's final goal, giving Markus Rosenberg a through ball in the 56th minute. However, he might face disciplinary action after he slapped Hannover's Emanuel Pogatetz, which was picked up by TV. "I was trying to push his hand away. I never wanted (to slap him)," Pizarro said. "I apologized to him afterward."

Spain

Radamel Falcao

The Colombian tallied an insurance goal in the 90th minute in Atletico Madrid's 2-0 home victory over Granada.

Andres Guardado

The Mexican international midfielder set up the first goal and almost put another one away in Deportivo de la Coruna's 2-1 win over Guadalajara in the Spanish Second Division. The victory kept Deportivo in first place in the Segunda Division.

The Mexican international midfielder started the first scoring sequence in the 39th minute with a corner kick. Colotto headed it at the goal as a defender cleared it off the goal line. But the clearance wasn't far enough as Portuguese midfielder Bruno Gama gathered in the ball and scored his fourth league goal of the season off a volley from the left corner of the penalty area past goalkeeper Saizar.

Portugal

Nicolas Gaitan

The Argentine started Benfica's comeback in its 2-1 victory over Pacos Ferreira to climb back into first place. After Michel Souza boosted Pacos into the lead in the 28th minute, Gaitan equalized in the 63rd minute, converting a Nelson Oliveira feed. Bruno Cesar connected for the winner off a free kick in the 68th minute. Gaitan also is the namesake of the promising 16-year-old striker from Oceanside, N.Y. who is playing with Boca Juniors (Argentina).

Greece

Ivan Marcano

The Spaniard tallied in the first half for defending champion Olympiakos to a 3-0 win over 10-man Aris. Olympiakos increased its lead to four points over Panathinaikos.

France

Guillermo Ochoa

The Mexican international goalkeeper and his Ajaccio teammates continued to move slowly further away from the French Ligue 1 relegation with a dramatic, 1-0 win over eighth-place and visiting Olympique Marseille. Benjamin Andre scored the lone goal of the match in the 89th minute as Ajaccio (29 points) moved into 13th place. Marseille has 39 points. Ochoa needed to make only one save in the match. He was yellow-carded three minutes into stoppage time, most likely for time wasting.

Carlos Sanchez

The Colombian midfielder was red-carded three minutes into Valenciennes' 2-1 loss to Saint-Etienne for a harsh tackle on midfielder Fabien Lemoine. Saint-Etienne also lost a player to a red card in the opening half.

Luis Suarez, Edinson Cavani

The Uruguayan standouts have expressed interest in playing for Paris Saint-German, according to French television station's Canal+. While speaking in a segment about their Uruguayan teammate Diego Lugano, who performs for PSG, both players expressed their desires.

"It would be very tempting to come to Paris," said Cavani, who performs for Napoli (Napoli). "I'd love for us to play together."

Suarez, who toils for Liverpool, said he would "love to play at the same club as [Lugano]."

Major League Soccer

Blas Perez

He was brought to the team after forging a reputation as being a lethal finisher for the Panama National Team, but on Sunday, the Panamanian striker dished out a couple of vital assists to led to FC Dallas' 2-1 season-opening win over the New York Red Bulls.

FC Dallas coach Schellas Hyndman certainly gave Perez's performance a thumb's up in the Major League Soccer team. "I thought Perez did a very good job under pressure," he said. "He had two or three killer passes that we could have done more with in addition to his two assists. Also, his two shots that were saved normally would not have been saved. He may be that striker we were looking for. "

Perez, who has made life miserable for the U.S. National Team in the past two CONCACAF Gold Cups, enjoyed himself in his MLS debut. "It felt really good to be out there with my teammates," he said. "They supported me with their play and I tried to support them out there as well. I felt like we played hard. We could have scored a few more goals, but we got the win and that's important. I had two good chances, but that just happens sometimes. I'm just glad we won.
Perez assisted on Zach Loyd's goal in the 11th minute that gave Dallas a 1-0 lead. He picked up his second assist in the 61st minute when he stole a pass near midfield, dribbled towards goal and dished a pass into space for Ricardo Villar. The Brazilian touched the ball wide with the outside of his foot, ran at Meara and chipped a shot over the sliding goalkeeper for a 2-0 advantage.

Alvaro Saborio, Fabian Espindola

Espindola, an Argentine, put the finished touches of Real Salt Lake's 3-1 comeback win over the defending champion LA Galaxy in the 85th minute. Saborio, a Costa Rican, won a ball in the midfield and played it ahead for Espindola, who raced into the penalty area and scored.

Michael Lewis, who has covered international soccer for more than three decades, can be reached at SoccerWriter516@aol.com.
Follow us on twitter.com/foxnewslatino
Like us at facebook.com/foxnewslatino