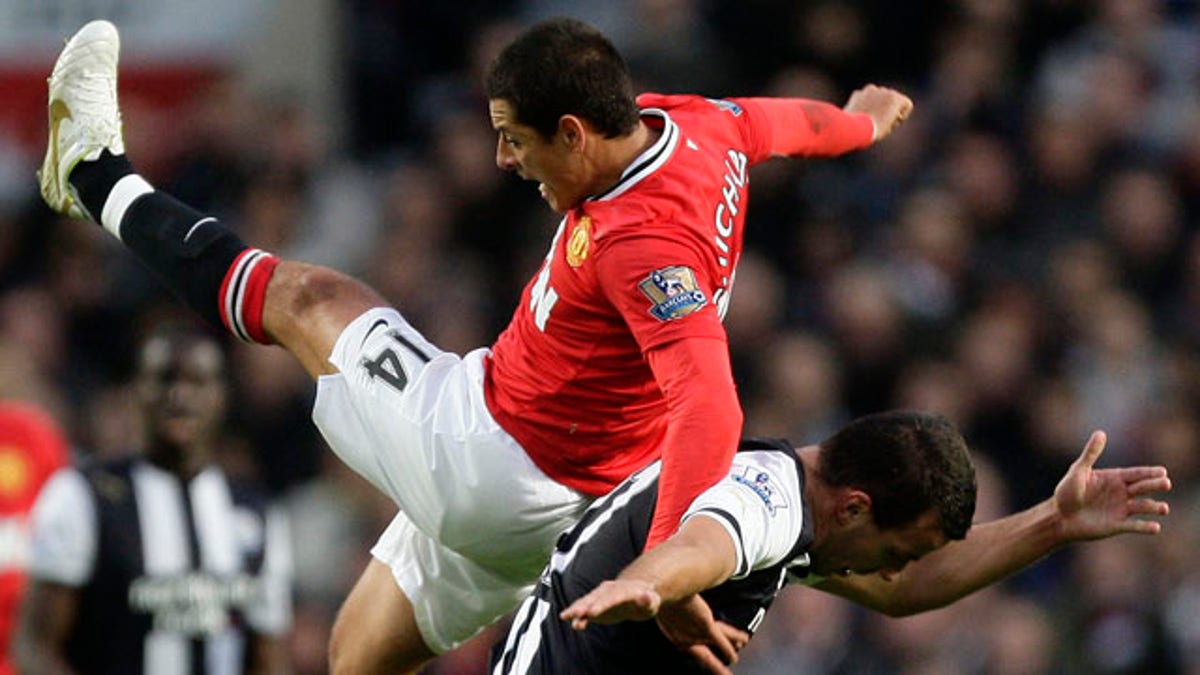 Even some of the most dangerous scoring threats in English soccer could not rescue their respective teams this past holiday weekend.

Javier Hernandez did not do too much in the first half and was replaced at halftime of Manchester United's 3-2 home loss to Blackburn Rovers on Saturday.

Sergio Aguero and David Silva came on as second-half replacements for Manchester City, but they could not ignite the English Premier League leaders en route to a frustrating 1-0 defeat to Sunderland on Sunday.

England

Javier Hernandez

The second time around for Chicharito certainly has been a lot more difficult. He has but six goals in 11 league matches this season, well below his production from 2010-2011.

As it turns out, the Mexican international did not get much of an opportunity to add to his total in United's latest disappointment, as he was replaced by Brazilian Anderson after the first half. Hernandez did not have many scoring opportunities -- he had a couple of shots blocked by defenders and had a near-post attempt denied by the goalkeeper. He also got in the way of a Phil Jones shot and had a near-post shot denied by the keeper.

When Chicharito was taken out, the Red Bulls trailed 1-0. They trailed from a two-goal deficit to equalize, but lost on a late goal by Grant Hanley to spoil manager Sir Alex Ferguson's 70th birthday.

Two injuries have slowed Hernandez down -- he suffered a concussion in the pre-season prior to the Major League Soccer all-star game in July -- and then sprained his ankle in a 1-0 win at Aston Villa on Dec. 3. He has not found the back of the net since a 1-1 draw with Newcastle United on Nov. 27, his only home goal this season.

David De Gea

The Spaniard's blunder allowed Blackburn to score the winning goal against ManU. De Gea missed Morten Gamst Pedersen's corner kick as Hanley headed in the cross.

"The third goal was a killer," Ferguson said. "It was a bad defensive error and we should have done better with that."

According to The Daily Telegraph, De Gea has struggled this season. Danish international Anders Lindegaard has surrendered but one goal in seven matches -- a goals-against average of 0.14 -- this season and has five EPL clean sheets. In contrast, De Gea, who signed for $5.8 million, has allowed 26 goals in 19 matches over all competitions, a 1.37 GAA.

Sergio Aguero, David Silva

It was a tough loss for the EPL leaders as they allowed South Korean striker Ji Dong-Won to score deep into second-half stoppage time to break a scoreless draw.

Aguero, an Argentine, and Silva, a Spaniard, have been quite effective for City this season. They certainly created some opportunities, but could not convert.

The Argentine had a shot saved away by goalkeeper Simon Mignolet, wearing a protective mask to protect his broken nose before the keeper denied Silva later on.

City outplayed Sunderland, took 10 shots and saw two bound off the woodwork.

"We deserved to win this game," City manager Roberto Mancini said. "I think it's incredible that we didn't take three points today. I don't know how many chances we had but last season we had exactly the same situation where we lost the game with virtually the last kick of the match.

"We were very unlucky today but we have to put this game out of our minds because we play Liverpool in 48 hours' time."

City hosts Liverpool on Tuesday.

Luis Suarez

The news isn't particularly good for the Uruguayan striker.

Suarez gave "unreliable" and inconsistent" evidence to the commissioner investigating claims that the Liverpool player had racially abused Man United's Patrice Evra. The English Football Association released a 115-page document, which detailed the case and conversation between the two players on Oct. 15.

Suarez is facing an eight-game suspension and a fined $60,000 for his comments. Liverpool and Suarez have until Jan. 13 to to appeal.

According to the report, "Mr. Evra was a credible witness. He gave his evidence in a calm, composed and clear way.

"It was, for the most part, consistent, although both he and Mr. Suarez were understandably unable to remember every detail of the exchanges between them."

Suarez called Evra, who is black, "Negro" seven times during the on-field confrontation, according to the report.

He did not play in Liverpool's 3-1 triumph over Newcastle on Friday,

Carlos Tevez

As of Monday morning, there was nothing new on the possibility of the Argentine international going from Manchester City to A.C. Milan, but at least one player would welcome the striker to the Italian Serie A side -- Zlatan Ibrahimovic. Talks between the two teams are ongoing for Tevez, who hasn't performed for the EPL club since he refused to enter a game as a sub in September.

"For me, Tevez is a great player," Ibrahimovic told reporters. "I don't know how the situation is and if he's coming, if he's not coming. But he's a great player and if he comes for sure he will do a great job for us. It would be an extra weapon for us … Everybody knows what kind of a player Tevez is. He's a fantastic player and he will bring extra quality to the team."

Spain

Angel Di Maria
The Argentine is expected not to play for Real Madrid against Malaga in a Copa del Rey match on Tuesday due to an injured right thigh muscle he suffered in practice on Saturday. Di Maria also has been sidelined with a hamstring injury in November. Jose Callejon is expected to take Di Maria's place.

Alexis Sanchez, Lionel Messi

The Chilean international forward returned to pratice on Saturday and may play for Barcelona vs. Osasuna in Wednesday's Copa encounter. Sanchez has been out since he suffered a leg injury he suffered during Barca's Club World Cup triumph in December. Messi's availability was not known. The international forward recently had returned from his native Argentina and he did not train with Barcelona on Monday.

Javier Aguirre

Aguirre, who guided Mexico into two World Cups, was given the pink slip by Real Zaragoza in Spain. The last-place La Liga club fired Aguirre, who managed to keep the club in Spain's top tier last season. But Zaragoza is in the relegation zone this season. The team has but 10 points in 16 games.

"An urgent change was needed," Zaragoza said in a statement on its website.

Manuel "Manolo" Jimenez, who guided Sevilla from 2007-2010, was named the new coach on Saturday.

Aguirre, who directed El Tri at the 2002 and 2010 World Cups, became the fifth La Liga coach to be fired this season. He endured an 11-game winless streak and a five-game losing streak. Zaragoza trails 17th-place Villarreal five points to get out of the relegation zone.

"The players will get the club out of this situation," Aguirre was quoted by the Spanish media on Friday, according to the Associated Press. "I would have liked to have stayed until the end but I understand that these things happen in football."

Michael Lewis who has covered international soccer for more than three decades, can be reached at SoccerWriter516@aol.com.
Follow us on twitter.com/foxnewslatino
Like us at facebook.com/foxnewslatino