Soccer round-up: The stars seem aligned for a breakout MLS season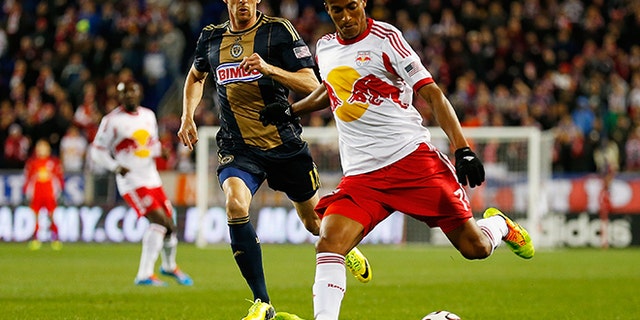 As the start of the Major League Soccer season approaches, fans are asking: Will this be the league's "breakout" year?
The signs are promising as the league's two new teams each boast a World Cup champion. Orlando City SC has already sold over 40,000 tickets to its home opener as it prepares to field Brazil's Kaká, FIFA World Player of the Year in 2007 and a Cup winner as a 20-year-old in 2002.
Appearing for New York City FC, which the New York Yankees partly own, will be David Villa of Spain's 2010 World Cup-winning team.
While new foreign stars are important, the U.S. players need to stamp their authority on the league if the nation's back pages are to regularly feature MLS in their coverage.
That said, MLS is in the ascendancy. World Soccer Magazine named it the world's seventh best league in its 2013 survey, while a Luker on Trends poll for ESPN last year saw soccer displace baseball as America's second-most popular sport among 12-to-17 year olds.
On the side of the yet-to-be-convinced, the Swiss-based International Federation of Football History and Statistics (IFFHS) placed the USA at No. 55 on its World's Strongest National League list for 2014.
That was below fellow-CONCACAF nations Mexico and Costa Rica.
Whether MLS sits at 7th or 55th place in the world – I'd argue it's nearer to 7th – it's time for it to tap into the national psyche.
One way to leverage the grade-school popularity of the sport is to incentivize youth soccer for both kids and parents.
The New York Red Bulls and Chevrolet showed the way last year. They ran a program that allowed kids to train with Red Bulls coaches. Each child then got tickets to a game.
I saw this work first-hand as some kids on the team I coach who had never seen a pro soccer game before, attended one thanks to the program, loved it and now root for the Red Bulls and wear Red Bulls shirts and so on.
Three Questions for Roy Miller Hernández
I caught up with the Costa Rican defender as he and his Red Bulls teammates trained at the IMG Academy in Bradenton, Florida last week.
On MLS's progress: "It's my sixth year with the New York Red Bulls and you can see how the league has got better and better.… In a couple of years, why can't it be one of the best leagues in the world?"
On playing in the World Cup: "It's one of the best experiences in my life and career," said Miller, who played for Costa Rica during its giant-killing run that took the Central American team to the quarterfinals in Brazil.
Advice for young players: "The only thing is for [them] to enjoy and, when they are out there playing, to work hard. First enjoy, then work."
Miller says he is excited to see so much youth soccer and says it will be good for MLS and the national team.
Goal Celebration of the Month
How did Arles Flores of Venezuela's Zamora celebrate scoring against Uruguay's Montevideo Wanderers in the Copa Libertadores last week?