Soccer Round-up: Aguero's Goal of Lifetime for Manchester City Caps Title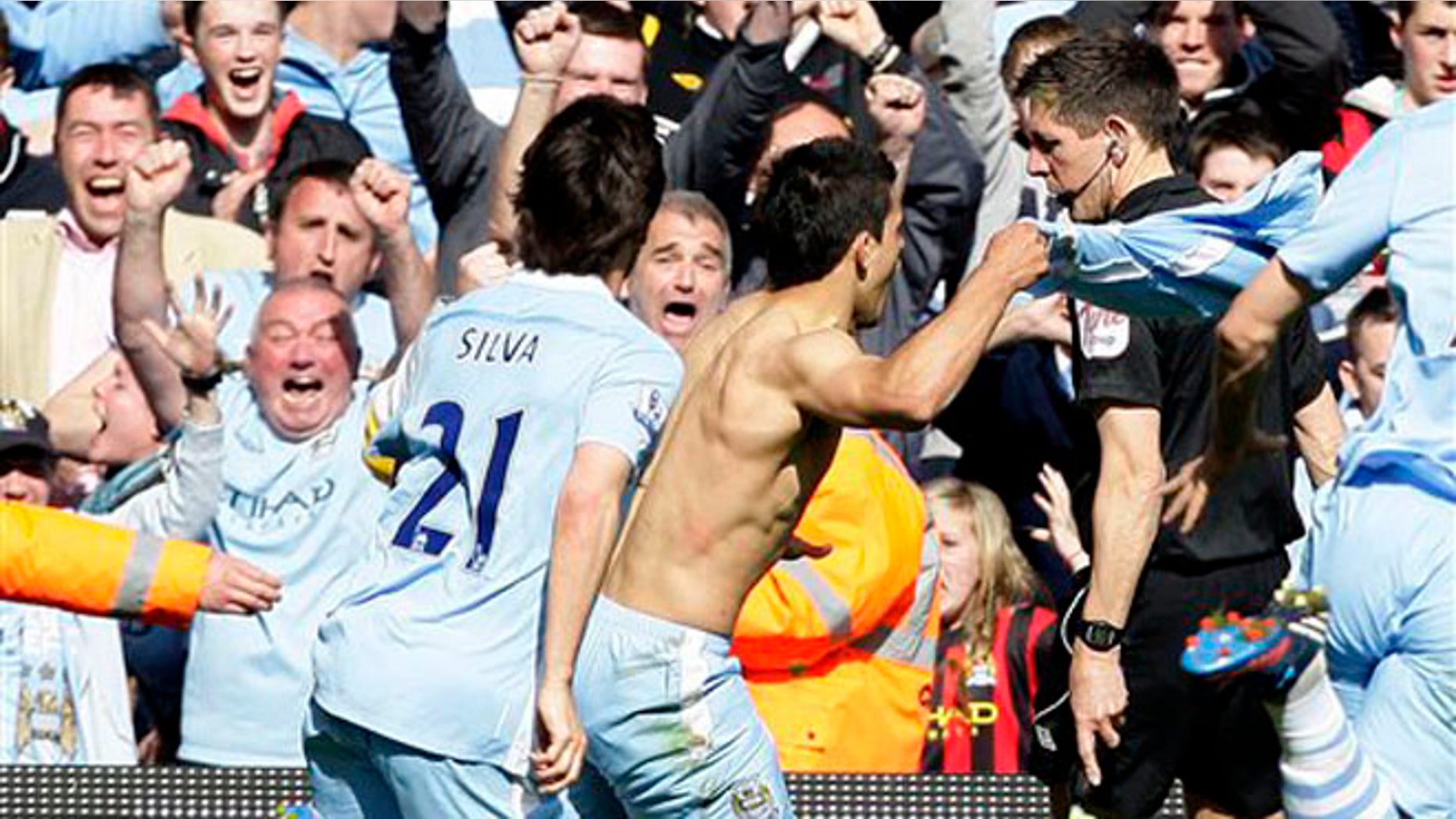 When Sergio Aguero was first capped by Argentina several years ago, skeptics claimed it was nepotism because Aguero was the son-in-law of national coach Diego Maradona.
But Aguero, who turns 24 on June 2, has proven his worth and then some.
On Sunday, Aguero scored the goal of a lifetime as he climaxed the comeback of a lifetime as Manchester City capped its season with not one, but two memorable come-from-behind performances.
Considered dead in English Premier League waters, eight points behind archrival Manchester United with six games remaining at the beginning of April, City endured to win its first championship in 44 years.
In similar fashion, City made history with a late comeback for the ages, scoring twice in stoppage time, including Aguero's game-winner in the 94th minute that boosted Manchester to a rather improbable 3-2 triumph over Queens Park Rangers at Etihad Stadium.
"I was so happy that the ball fell to Sergio," City manager Roberto Mancini told the Mirror. "I think it's only right that he scored the last goal."
Edin Dzezo had equalized two minutes into added time.
Aguero, who signed with City in a $60 million transfer from Atletico Madrid last summer, took a pass from Mario Balotelli, weaved through the defense before beating goalkeeper from the right side to secure the win with the 30th goal of the season.
"The ball fell at my feet and my only thought was to hit the target," he said. "Thankfully it went in. For sure it was the most important goal of my career.
"To score in the last minute to win the title? I'm not sure that is ever going to happen again."
After he scored, Aguero whipped off his shirt in celebration.
"It is one big blur," City captain Vincent Kompany said. "I remember jumping on top of Sergio when he scored the goal. He was crying on the floor."
Another lethal Argentine international, Carlos Tévez, also played a role in the match, although he did not score. He induced QPR midfielder Joey Barton to throw an elbow at him and kneeing Aguero as he left the field after getting red-carded in the 55th minute.

England

Javier Hernández

Chicharito, who was deemed so valuable by Manchester United manager Sir Alex Ferguson that he was denied permission to play for El Tri in the Olympics, did not get off the bench in the 1-0 season-ending win over Sunderland in English Premier League action. Chicharito finished the season with 12 goals in 22 matches. Broken down that was 10 goals in 18 EPL appearances and two goals in Europa Cup games.

Angel Rangel

The Spaniard helped set up Swansea's lone goal in the 86th minute in its 1-0 win over Liverpool. Rangel found Scott Sinclair, who passed to Danny Graham for his 14th goal of the season.

Spain

Lionel Messi

In a game in which he fired blanks, Messi did not score in Barcelona's season-ending 2-2 deadlock at Real Betis in coach Pep Guardiola's final league game. The Argentine international striker finished the season with a La Liga record 50 goals. Seydou Keita scored in stoppage time to lift 10-man Barca to the tie. Messi and company are not finished as they play Atheltic Bilbao for the Copa del Rey crown on May 25.

Gonzalo Higuaín, Gonzalo Castro

Higuaín did not score in Real Madrid's 4-1 victory over Mallorca as La Liga champions broke the 100-point barrier as Cristian Ronaldo scored his 46th goal of the season. But the Argentine international may have played his last game for Los Blancos. After the game, Higuaín said he may leave the team with speculation that he could wind up with Paris Saint-Germain next season. Castro, a Uruguayan, scored a second-half goal for Mallorca.

José Rondón

The Venezuelan tallied the lone goal for Malaga in its 1-0 win over Sporting Gijon that guaranteed it will play in the UEFA Champions League for the first time. After hitting the post with a header in the first half, Rondón went back to work four minutes into the second half, heading in a corner kick.

Ramadel Falcao

Only days after scoring twice for Atlético Madrid in its Europa Cup final triumph, the Colombian tallied in the 88th minute to boost his team to a 1-0 win, which relegated Villarreal to the Segunda Division.

Carlos Vela

The Mexican international did not find the back of the net in 86 minutes of action for Real Sociedad in its 1-0 win over Valencia, but he finished the season with 12 goals and seven assists in 34 appearances.

Pablo Barrera

Barrera, another Mexican National Team player, played only two minutes for Real Zaragoza in its 2-0 victory over Getafe.

Héctor Moreno

The Mexican international defender went the full 90 minutes for Espanyol in its 1-1 tie with Sevilla.

Andrés Guardado

For the second consecutive game, the Mexican international scored for Déportivo la Coruña. Guardado converted a 51st-minute penalty kick to put the finishing touches on Deportivo's 3-0 victory over Numancía FC in the Spanish Second Division. After Alex Bergantinos (15th minute) and Lassad Nouioui (18th minute) lifted the visitors into a two-goal advantage, Guardado scored his 11th goal of the season. The penalty kick was set up when Numancía central defender Manuel Pavón blocked a Juan Carlos Valerón shot with an elbow as the hosts were forced to play the rest of the match with only 10 men. With five games remaining in the season, Déportivo leads the Second Division with a 26-8-4 mark and 79 points, four more than second-place Real Valladolid (21-5-12, 75).

France

Guillermo Ochoa

The Mexican international goalkeeper and his Ajaccio teammates find themselves on the wrong side of the relegation zone with one precious game remaining in their season. Ajaccio could only register a 1-1 home tie with Lyon in French Ligue 1 on Sunday. The Coriscan club is in 18th place out of 20 teams with an 8-15-14 record and 38 points. Lyon (19-11-7, 64 points) is in fourth place.

It certainly did not help the hosts that French international Yoann Gourcuff was sent off in the 50th minute, meaning that he will miss next week's regular-season finale at eighth-place Toulouse FC (15-11-11, 56) on Sunday. Baretimbi Gomis lifted Lyon into the lead in the 54th minute, but Ajaccio leveled the game on a penalty kick from Ecuardo five minutes later. Ochoa was solid in the net as he stopped Gueida Fofana's low, driving shot. Gomis and Maxime Gonalons tested Ochoa in the second half, but the keeper was up to the task.

Italy

Santiago García
García, an Argentine playing on loan to Novara, scored in the 20th minute to give his relegated side a 1-0 lead, but A.C. Milan rallied for two goals en route to a 3-1 victory.

Qatar

Raúl
The former Spanish international striker signed with Al Sadd for next season. Raul, 34, decided to leave Schalke 04, despite having two solid years in the German Bundesliga.

Italy
Mario Yepes
The Colombian central defender has extended his contract with A.C. Milan for another year. The 36-year-old Yepes has earned 80 caps for Colombia, scoring four times.

Portugal

James Rodríguez
Rodríguez, a Colombian, helped start First Division champion FC Porto to a 5-2 romp at Rio Ave. Brazilian striker Kleber led the way with a hat-trick.

Turkey

Pablo Batalla

The Argentine tallied twice in the opening half to power Bursapor to a 4-0 triumph over Istanbul Buyuksehir BSK to qualify for next season's UEFA Europa League.

Denmark

Cristian Bolaños

Bolaños, a Costa Rican international, helped FC Copenhagen overcome a two-goal deficit to register a 2-2 draw at Sonderyuske. The first-place club's quest for the Danish championship, however, suffered a setback because it failed to secure the full three points and could lose the lead if Nordsjaelland defeats Odense on Monday. The hosts grabbed a two-goal lead on goals by Eyjolfur Hedinsson and Lasse Vibe. But Bolanos sliced the deficit in half in the 76th minute and Solvi Ottesen equalized in the 85th minute.

Scotland

Emilio Izaguirre

The Honduran international went the entire way at midfield for Celtic FC in its 5-0 season-ending triumph over Hearts at Celtic Park. Izaguirre normally is an outside fullback. Gary Hooper struck for five goals -- a hat-trick in the first half -- in the Scottish Premier League season finale for both teams.

Mexico

José María Basanta, Aldo de Nigris, Oribe Peralta, Héctor Mancilla

The Mexican Clausura final will have a familiar ring to it as the CONCACAF Champions League finalists will tussle for the title this weekend. Two-time CCL champion Monterrey and runner-up Santos Laguna won their semifinal series.

Monterrey recorded a 2-0 win over Club America in the second leg of the semifinals to capture the series by the same score. The club will face Tigres or Santos Laguna in the final. Monterrey had bested Santos for the CCL crown last month. The teams had played to a scoreless draw in the first game. Basanta gave Monterrey all the scoring it needed in the ninth minute and de Nigris added an insurance goal in the 52nd minute.

Peralta's late brace lifted Santos Laguna over Tigres Monterrey. Tigres, which had recorded a 1-1 tie in the first leg, had grabbed a 2-0 advantage behind Mancilla's two goals in the opening 30 minutes on Sunday. But Peralta, a Mexican international tallied in the 86th and 89th minutes to level the game at 2-2 and the aggregate goals at 3-3. Because Laguna had a better regular-season record, it reached the final.

Mexican National Team

Defender Ráfa Márquez, midfielders Andrés Guardado and Giovani dos Santos, and Javier Hernández were among eight players based in Europe and the United States that will form part of the Mexican roster that will play in three international friendlies in the U.S. prior to World Cup qualifying.
Mexico faces Wales on Sunday, May 27 at MetLife Stadium in Eeast Rutherford, N.J. (3 p.m. ET), Bosnia-Herzegovina at Soldier Field in Chicago on Thursday, May 31 (9 p.m. ET) and Brazil at Cowboys Stadium in Arlington, Texas on June 3.

The partial El Tri roster:

Goalkeepers: Guillermo Ochoa (AC Ajaccio/ FRA)

Defenders: Ráfa Márquez (New York Red Bulls/USA), Héctor Moreno (RCD Espanyol de Barcelona/ SPA), Francisco Javier Rodríguez (Club VfB Stuttgart/GER)

Midfielders: Andrés Guardado (Déportivo La Coruña/SPA), Giovani dos Santos (Tottenham Hotspur FC/ENG), Pablo Barrera (Real Zaragoza/SPA)
Forwards: Javier Hernández (Manchester United/ENG)

United States

Wilman Conde

The Colombian and New York Red Bulls central defender was arrested by Fort Lee, N.J. police on Saturday and was charged with aggravated assault on a police officer. There were complaints about loud music coming from an apartment owned by Fhanor Domínguez-Sánchez, with whom Conde lived, according to police reports. The men were intoxicated and belligerent when they responded with officers, the report said. Conde got in the way of an officer and began to push him. He was arrested and released in his own recognizance, pending a future court date. Conde has played only twice this season and has been sidelined with a groin injury.

Lionard Pajoy, Ráfa Márquez

Márquez, the Mexican National Team captain, set up the first and winning goals for the Red Bulls in their 3-2 win at 10-man Philadelphia Union. He set up Joel Lindpere's goal in the 17th minute and created Kenny Cooper's game-winner in the 68th minute. Pajoy, a Colombian, scored both goals for the hosts, tallying in the 31st and 46th minutes to give them a 2-1 lead.

Fabian Espindola

Espindola, an Argentine, scored in the 51st minute to boost Real Salt Lake (8-3-2) to a 1-0 win over the Seattle Sounders (7-2-1) in a battle of MLS Western Conference powerhouses. Espindola, who missed RSL's scoreless draw with the Chicago Fire on Wednesday, due to the birth of his son, said his newborn inspired him on Saturday. "This is my first goal after my son was born I'm so happy about that," he said. "Every goal is going to be for him now."

Sebastian Grazzini, Gonzalo Segares, Roger Espinoza

Another Argentine, Grazzini converted a penlaty kick to equalize in the 61st minute to help the Chicago Fire to a 2-1 win over Sporting Kansas City. A Costa Rican left back, Segares lofted a ball up the left side for Dominic Oduro. He beat defender Aurelien Collin into the penalty area before the Frenchman came in with a tackle from behind, forcing the PK. Espinoza, a Honduran international midfielder, set up KC's lone goal but was red carded by referee Carlos Rivero in the 62nd minute, forcing the visitors to play a man down the rest of the game. But while defending a throw-in in the 62nd minute, Espinoza jumped to send the ball out of bounds. However, his follow-through with his elbow hit Grazzini's face, resulting in a red card.

New Zealand

Manuel Exposito

Exposito, a Spaniard, scored in the first half to give Auckland City a 1-0 victory over AS Tefana (Tahiti) to become Oceania champions for the fourth time. Auckland won the first leg, 2-1, to register a 3-1 aggregate win.

CONCACAF U-17 Women's Championship

Mexico earned CONCACAF's third and final berth to clinch a spot in FIFA Under-17 Women's World Cup, riding four second-half goals by Luz Duarte to register a 6-0 win over Panama in Guatemala City. The triumph in the third-place game of the CONCACAF championship earned Mexico's second successive trip to the world championship. The Mexicans, along with the United States and Canada, will play in Azerbaijan from Sept. 22-Oct. 13.

Michael Lewis, who has covered international soccer for more than three decades, can be reached at SoccerWriter516@aol.com.
Follow us on twitter.com/foxnewslatino
Like us at facebook.com/foxnewslatino