Soccer: Messi, Suarez, Pardo & More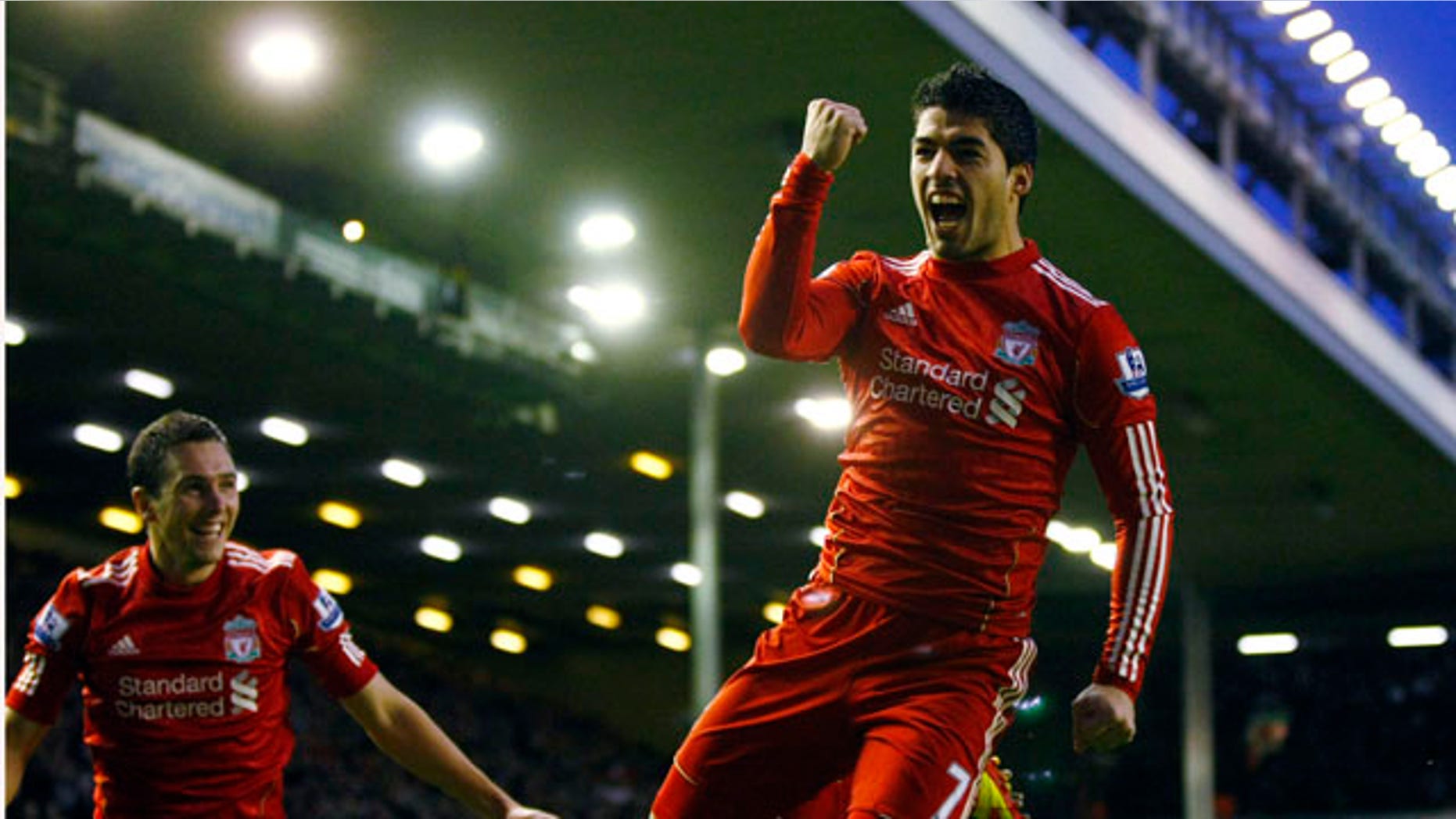 As fabulous as Barcelona has been this season, we were reminded this weekend that Lionel Messi and company are mortals.
Real Sociedad made sure of that, stunning La Liga leaders, 3-2, with a late goal by Imanol Agirretxe a minute into stoppage at home.
But it wasn't that Barca went down to defeat, it was the way it was achieved. The Spanish powerhouse enjoyed a two-goal advantage late in the first half and eventually saw it evaporate, thanks in part to a red card to Gerard Piqué in the 56th minute.
The defeat cut Barca's lead to second-place Atlético Madrid, 2-0 winners over Levante, to eight points. Barcelona fell to 18-1-1.
"Losing a game had to come at some point," Messi told reporters. "We have to pick ourselves up immediately because of the cup match coming up."
Messi was referring to Barca's Copa del Rey quarterfinal on Thursday.

"It was inevitable we would eventually lose a game," Barca coach Tito Vilanova said. "It puts us in our place because there is still a long way to go in La Liga. Although everyone believes we have been winning games easily, it isn't so. There are still a lot of difficult games ahead of us."

It looked like another Barcelona stroll in a soccer park on Saturday when Messi tied a La Liga record by scoring in his 10th consecutive match in the seventh match. Messi, one of a dozen Argentineans to score in Europe this weekend, is only two goals away from becoming only the eighth La Liga player to reach the 200-goal barrier.

Pedro doubled the lead in the 25th minute and even the Real Sociedad faithful had to think their heroes would be in for a long day. But it wasn't meant to be.

Only four minutes before halftime Gonzalo Castro sliced the lead in half with the first of his two goals. But Pique was awarded his second yellow card in the 56th minute and Real equalized six minutes later on Castro's second goal, a shot that deflected off another Barca Argentine player, Javier Mascherano.

It turned out to be a difficult week for Barca, which allowed 10-man Malaga to draw at Camp Nou, 2-2 in Copa first leg on Wednesday. Two days later, goalkeeper Victor Valdes turned down the club's contract renewal and said he would leave when his deal ends next year.

MORE BARCELONA

Barcelona's website put together a list of some intriguing facts about the game. Here are some of them:

* It was the fifth time the side lost when Messi scored and only the second time in league competition. Messi's goal was the 3,000 that Real had allowed in its La Liga history.

* Messi has scored in 121 league matches and Barca have ended up losing only twice – this game and a 4-3 loss to Atlético Madrid in March 2009. Messi has scored in 182 games in all competitions en route to a 161-5-16 mark.

* It also was Barcelona's first league road defeat in almost a year. The last loss on Feb. 11, 2012 (the team was 17-0-1 away since then).

* The game was the sixth time that Real Sociedad had ended a long Barca winning streak at the start of a league season. Other such results came in the 1930/31, 1961/62, 1969/70, 1972/73, 1974/75 and 2012/13 seasons.

SPAIN 
Angel Di Maria, Gonzalo Higuain

Real Madrid looked like the Real Madrid of old, trampling visiting Valencia, 5-0, as two Argentines starred. After Higuain gave the hosts a 1-0 lead on a breakaway goal in the ninth minute, Di Maria scored the first of his two goals in the 34th minute. He added another goal in the 45th minute. Cristiano Ronaldo also tallied twice as Valencia suffered its worst La Liga home loss.

Radamel Falcao

The Colombian striker suffered a hamstring injury early in the second half of Atletico Madrid's 2-0 win over Levante. It was not known how long Falcao will be out. "He will rest and he will be in very good shape further down the line," AM coach Diego Simeone said.

Giovani dos Santos
The Mexican international scored a first-half equalizer for Real Mallorca but it turned out not to be enough en route to a 3-2 away loss to Espanyol. After Simao had given the hosts a 16th-minute lead, dos Santos tallied in the 35th minute.

Augusto Fernández

Fernández, an Argentine, saved Celta Vigo from defeat, scoring in the 76th minute to give his side a 1-1 draw at Malaga.

ENGLAND 
Luis Suárez

The Uruguayan star scored Liverpool's second goal, in the 36th minute, in Liverpool's 5-0 rout of visiting Norwich City.

David Silva

Manchester City's 2-0 home win over Fulham certainly had a Silva lining. The Spanish international struck for both goals, the first only two minutes into the encounter, the insurance score in the 69th minute..

Juan Mata, Santi Cazorla

The Spaniards each played important roles for the different sides in Chelsea's 2-1 win over London rival Arsenal at snowy Stamford Bridge. Mata found the range in the sixth minute to give Chelsea a 1-0 advantage. After Frank Lampard's goal made it 2-0, but Cazorla set up Theo Walcott in the 58th minute.

Angelo Henríquez, Roger Espinoza, Maynor Figueroa

An 18-year-old Chilean on loan from Manchester United, Henríquez scored a consolation goal for Wigan Athletic in its 3-2 home defeat to Sunderland. He scored in the 79th minute to pull the hosts within one. Espinoza, a Honduran international who recently transferred from Sporting Kansas City, made his English Premier League debut as a substitute. Fellow Honduran Figueroa played the full 90 minutes.

ITALY 
Facundo Roncaglia, Edinson Cavani

Depending on your vantage point, Roncaglia scored a wonder goal or a lucky one, while Cavani reached a major milestone as Fiorentina and Napoli played to a 1-1 tie. Roncaglia, an Argentine defender, scored from his half of the field as his goal was helped by a blunder by Napoli goalkeeper Morgan De Sanctis. De Sanctis misjudged the ball, which flew over his head and took one bounce before entering the goal in the 33rd minute. Cavani, a Uruguayan striker, scored his 17th goal of the season, a header off a free kick in the 42nd minute. It turned out to be Cavani's 66th goal in 2 1/2 seasons with Napoli; he scored 34 in three seasons with Palermo.

Gonzalo Bergessio, Pablo Barrientos

The Argentine duo turned out to be deadly early and late for Genoa in Catania's 2-0 away win. Bergessio found the back of the net in the fourth minute and Barrientos added an insurance tally in the 86th.

Mario Santana

The Argentinean scored a breakaway goal in the fourth minute to start Torino to a 2-0 triumph at Pescara. Alessio Cerci added a breakaway goal of his own in the 41st minute.

Rodrigo Palacio

Palacio, yet another Argentine, scored a minute into stoppage time to help Inter Milan to a 1-1 draw at AS Roma.

FRANCE 
Emmanuel Herrera

Herrera, an Argentine scored for defending champion Montpellier in its 3-2 loss to comeback-minded Olimpique Marseille. He beat the offside trap to equalize off a John Utaka through ball in the 17th minute before striking for another goal only three minutes later.

Renato Civelli

The Argentine struck in the 77th minute for Nice's opening goal in its 2-0 win at Lille.

Guillermo Ochoa

The Mexican international goalkeeper made two saves and blocked three other shots to help AC Ajaccio to a 1-1 home draw with 10-man Valenciennes.

GERMANY 
Jefferson Farfán

The Peruvian standout started Schalke 04 on its way to a wild 5-4 home triumph over Hanover 96. Farfán tallied in the 44th minute to give the hosts a 1-0 lead. Who would have thought the teams would combine for eight goals over the remaining 41 minutes?

MEXICO 
Pavel Pardo

After a 19-year-old professional soccer career, the former Mexican international midfielder has decided to hang up his boots. A two-time Mexican World Cup veteran and the second most capped player in Mexican National Team history played had a career that saw him compete at the top levels in Mexico, Germany and the United States, most recently with the Chicago Fire.