Soccer great Cuauhtemoc Blanco caps career with title, will now try to score in Mexican politics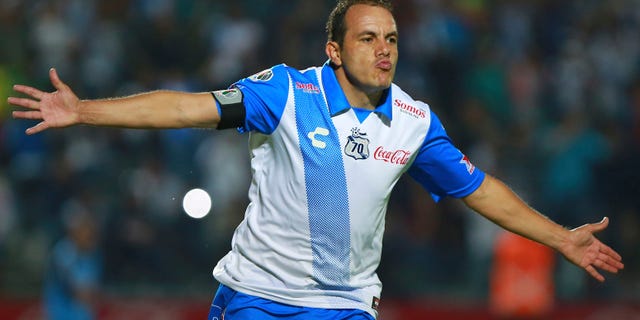 Cuauhtémoc Blanco, one of the greatest Mexican soccer players, ended his outstanding 23-year career with a win Tuesday against Chivas to take home the trophy of the Copa MX.
Blanco, 42, is hanging the cleats to prepare his bid for mayor of Cuernavaca, the capital city of Morelos located an hour away from Mexico City.
"I am leaving (the sport) happy … I am not sad, but I feel some nostalgia," Blanco told reporters at the end of Puebla's 4-2 win over Chivas. "It's true that I will miss this, my teammates and soccer, but at the same time I am happy because I will be able to spend time with my family."
The veteran soccer player, who is a candidate for the Social Democratic Party in Mexico, entered the match in the 70th minute and nearly scored a goal in the final minutes.
After the final whistle, Blanco was surrounded by family members and a few moments later received his championship medal. The team gave him the honor to lift the trophy.
Blanco's career started on Dec. 5, 1992 at the Nou Camp de León, stadium where he really began to shine after several years under his belt. In 1995, Blanco received his first national team call up in a friendly against Uruguay in San Diego.
Throughout the years Blanco went on to play for clubs like Real Valladolid in Spain, the MLS's Chicago Fire and a smattering of Mexican league teams before landing at Puebla F.C. this season.
During his two seasons in the MLS, Blanco played against the likes of former American star Landon Donovan and was named a finalist to the MVP award twice. In his second U.S. season he was the second best player in the league after Donovan, who also retired from soccer last year.
Blanco and Javier "Chicharito" Hernández are tied as the second players with most goals (39) for the Mexican national team. Only Jared Borgetti has more, with 49.
Based on reporting by the Associated Press.