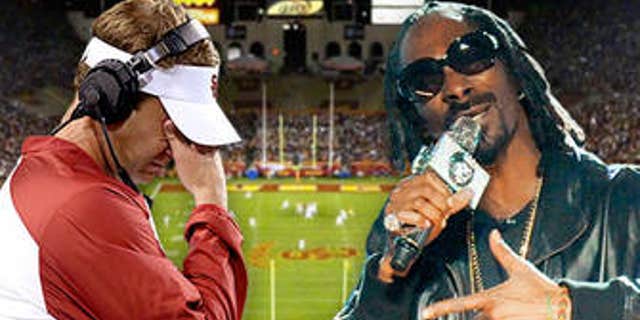 Lane Kiffin probably has found out who his real friends are in the past two weeks after he was canned by USC. Everyone has had an opinion about the matter, good or bad. Everyone besides Snoop.
TMZ asked the legendary rapper how he felt about Kiffin getting fired and Snoop's reply was: "Who?"
Unfortunately your browser does not support IFrames.
Lane Kiffin probably can cross Snoop's name off his small -- or nonexistent -- list of supporters.
Snoop always been a huge USC fan. His son, Cordell Broadus, is a four-star recruit and the Trojans already have extended a scholarship to the 2015 receiver.
Cordell was more direct than his father when it came to how he felt about USC firing Kiffin. According to an interview with 247Sports.com , if it was up to him, Kiffin would have been gone a while ago.
"I feel that he should have been fired a while ago and USC is going to raise the bar now because (of) the new coaching staff next year," Broadus said, "and I'm anxious to see what they are going to look like."
Most people don't even get to have lion know who they are in the first place, so don't worry Kiffin, you're just like most people. A regular guy.
Follow Nick Creegan on Twitter