Snell, Brogdon have the Bucks ranked first in postseason 3-pointers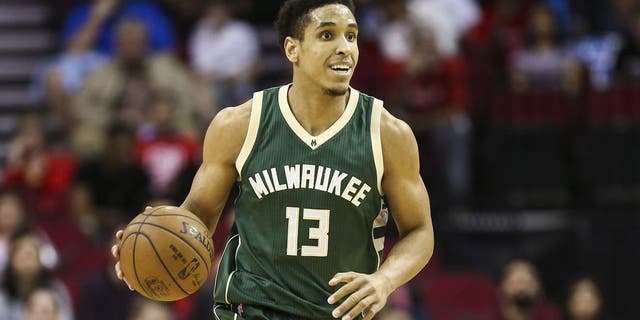 NEWYou can now listen to Fox News articles!
Golden State Warriors? Splash brothers? Please, move over for the Milwaukee Bucks sharpshooters Tony Snell and Malcolm Brogdon.
Snells 16 3-pointers in the postseason rank third in the NBA, just behind the Warriors' Steph Curry (19) and Indiana's Paul George (18). But the two All-Stars have shot a combined 27 more attempts from downtown than Snell. So whos the real winner here?
Speaking of winners, Brogdon became the sixth rookie all-time to make at least five 3s in a playoff game, joining Harrison Barnes, Rudy Fernandez, Daniel Gibson, Matt Maloney and Vladimir Radmanovic after a 5-of-7 shooting performance in Game 5. Not exactly a Hall-of-Fame list of names but still an impressive feat nonetheless.
As a team, Milwaukee leads the NBA in postseason 3-point percentage. It has improved by 5 percent since the regular season, also a league high:
On the other side of the court, Toronto has struggled from deep.
Kyle Lowry has made just 29 percent of his 3-pointers in the series, managing to sink only 8 of 28 attempts. Its a theme that has haunted Lowry throughout his postseason career. His 30.6 percentage from downtown in 49 career playoff games is one of the lowest among active players that have at least 200 attempts, behind do-it-yourselfer Russell Westbrook (29.4), Matt Barnes (30.2) and Jamal Crawford (30.4).
The Raptors have one silver lining, though: Norman Powell has made 8 of 9 from behind the arc. Eighty-nine percent isnt too shabby. Norm strikes again.
The Bucks hope to contain Powell at home in Game 6 when they face elimination on Thursday night. Milwaukee has a 6-5 all-time record in Game 6s when trailing 3-2 in a series. In the 2001 playoffs, Sam Cassell, Ray Allen and Glenn Robinson combined to score 85 points to beat the Charlotte Hornets and force Game 7, which they won 104-95 to advance to the conference semifinals. The Bucks back-to-back elimination wins marks the only time they have won a series after trailing 3-2.
Toronto, on the other hand, is 0-3 in franchise history when leading a series 3-2.
Things are looking up.
OTHER NOTABLES:
-- Brogdon doesnt only shoot 3-pointers. Hes averaging four assists per game in the series, the third highest average for a Bucks rookie in franchise history.
-- Toronto set a playoff franchise record in Game 5, scoring 118 points. It was the most points the Bucks had allowed in a road playoff game since a 112-93 loss at Detroit in 2006.
-- Giannis Antetokounmpo became the fifth Bucks player to record a 30-point playoff game at 22 years or younger. The others? Kareem Abdul-Jabbar (7), Marques Johnson (3), Gary Brokaw (1) and Brandon Jennings (1).
-- More Giannis stats: Hes only the fourth Eastern Conference player to record 30+ points, 3+ blocks and 3+ steals in a playoff game since the 2000 postseason.
-- Norm Powell's 25 points in Game 5 officially made him the first player from the 2015 draft class to drop 25+ points in a playoff game. Powell was a second-round pick, drafted No. 46 overall.
-- Milwaukee grabbed 23 rebounds in Game 5, the lowest playoff total since at least the 1985 postseason.
Statistics courtesy STATS