Sneaky Rays fans fooled Tigers players by yelling 'I got it!' from the stands ... twice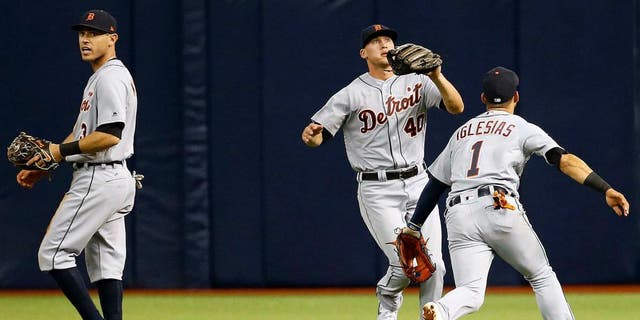 NEWYou can now listen to Fox News articles!
The Rays arent necessarily known for their raucous fans, but it takes only one or two to impact a game. The Tigers found this out Wednesday night.
In the first inning, a ball dropped in shallow right field despite three Tigers near it. Thennearly the identical thing happened in the third inningthough four Tigers were in position to make the catch that time.
Someone needs to call it, right? Well, someone did …just not someone on the field. In both cases, a fan yelled, I got it! from the stands. And in both cases, the Tigers fell for it.
Tigers manager Brad Ausmus detailed the situation afterward:
Unfortunately, the source of confusion was coming from the stands. Somebody in the stands was yelling, I got it. Thats why [Ian] Kinsler went out acting like he had it, and then he heard someone say I got it, so he backed off because the priority goes to the outfielder. But it wasnt the outfielder who called it. The same thing happened on the earlier ball in the first inning. It was coming from the stands, so we had to change our signals, so the Rays fans didnt cause any more confusion.
Although this trick works best in a sparsely-populated dome, its probably worth trying elsewhere.
It was a night to forget for the Tigers, who lost 8-7 on a painful walk-off error. And also a series to forget, as another loss on Thursday completed the three-game sweep for the Rays.