Sloppy first half costs Pistons in 93-83 loss to Nets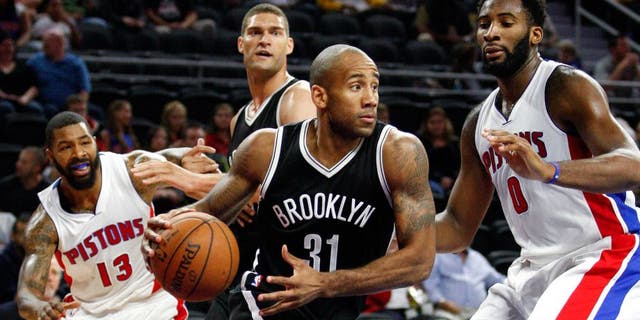 NEWYou can now listen to Fox News articles!
AUBURN HILLS, Mich. (AP) -- Brook Lopez and Shane Larkin each scored 17 points and the Brooklyn Nets beat the Detroit Pistons 93-83 in a preseason game Thursday night.
Wayne Ellington added 16 for the Nets, who had lost to Fenerbahce Ulker of Turkey on Monday in their exhibition opener.
NETS: Chris Daniels, a 31-year-old rookie, hit a pair of 3-pointers in the fourth quarter. . Lopez grabbed nine rebounds.
PISTONS: After struggling Tuesday against Indiana, Ersan Ilyasova had 15 points and seven rebounds. . Andre Drummond had 14 points and 11 rebounds.
KEY RETURN: Detroit point guard Reggie Jackson returned to the lineup after missing Tuesday's game with Achilles soreness and scored seven points in 29 minutes.
DAYS OFF: Joe Johnson, Jarrett Jack and Sergei Karasev did not dress for Brooklyn, due to previously scheduled rest.
FRUSTRATION: The Pistons turned the ball over 18 times in the first half, visibly angering Stan Van Gundy, but only had four in the second half.
UP NEXT: Both teams play again on Saturday. Detroit visits Milwaukee and the Nets are in Philadelphia.