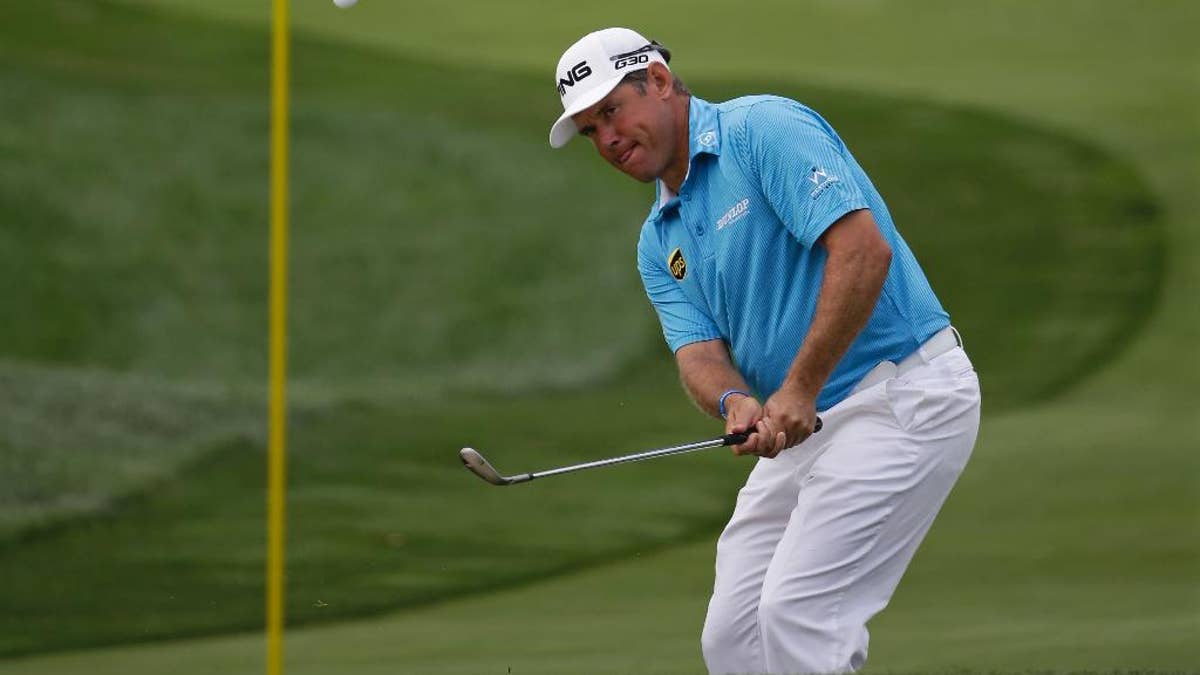 LOUISVILLE, Ky. – There were plenty of reasons to believe the window was fast closing on Lee Westwood's sometimes-heartbreaking campaign to win a major.
But the Englishman cracked it wide open again Thursday, piling nine birdies atop a double-bogey at the first hole to shoot 65 and take the early first-round lead at the PGA Championship. It was Westwood's lowest round ever at the PGA and matched his best-ever in a major — a third-round 65 at the 2011 U.S. Open.
"I was in a good frame of mind at the second tee," he said, chuckling, afterward.
Instead of dwelling on the bad break at No. 1, where a terrific drive came to rest at the end of an unfilled divot in the fairway, Westwood listened to some soothing words from caddie Billy Foster and drew on the memory of his final-round 63 at Firestone last week.
"I'm just not a patient person and I get frustrated really quickly when I know I can play better than I'm actually doing," Westwood said. "That's where a good caddie comes in, sort of talks to you calmly and says, 'Just keep doing what you're doing and it will come.'
"Hate to hear those words from him," Westwood added. "But he's right."
The encouragement helped, but the real key to Westwood's round was the putter. Four of the birdies he rolled in were 15 feet or longer, highlighted by a 35-footer at No. 9. That clutch performance on the greens didn't escape the notice of European Ryder Cup captain Paul McGinley. Westwood, who's slipped to No. 34 in the world, has played in the last eight matches. But he might need help from McGinley — in the form of a wild-card pick — to extend that streak.
"If you look at the one pillar that has been consistent throughout the Ryder Cup success we have had since the '90s, it has been Lee Westwood," McGinley told Sky Sports. "But you want to see Lee in form. He is not going to get in on his reputation alone. He needs some form. He knows that and it's good to see him playing well today."
Westwood, 41, credited a tougher exercise regimen with helping him cope with the sweltering heat and humidity settling over Valhalla Golf Club, a par-71 course stretched out to 7,458 yards this week. He laughed when the moderator at a news conference after the round complimented Westwood's newly svelte figure.
"Very nice of you to say and notice," he said. "Which part of me?"
But a few extra pounds aren't the only memory from his previous trip to Valhalla that Westwood would like to shed. The last time he set foot on the course, he was part of Europe's losing Ryder Cup side. While qualifying for the team may be a longshot, Westwood hopes his play here will convince McGinley he deserves a chance to be at Gleneagles in Scotland when the matches begin in late September.
"I don't think the team as a whole played particularly well. So that was my overriding thought of that week," Westwood said.
"I've had chats with Paul and he said, 'Try and show some form.' I don't know whether he's just looking for a reason to pick me, but I've shot 63 last Sunday and I'm leading a major this week.
"So," he added, "I'm ticking that box for him."