Six Points: Steelers vs. Broncos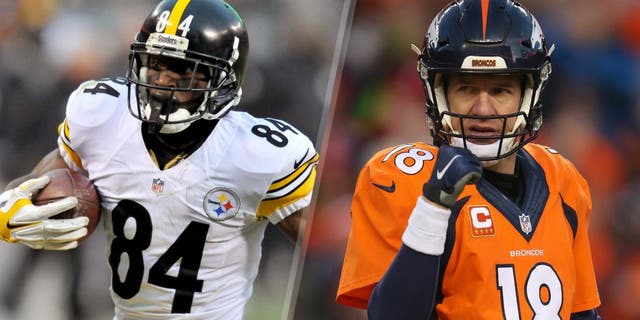 With three offensive stars on the mend, the Pittsburgh Steelers (11-6) limp into an AFC Divisional Round matchup with the top-seeded Denver Broncos (12-4). Kickoff is slated for 4:40 p.m. EST on Sunday at Sports Authority Field at Mile High Stadium.
Quarterback Ben Roethlisberger (shoulder), receiver Antonio Brown (concussion), and running back DeAngelo Williams (foot) all played a starring role in Pittsburgh's epic 34-27 comeback win in Week 15 -- but all three could miss this showdown. Roethlisberger and Brown's losses would be felt greatest; they teamed up for 189 yards and two touchdowns against the NFL's top secondary.
That secondary is far healthier for this playoff rematch. So too is Peyton Manning, who sat on the sidelines as Brock Osweiler led his team through their regular-season meeting in Pittsburgh.
Here are three keys to advancing for the Steelers and Broncos:
Can you beat the Crowd's Line? Submit your final score prediction below. Good luck!
STEELERS:
1. Stack the middle of the field on pass defense
Manning no longer has the arm strength to stretch the field. Pittsburgh's cornerbacks should play shallow and the linebackers should get deep in coverage to crowd passing lanes underneath. Taking away passing game from 20 yards in, it would force Manning to try to beat the Steelers deep, something he won't be able to do on a consistent basis.
2. Rediscover Heath Miller
If Brown is unable to play, it will have to be Miller time for the Steelers in Denver. The veteran tight end hasn't been featured much in the passing game this season with all of the other weapons at Roethlisberger's disposal. Miller's ability to find creases between the hashes will free up some space for Martavis Bryant to do some damage on the outside. Expect Miller to have more than the two receptions for nine yards he had last week in Cincinnati and the three catches and 12 yards he had last time out against the Broncos.
3. Extra protection
With Miller running more routes, Pittsburgh will need to use an extra tight end or lineman to help block Denver's ferocious pass-rushing tandem of Von Miller and DeMarcus Ware. Tight end Matt Spaeth saw just 11 snaps last week, but may have to shoulder a bigger load to keep Roethlisberger from getting knocked around and causing more problems for his shoulder.
BRONCOS:
1. See if Manning can go all 60 minutes
If Week 15's game only lasted 30 minutes, Osweiler might still be starting. He torched Pittsburgh with 214 first-half passing yards, three passing touchdowns and a rushing score. And Osweiler was a magnificent 8-for-8 on third downs, too. Then, the meltdown: three fourth-quarter punts, two turnovers on downs and an interception. Manning, who hasn't finished a full game since Nov. 8, will have to finish this one in Osweiler's place.
2. Let Chris Harris Jr. get his sweet revenge
Harris Jr. saw his 35-game touchdown-less streak snapped by a worthy adversary. Now, he'll seek payback with or without Antonio Brown in the lineup. Expect to see the cornerback who starred for the majority of the season (six pass break-ups, two interceptions, two forced fumbles) rather than the one who broke down against No. 84 a few weeks back.
3. Do the safety dance
Roethlisberger dropped 380 passing yards on the league's best, but battered secondary in Week 15. If he suits up, he'll have a tougher task against Darian Stewart and T.J. Ward, who both missed the last meeting with injuries. Landry Jones will have the unenviable task of outwitting those two star safeties if Big Ben can't go.