Six Points: Seahawks vs. Panthers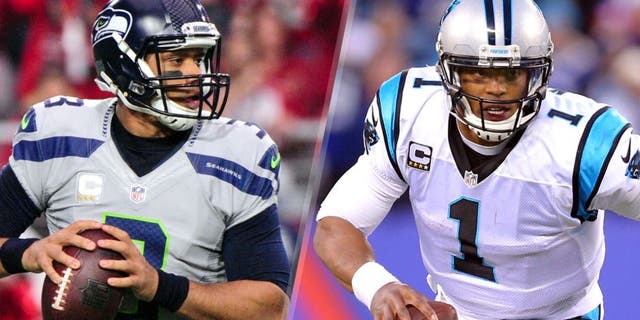 It's the matchup that many fans have been waiting on. The rematch of the 2015 NFC divisional round game between the Seattle Seahawks (10-6) and Carolina Panthers (15-1). While the Seahawks got the best of the Panthers last year 31-17, Carolina got a bit of revenge this year with a 27-23 road victory.
These are two of the hottest teams in the NFL as well, with the Panthers obviously going nearly undefeated, and the Seahawks winning seven of their last eight and nine of their last 10, including their Wild Card victory.
Will Russell Wilson and the Seahawks go on the road and stun what's sure to be a ridiculously loud home crowd, or will Cam Newton and company protect that home field advantage?
Here are three keys to the game for both the Seahawks and the Panthers.
Can you beat the Crowd's Line? Submit your final score prediction below. Good luck!
SEAHAWKS
1. Let Russell Wilson lead the way
Playing in horrid conditions at Minnesota a week ago, Wilson recovered a bad snap and turned what could have been a 15-yard loss into a 36-yard gain to start Seattle's comeback. In Wilson's previous seven games, he put up staggering numbers with 24 touchdowns versus one interception. He also turned in a virtuoso performance against Carolina in last season's playoffs, throwing for 268 yards and three TDs while posting a stellar 149.2 passer rating.
2. Pay extra attention to Greg Olsen
The Seahawks have struggled against tight ends all season and were burned in Week 6 by Olsen, who caught seven passes for 131 yards and was left wide open on the winning 26-yard touchdown pass with under a minute to play. Pro Bowl safety Kam Chancellor had his issues against Minnesota tight end Kyle Rudolph in the fourth quarter last week, getting whistled for pass interference before missing a tackle on a 24-yard reception.
3. Don't go full Beast Mode
Marshawn Lynch has played superbly in the postseason throughout his career, rushing for 100 yards, six times in 10 playoff games. Still, Lynch has not played since Nov. 15, is coming back from abdominal surgery and is facing a physical defense that ranks fourth in the league against the run. Seattle coach Pete Carroll loves to ride one back, but it would be prudent to let Christine Michael share the load after his surprising late-season success.
PANTHERS
1. Let Cam be Cam
In some scenarios, you're going to need to just throw statistics out the window. While the Seahawks were absolutely incredible against opposing quarterbacks during the regular season, allowing just 14 touchdowns and interception 14 passes, it's still Newton's time to shine. The potential MVP of the NFL is smart and talented enough to tuck the ball and take off if nothing is open down field, which is why you need to allow him to play his game. Seattle has allowed three rushing touchdowns to opposing quarterbacks, which bodes well for Newton.
2. Use the extra attention on Olsen to open up the field
As mentioned above, it's likely that the Seahawks are going to pay a bit of extra attention to Olsen. While there's still a very good chance that he could have a huge game, the extra attention will also open up the field for Ted Ginn Jr. and Devin Funchess as well. Both Ginn and Funchess have proven to be strong playmakers down the home stretch this year, and they may be primed for big roles in this game.
3. Send pressure at Wilson
As Black & Blue Review first reported, the last 10 games of the season for Seattle have been a complete 180 compared to the first seven in terms of their protection of Wilson.
It's no surprise that over that 10 game span the team lost just two games, as previously mentioned. Forcing Wilson into uncomfortable spots will be a key for Carolina's defense. Fortunately for the Panthers, they've totaled the No. 6 most sacks in the NFL this year with 44. Expect the likes of Kawann Short and Kony Ealy (for starters) to look to chase down Wilson early and often this weekend.