Six Points: Raiders vs. Broncos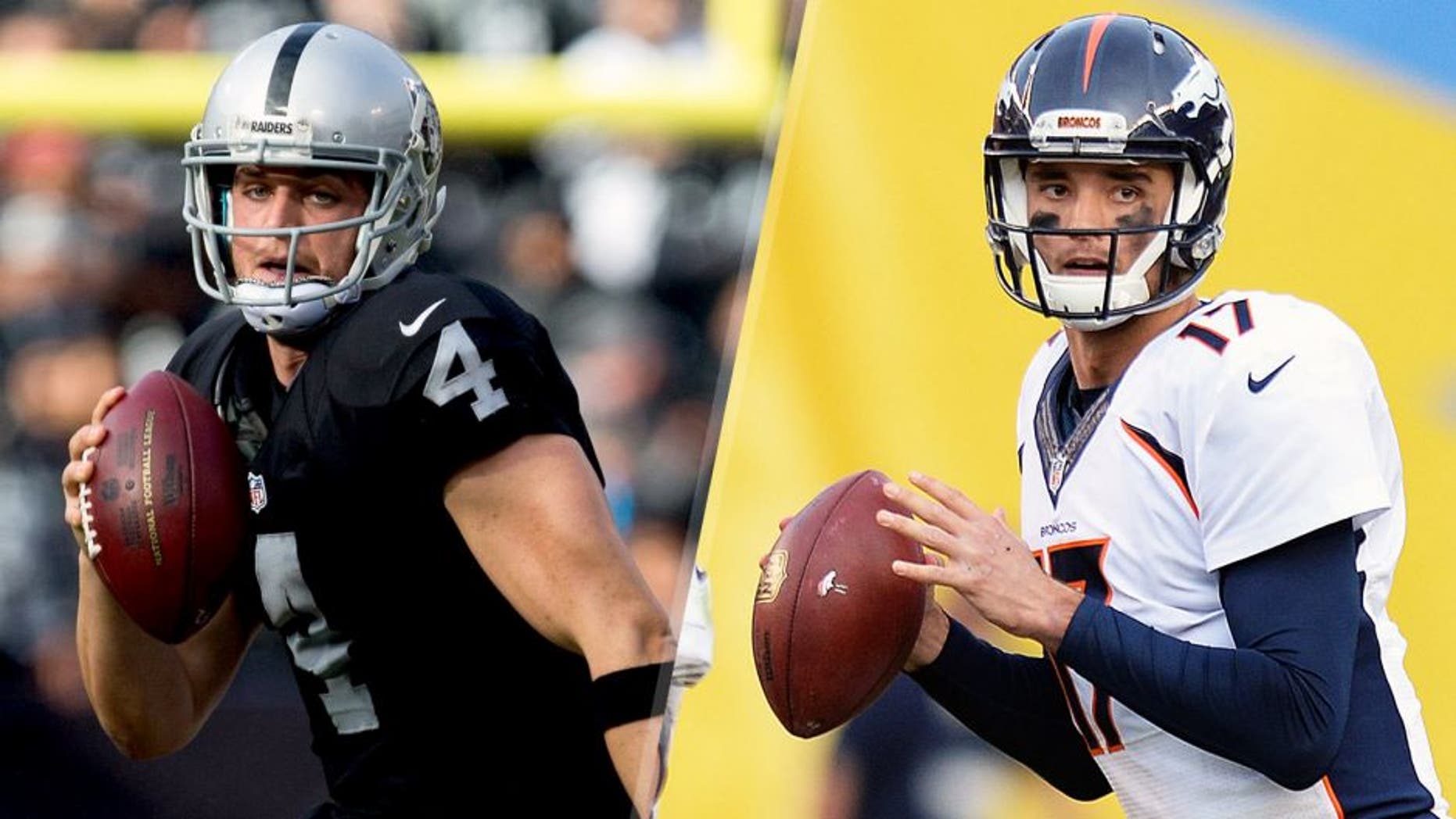 Brock Osweiler looks for his fourth win in four starts when he leads the Denver Broncos (10-2) against the Oakland Raiders (5-7). Kickoff is slated for 4:05 p.m. ET at Mile High Stadium.
Denver is in control of its own playoff fate now. It owns a tiebreaker over the third-seeded Patriots and could gain another one over the top-seeded Bengals in three weeks. But to do so, the Broncos will first have to take care of business against a scrappy team they beat by six points in October.
Oakland faces a much tougher team this time around. Peyton Manning (two INT) kept it close last time; Osweiler has been sterling in his replacement duties. They'll also need to manage a resurgent Broncos running game to keep their meager playoff dreams alive.
Here are three keys to the game for both the Raiders and Broncos:
Can you beat the Crowd's Line? Submit your final score prediction below. Good luck!
RAIDERS
1. Call a Derek Carr-friendly game
What once looked like a banner year for Carr has quickly devolved into something much worse. He tossed three fourth-quarter interceptions when last we saw him, and it won't get any easier against Denver's defense. Offensive coordinator Bill Musgrave should confer with his quarterback and call plays to get his confidence up again. Quick-hitting routes are the way to go in order to neutralize the opposing pass rush.
2. Take full advantage of Broncos tackle Ryan Harris
Harris is the weakest link on a Broncos line that has had its protection problems. Enter Khalil Mack, who has two sacks in each of his last two games and played one lights-out game in their earlier matchup. Mack has to apply pressure in this one if the Raiders want to win.
3. Sprinkle in a few Amari Cooper deep balls
T.J. Ward (ankle) is dinged up. Omar Bolden (hamstring) is dinged up. And David Bruton Jr. (knee) is dinged up. That's three injured Broncos safeties for Sunday; Amari Cooper ought to have an edge on whoever suits up in their place.
BRONCOS
1. Put DeMarcus Ware on a pitch count
Denver might've been guilty of rushing Ware back too quickly four weeks ago. He's missed every game since with a bad back, so if he's available, it should be sparingly. Shaquil Barrett is capable of handling more snaps and they'll need a healthy Ware for postseason play.
2. Keep throwing at Demaryius Thomas
Brock Osweiler's No. 1 receiver might've had his most productive outing (six catches, 61 yards, TD) since the quarterback change. Or, Thomas just took advantage of a bad Chargers defense. The Broncos need to find out which No. 88 is suiting up for them. He should expect plenty of targets.
3. Stay away from Charles Woodson
It's just not worth risking playoff position to test No. 24. Oakland's wily old veteran fooled Peyton Manning twice back in their earlier matchup. He'll know where Osweiler's throwing before Osweiler does.