Six Points for Week 6: Dan Campbell brings the fun back to Dolphins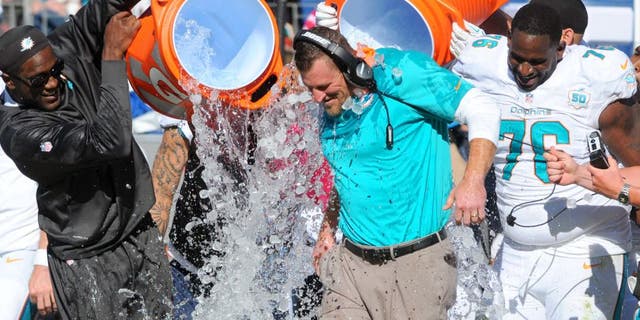 NEWYou can now listen to Fox News articles!
Late last week, a source told FOX Sports the Miami Dolphins, under interim head coach Dan Campbell and newly promoted defensive coordinator Lou Anarumo, would make things much simpler on the defensive side of the ball via a game plan that included only about 10 base play calls and a message to the guys up front to attack instead of thinking so much.
Six sacks, two interceptions, two fumbles recovered, a defensive touchdown and a 38-10 victory over the Tennessee Titans later, it was clear the Dolphins' new regime had put together a defensive plan much more effective than the ones they crafted during the first four games this year under Joe Philbin and former coordinator Kevin Coyle.
The coaches had set up their impact players to make an impact. And they did.
"I had a coach tell me long ago, 'The wrong call with the right guy is the right call,'" defensive end Cameron Wake, who had four of the Dolphins sacks and forced both fumbles, told FOX Sports by phone on the way to the airport. "No matter what the call is, just going out there and playing is the right call. We didn't really focus too much on what (the Titans) were going to do. We focused on us: 'Make sure you win your matchup, win your 1-on-1, make sure you run to the ball.'
"It doesn't matter if it's an over front, under, Cover-2, Cover-3. Just win your matchup and move on to the next down. If you do that consistently, you'll have a good day."
Wake didn't confirm the particulars of the Dolphins' game plan, but it's clear from his comments the Dolphins' players were frustrated with the way their game plans revolved around their opponents instead of themselves.
Sources say they also voiced their displeasure with the philosophy of the defensive linemen being asked to tie up defenders so the linebackers could make plays, rather than allowing the impact (and highly paid) players like Wake and Ndamukong Suh to create havoc for opposing defenses.
Against Tennessee and rookie quarterback Marcus Mariota, the Dolphins wanted their linemen to play faster and more aggressive. In the case of Olivier Vernon, who went low on Mariota and contacted the No. 2 overall pick's knee, perhaps they were a bit too aggressive. Titans coach Ken Whisenhunt believed Vernon meant to injure Mariota and called it a "B.S." play. (Titans tackle Taylor Lewan was grabbing Vernon's arm, but it's unclear if that forced Vernon to go low.)
But otherwise, the Dolphins legally disrupted the Tennessee offense and turned in their best, most complete performance of the season by far.
"After all the crap, all the things that have been going on the past couple of weeks, the way the first couple of games of the season went, it was really time," Wake said. "We went out there fighting, fighting and fighting and things didn't go our way. But running out there, having a good time with your brother, that was a lot of fun."
From his first press conference, to the Oklahoma drill in the Dolphins' first practice, to rearranging the locker room, Campbell has made it clear he wanted his team to play hard and to play together.
That's why a complex scheme wasn't that much of a factor in the preparation this past week. It won't always be so simple. Adjustments have to be made and, as the New England Patriots showed on Malcolm Butler's interception in the Super Bowl, there have to be calls and packages ready for every possible situation, regardless of whether they've even been called previously.
But the main point on Campbell's list of priorities was to get this team to play with an attitude. It was a sign the tight-ends coach might have a future as a head coach. After all, a major responsibility for a head coach is managing the personalities in his locker room. Campbell's approach and the successful result showed he knew exactly what this locker room needed right now.
Campbell will have to learn how to vary his approach and, to use a pitching metaphor, not always go with his fastball when a change-up is necessary. It might be too much to ask of him right away, but this doesn't have the feel of a typical interim situation.
Campell isn't merely being asked to coach out the string this year and give way to a new, permanent coach. With a talented roster, he can make a run at the full-time gig.
"Why not? You look at his resume, the things he's done," Wake said before stopping himself and adding: "It's only one game so you don't want to make too much of it."
Too late.
After more than a week's worth of stories and plenty of praise from the players and media, the legend of Dan Campbell was in full effect on Sunday. There were even jokes on Twitter about Campbell in the vein of Chuck Norris and Dos Equis' Most Interesting Man in the World.
"Chuck Norris doesn't do pushups," Wake said with a laugh when told Campbell was becoming a legend. "He pushes the earth down."
OK so Campbell maybe can't win a game of Connect Four in only three moves (arguably one of the best Chuck Norris Facts), but he's quickly convincing his players he's a pretty good coach.
"The reality is he's a tremendous motivator, has a tremendous amount of wisdom in what he does," Wake said. "And to be a player and a coach, he's been through two-a-day practices, he knows what it's like after a game -- whether it's a win or a loss -- he knows what it has to look like for it to be successful.
"To have that perspective, you can't get that from a book, you can't get that no matter if you coach 70 years. There are some things you'll never be able to grasp unless you play."
Campbell proved that in the postgame locker room when he told the players their intense preparation the past week "made somebody like me want to f---ing bleed for you guys."
Not exactly a Philbin speech right there. And not exactly the same feel around this team right now.
"Was that fun?" owner Stephen Ross asked the players before he presented Campbell with the game ball. "It shows you what a little intensity and emotion does to football."
Ross then added, "The sleeping giants have awoken."
WEREN'T THE BEARS PAYING ATTENTION?
Last week in this space, we broke down Andy Reid's clock mismanagement as the Chicago Bears were going in for the go-ahead touchdown. One would think Bears coach John Fox, who benefitted from Reid's mistake, would have learned a lesson.
And one would be wrong.
Fox watched as the Detroit Lions, trailing by four points, were moving down the field toward a potential go-ahead score. On the first pass after the two-minute warning, Matthew Stafford hit Lance Moore for 26 yards to the Bears' 6-yard line. Fox didn't call any of his three timeouts.
With 1:17 on the clock, Theo Riddick went up the middle for 6 yards. Fox let the clock run until Bears defensive tackle Jeremiah Ratliff's injury stopped it. Stafford was then called for intentional grounding and the Bears' Pernell McPhee was flagged for a questionable roughing-the-passer penalty. Stafford then found Calvin Johnson for a 6-yard touchdown.
The Bears had 21 seconds to stage a comeback and they did with 25- and 24-yard passes from Jay Cutler to Alshon Jeffery and a 20-yard pass-interference penalty . But with only four seconds left on the clock, Fox had to call for the game-tying field goal. Had he taken a timeout or two on the Lions' series, Cutler would have had multiple shots at the end zone.
The Bears then lost in overtime.
It's a copycat league, so there's a chance these coaches are copying Bill Belichick's decision in the Super Bowl to let the clock run and not give the Seattle Seahawks a chance to think about their play call shortly before the ill-advised pass that was picked off. But Belichick sensed chaos on the Seattle sideline. The Bears and Lions were in control and had plenty of time to operate.
Time for coaches to rethink whether to conserve time in those situations.
CHIEF CONCERNS
The Kansas City Chiefs obviously are having trouble with the next-man-up mantra teams love to recite when they lose a key player.
Eight days ago, they were moving along just fine on their way to a 2-3 record that would've kept them right in the mix in the AFC. With one false step, Jamaal Charles tore his ACL and shredded the Chiefs' confidence.
Kansas City's next 10 possessions over the rest of the game against the Bears and the first half of Sunday's loss to the Minnesota Vikings went for 19, 4, 2, 4, 23, minus-2, 13, 8, 9 and 23 yards. The Chiefs didn't score on any of those drives and the first two of the second half in Minnesota. They finally got back on the board with a 48-yard field goal by Cairo Santos early in the fourth quarter. They had two shots to take the lead late but couldn't get in the end zone.
"The first half, we might have been trying too hard to make something happen, and then the second half we kind of settled down and played the way I know we can function." Reid said. "We have to find that part of it. ... We're not a bad football team."
Injuries to quarterbacks, not other position players, usually cripple an offense the way Charles' injury has. Though Charles is an outstanding player, the Chiefs and Reid have to do a better job of moving on than they have.
SILENT REVENGE

During Sunday night's broadcast of the Patriots-Colts grudge match, NBC cut away from Julian Edelman as the Pats' receiver was celebrating a touchdown by firing a football into a Colts logo behind the end zone.
But in missing that key moment -- which was confirmed by Patriots reporters on the scene -- the broadcast provided another interesting glimpse into how the Patriots handle revenge by keeping it internal.
You see, a close-up showed Tom Brady watching Edelman's celebration. And just as the thud of the ball against the wall could be heard, a stone-faced Brady, who was looking in Edelman's direction, briefly shook his head and started walking away.
It was a disapproving look from Brady. After a week in which the Patriots' players and coaches refused to take the bait from the media to drum up some old Deflategate feelings, Brady obviously felt it was too soon to gloat after a score. Or perhaps he felt it shouldn't be done at all. The camera cut from Brady to Belichick, who was also watching Edelman from afar without an expression on his face.
For the most part, the Patriots didn't advertise their feelings of revenge. And even on the field, in that moment, they seemed to want to keep a lid on it. But make no mistake, as Edelman's celebration showed, they wanted to beat the Colts -- badly.
CONTEXT FOR CAMERON

Wake joined a pretty exclusive list on Sunday when he became only the sixth NFL player 33 years or older to record four sacks in a game.
He joined former Bear Jim Osborne (1983 vs. the Falcons), the Cowboys' Ed "Too Tall" Jones (1987 vs. the Giants), Gary Jeter of the Los Angeles Rams (1988, five sacks vs the Raiders), Chris Doleman, then with the 49ers (1998, against the Saints) and the Patriots' Willie McGinest, who had 4 1/2 sacks in a playoff win over the Jacksonville Jaguars in January 2006.
"That's a short list," said Wake, who was unaware of his achievement. "Definitely representing the old timers."
Wake got a late start to his NFL career because he spend two seasons with the CFL's B.C. Lions (2007-08) after a brief offseason stint with the New York Giants. He now has 67 sacks in seven seasons and isn't showing signs of slowing down. Perhaps the fact he didn't play a snap in the NFL until he was 27 will allow him to turn in a few more solid years at a time when pass rushers usually slow down.
JOSH GORDON UPDATE

From the gone-but-not-forgotten file, word is Cleveland Browns wide receiver Josh Gordon is actually handling his one-year suspension for another failed drug test rather well.
Gordon is supposedly training very hard and staying in pretty good shape, which was a concern for those close to him heading into his lost season. Gordon hasn't been a hard worker in the weight room over the years and some were worried he might be even less motivated this year because he won't be playing any football.
That's apparently not the case, and there is hope Gordon has learned what he needs to do physically to play in the NFL. Sources say there's also hope Gordon is being smarter about the people with whom he's spending time. Those close to Gordon believe he's made poor decisions that have affected his career because of bad influences.
It's early, but Gordon is showing physical and mental progress. Imagine what the Browns (2-4) could be doing offensively with a healthy, focused Gordon on the field. They're tied for eighth in the NFL with 7.8 yards per passing attempt. That number is surely higher with Gordon, and maybe that extra nudge helps them win the close games they've lost against the Raiders, Chargers and Broncos.