Six Points: Broncos vs. Chiefs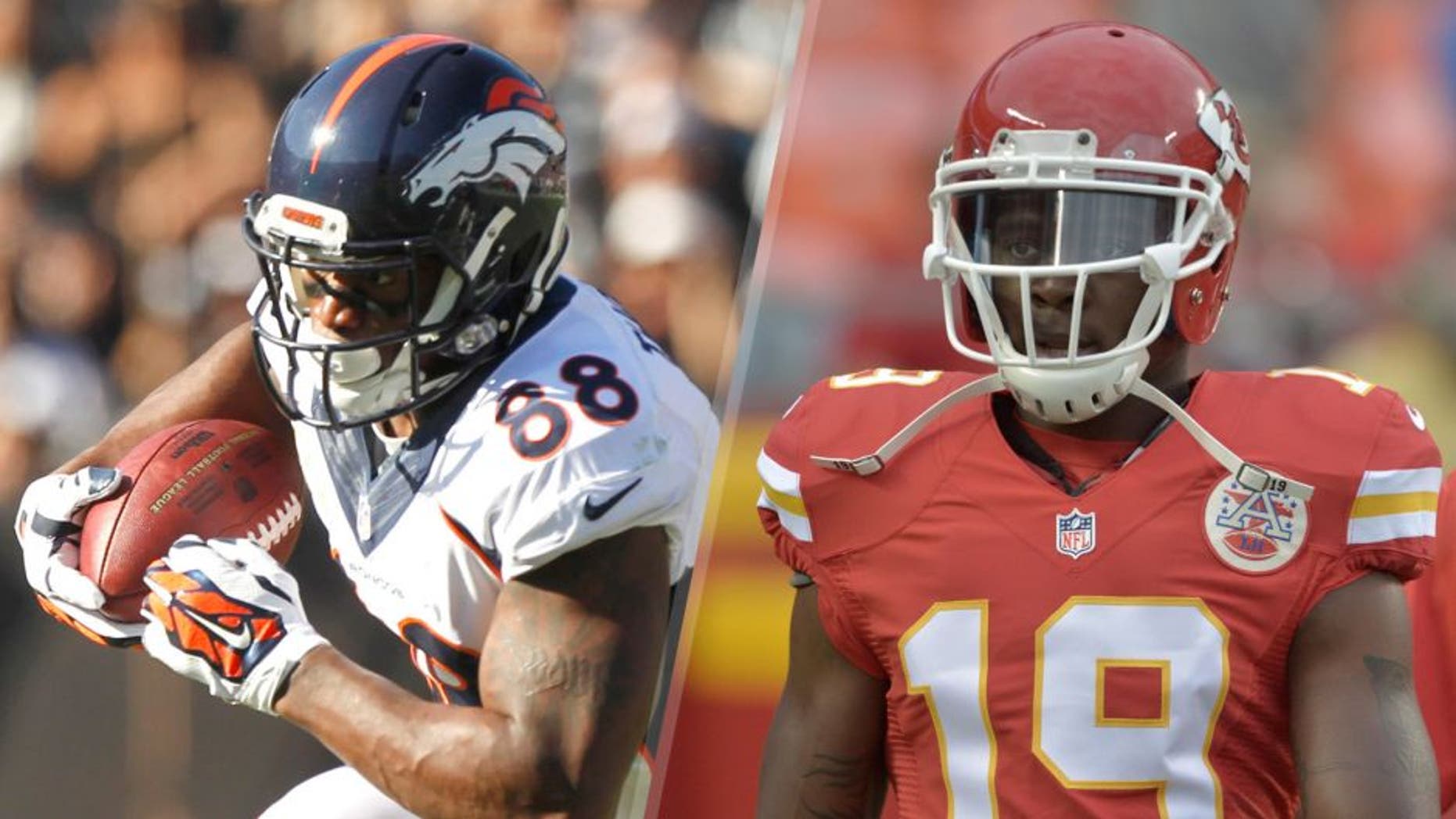 The Denver Broncos (1-0) and Kansas City Chiefs (1-0) kick off Week 2 of the NFL season from Arrowhead Stadium on Thursday night. An early lead in the AFC West is up for grabs.
The Broncos defense held the Ravens to a league-low 173 total yards last Sunday. They might need a similar output again; Peyton Manning is struggling to ignite the passing game and C.J. Anderson (foot) isn't fully healthy.
The Chiefs would welcome a defensive affair with stars like Justin Houston, Dontari Poe, and Tamba Hali on the field. But it was their new-look offense — led by Alex Smith, Jeremy Maclin, and Travis Kelce — that won their season opener against the Texans.
Here are three keys to the game for Thursday night's showdown in Kansas City:
BRONCOS
Keep No. 18 off the turf
Manning's declining arm strength isn't the only factor holding back the Broncos air attack. His front five features a rookie left tackle, a rookie center, and journeyman right tackle. Manning was unsurprisingly sacked four times in Week 1 — the most punishment he's endured since 2013. He needs a clean pocket against the tenacious Chiefs defense.
Establish Anderson — or any RB
Anderson (168 rushing yards, receiving TD) dominated the Chiefs in his last meeting. He'll need to do it again on Thursday night; Houston, Hali and Co. could tee off on Manning otherwise. The big problem? He's dealing with a foot injury that could clear a bigger role for reserves like Ronnie Hillman.
Account for Kelce on every down
The freakishly-athletic tight end out-jumped a defender for his first score last weekend. Then, he broke through busted coverage and outran defenders on another big-play score. The Broncos must make it tougher for Smith to find Kelce than the Texans did; good think inside linebacker Brandon Marshall excels in coverage.
CHIEFS
Get Jah Reid some help
The Chiefs asked the newly-signed Reid to come off the street and block J.J. Watt in Week 1. Now, they're asking him to protect Smith against an equally-skilled sackmaster in Houston. Reid should ask for a pay raise after the game; meanwhile, the Chiefs should get him some tight end help.
Establish the Smith-to-Maclin connection right away
Maclin doesn't need touches to be effective — just look at how he pried defensive backs away from Kelce last weekend. Nonetheless, Smith might want to get No. 19 going early against a ball-hawking secondary like Denver's. It'll help to establish some momentum against three former Pro Bowlers.
Always give Marcus Peters some help in coverage
Manning is the most cerebral quarterback in NFL history for a reason. He surely knows that for all his talent, Peters is no match for Demaryius Thomas or Emmanuel Sanders in single coverage. The Chiefs need to roll a safety or linebacker to help their prized rookie when Manning chucks it deep.