Six Points: 49ers at Browns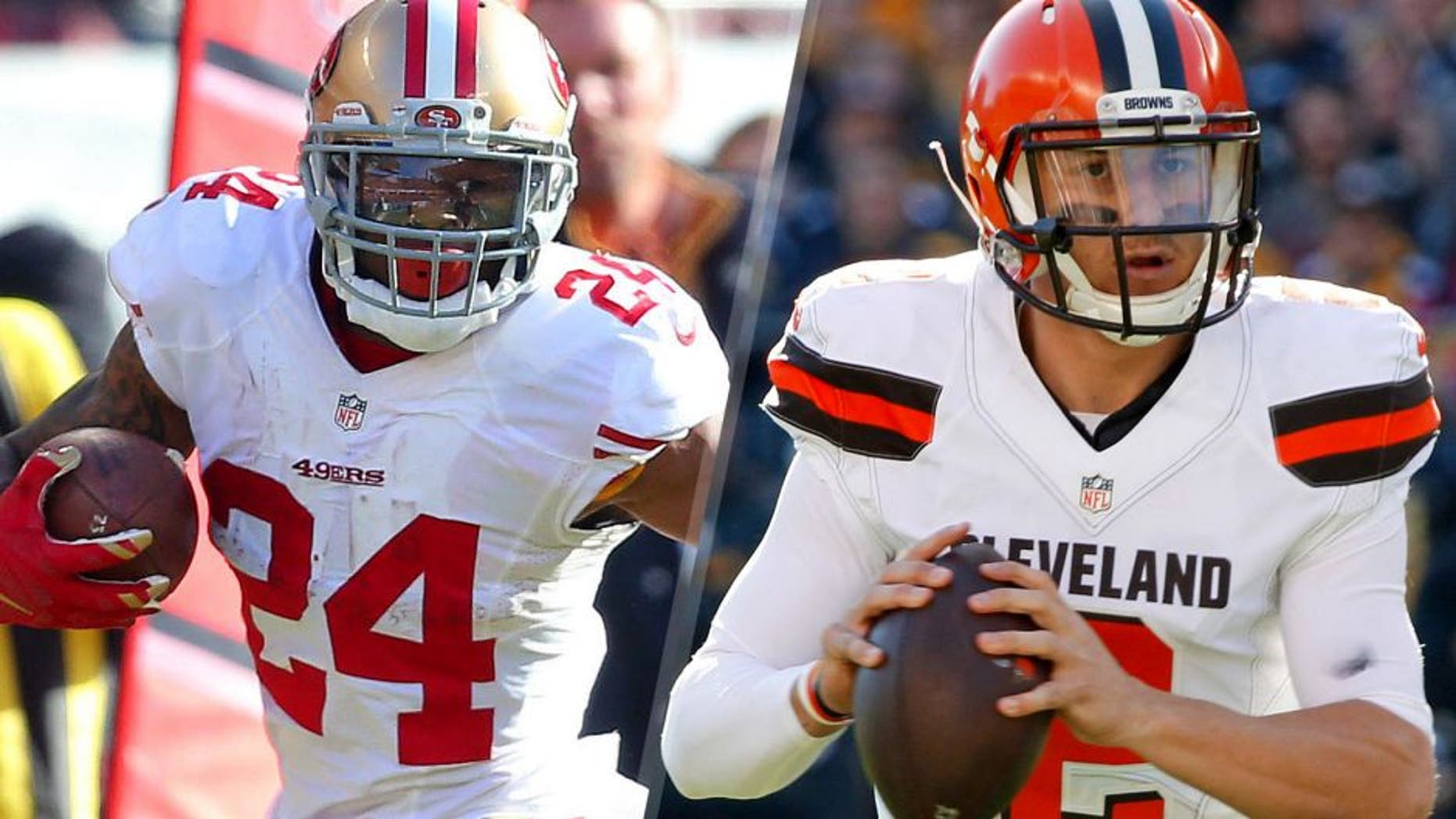 The Cleveland Browns and San Francisco 49ers will be playing for pride and draft positioning for next season when they meet this Sunday at FirstEnergy Stadium.
The 49ers (4-8), coming off a 26-20 overtime in Chicago, have the second-worst record in the NFC, just ahead of Dallas due to tiebreakers. Quarterback Blaine Gabbert is 2-2 as a starter since replacing Colin Kaepernick. Last week he broke off a 44-yard touchdown run in the final minutes to tie the game in Chicago before hitting Torrey Smith for a 71-yard game-winning score in overtime. The 49ers have a negative point differential of 113, better than only one team this season -- the Cleveland Browns (-131).
The Browns (2-10) have the inside track on next year's No. 1 overall draft pick after stringing together seven straight losses. Johnny Manziel is back as the starting quarterback and has four games to prove to the franchise that drafting another quarterback in the first round isn't necessary. While Manziel and a few other young players may be auditioning for their futures, head coach Mike Pettine may be coaching for his job as well. Cleveland has gone through almost as many head coaches as quarterbacks since the franchise returned in 1999.
Here are three keys to the game for both the 49ers and Browns.
Can you beat the Crowd's Line? Submit your final score prediction below. Good luck!
49ERS
1. Exploit Cleveland's run defense
Sure, midseason signee Shaun Draughn is not built to carry an offense, but he has two things going in his favor. The Browns feature the league's second-worst run defense and they also waived Draughn earlier this season, so motivation should be high for the journeyman back. It's also a prime opportunity to give backups Travaris Cadet and Kendall Gaskins some carries.
2. Blitz Manziel early and often
Cleveland's ground game is dead last in the league and San Francisco has some key injuries on defense. Linebackers Aaon Lynch, the 49ers' best pass rusher with 6 1/2 sacks, and Michael Wilhoite are both expected to miss the game. San Francisco's defense can opt for the conservative route but why not come at Manziel in waves and make the second-year quarterback beat them.
3. Go deep, Torrey Smith
Smith is on pace to earn about $2.5 million per catch, but the one thing he brings to the offense is speed. Smith has three touchdown receptions of at least 71 yards in his first season in the Bay Area, but he has otherwise been invisible with two catches or fewer in 10 of 12 games. Blaine Gabbert has shown a nice touch on deep balls so give Smith a chance to fatten his stats.
BROWNS
1. Let Johnny be Johnny
At 2-10, there is no need for the Browns to be cautious with Manziel. There are four games left for Manziel to prove to the franchise that it doesn't have to draft another quarterback. The Browns and offensive coordinator John DeFilippo might as well give Manziel the freedom to become Johnny Football again, using his instincts to make plays as he did in college.
2. Give Pryor a chance
Speaking of auditions, the Browns might as well see what they have in Terrelle Pryor now that they've brought him back. The former quarterback has prototypical size and speed for a receiver, and the Browns should at least take a few shots with him in the red zone. With all of the injuries at receiver, Cleveland may have no other choice but to insert him into the lineup.
3. Bring the heat on Gabbert
The Browns also have to bring a nothing-to-lose mentality to defense. Blaine Gabbert has been surprisingly effective in his four starts, but it doesn't erase his track record. Even if it takes sending six or seven rushers every down to force Gabbert into mistakes, that is what the Browns should do.