Simon pitches seven strong innings as Tigers beat Indians 6-0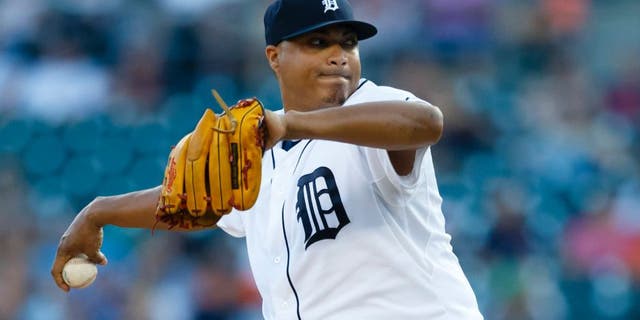 DETROIT (AP) -- Alfredo Simon pitched seven strong innings and J.D. Martinez hit his 35th home run as the slumping Detroit Tigers beat the Cleveland Indians 6-0 Saturday night.
Detroit had lost seven of its previous eight games and was outscored 71-21 in that stretch.
Simon (12-9) became the first Tigers pitcher besides Justin Verlander to win a game since his own one-hit shutout of the Rangers on Aug. 20. This time, he didn't allow a hit until the sixth and only gave up two hits while walking four.
Simon allowed 14 runs in 9 1-3 innings in two starts between his wins over Texas and Cleveland. Despite his winning record, he is tied for the major league lead with seven starts allowing six-plus runs.
Danny Salazar (12-8) lasted 3 2-3 innings, allowing six runs on eight hits and a walk.
The Tigers took a 1-0 lead in the second on a fluke play. With two out, Nick Castellanos and Tyler Collins singled to left, bringing James McCann to the plate. McCann hit a hard grounder up the middle -- one that looked like a fairly easy play for Indians shortstop Francisco Lindor -- but the ball ricocheted off Salazar's heel and popped over Lindor into shallow left for an RBI single.
Martinez made it 3-0 in the third, hitting his homer just out of the reach of Lonnie Chisenhall in right. Detroit had lost a baserunner earlier in the inning when Ian Kinsler was thrown out trying to steal second. It was Detroit's 43rd caught stealing of the season, which leads the majors. They are just 13th with 71 stolen bases.
Rajai Davis kept Simon's fledgling no-hitter intact with a diving catch in left-center to end the fourth, robbing Jerry Sands of extra bases. He then helped the Tigers expand the lead in the bottom of the inning. After Collins homered to make it 4-0, McCann singled and scored on Davis's triple, and Ian Kinsler followed with an RBI infield single.
Michael Brantley got Cleveland's first hit with a double down the line with two out in the sixth.
Left-hander Giovanni Soto, once traded from Detroit to Cleveland for Jhonny Peralta, made his major league debut with two out in the fifth inning. Collins hit his first pitch to Sands for an easy out, and Shawn Armstrong replaced Soto for the sixth.
TRAINER'S ROOM
Indians: RHP Carlos Carrasco (shoulder) had no problems in Saturday's bullpen session and is scheduled to return on Tuesday in Chicago. Carrasco, who has been out since Aug. 22, will replace Corey Kluber (hamstring) in the rotation.
Tigers: Both LHP Daniel Norris (oblique strain) and RHP Anibal Sanchez (rotator cuff) are making better-than-expected progress from injuries that have scrambled Detroit's rotation. Norris is scheduled to throw a light bullpen session on Sunday, with Sanchez due to follow on Monday. Both are expected back before season's end.
UP NEXT
The teams finish their weekend series with Cody Anderson (2-3, 4.17) facing Verlander (3-6, 3.40). Verlander is 3-3 in his last eight starts with a 1.53 ERA and is limiting opponents to a .194 batting average.